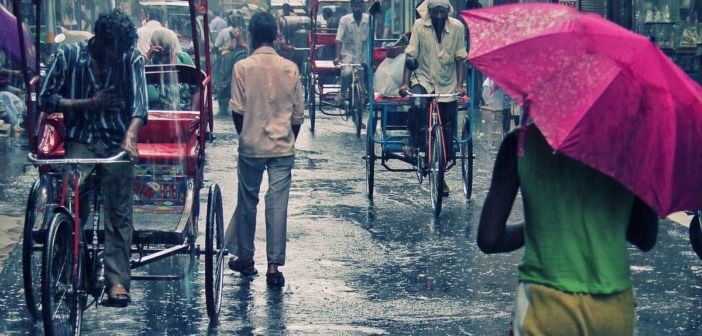 5 Useful Tips to Get Through the Monsoons Safely
As the weather becomes perfect to sit and sip on a hot cuppa on your balcony, it is also time to guard against the damp, mosquitoes, etc. Here are 5 useful tips to get through the monsoons safely.
The monsoon season has arrived in many parts of the country and the rains are making their way south to north steadily. A much welcome respite from the stifling summer heat, the moisture is also much needed to replenish the ground water and irrigate the crops. However, with the rain come many attendant problems – from clogged drains and flooded roads, to mosquitoes and a host of water-borne illnesses.
Here are 5 useful tips to get through the monsoons safely.
1. Guard Against the Damp
Elderly people are particularly susceptible to ailments like arthritis and pneumonia, which can be brought about by dampness.
• Get the walls and roof of your home checked for seepage (in fact, get the roof cleared of all dead summer leaves that may clog the drains) and use waterproof paints and water sealant to coat the walls and take care of any cracks.
• Make sure the laundry is completely dry before folding and putting it away (damp bedsheets will make you catch a chill in no time).
• Also check to see if any carpets in the house, especially those in the bedroom, have mould growing on them. Better still, roll away the carpets and pack them in plastic to store away during the monsoon season. Use slippers with a good grip to walk on the bare floor or place bamboo mats around the house instead.
• If you have any potted plants inside the house move them outside as they will only add to the humidity inside.
• Don't wait for a cold or bout of flu to just go away – head to the doctor lest it turn into pneumonia.
2. Prevent Slips and Falls
Falls are a huge health hazard for seniors at all times of the year but more so during the rainy season.
• Balconies and the entrance to the house get wet and slippery and visitors and pets track slush into the house. Get a tarpaulin or a bamboo chatai covered in plastic installed to enclose the balcony – it can be pulled down when it's raining and rolled up when the weather clears up. Keep the floor inside the house clean and dry at all times.
• Since there are frequent power outages in many cities during stormy weather, keep a torch and matchbox, along with some candles, handy. Also keep your medicines somewhere where you can easily access them, even in the dark.
• Try to avoid stepping out during rain as the roads will be slippery and there are chances of potholes. If you have to step out ensure someone is accompanying you, carry an umbrella or wear a rain suit.
• Using a scooter in the rain is dangerous, avoid it. If you're taking the car out, drive slowly as roads get slippery and slick when it rains.
• When walking on the roads, watch out for open manholes or sharp objects on the road that may not be easily visible
3. Use Electricity Safely
Electrocution is a real danger during the monsoon so make sure your home wiring is in good order.
• Electrical lines, especially those linked to borewells, wells, sewage treatment plants, lights, etc., should be insulated and protected from rain water.
• Make sure you have an electrician check the outside switches that are exposed to rain, as well as all your home appliances.
• Do not touch any switches with wet hands.
4. Keep the Mosquitoes Away
The monsoon also brings out another looming threat in the form of mosquito- transmitted diseases like malaria, dengue and chikungunya.
• Don't allow any kind of water to stagnate inside or around the house, as stagnant water is a ready breeding ground for mosquitoes.
• Open drains, manholes, water tanks and wells should be covered to keep the mosquitoes from multiplying.
• Keep neem leaves and cloves in your cupboard or between your clothes. They will keep other insects at bay.
• Keep the surroundings clean and garbage free.
• Wear full sleeved clothing and use mosquito repellent whenever you are likely to be outdoors for a long time. Use a mosquito net at night. Camphor, neem, tulsi are natural mosquito repellents.
• Install mosquito netting on windows and doors.
5. Stay Healthy and Watch Out for Water-Borne Illnesses
Several health dangers, including the risk of water-borne illnesses, lurk under the beautiful monsoon weather.
• Sunlight is minimal during the monsoon, so replace heavy summer drapes with lacy translucent curtains to get as much sunlight as you can.
• Eat hot, nutritious food because immunity levels go down with the cold and damp. If drenched in the rain, warm up with a bowl of soup, a hot cup of milk or tea with turmeric and ginger.
• The moist weather is a perfect breeding ground for bacteria and germs that cause common health issues such as cold, cough, and allergies but also other endangering health complications such as dengue, hepatitis-A, malaria and viral fevers. Water could easily get contaminated during monsoon season and cause gastroenteritis, cholera and other waterborne diseases. Hence, it is highly recommended that seniors drink boiled, filtered and warm water because worms do not survive in warm water. Also use warm water for bathing to avoid catching a cold and prevent the arthritis from worsening.
• The humid weather also brings down the digestive ability of seniors. Hence, it is vital to consume foods that contain fibre. Fruits, greens and vegetables should be part of the seniors' diet. But make sure you wash these thoroughly before consuming.
• Personal hygiene is very important. If you are drenched in the rain, take a bath afterwards to protect yourself from any infections.
• Say no to street food, no matter how tempting. The water used to make gol gappas, for example, could be contaminated and the coriander and mint used to make green chutney not be washed properly.
• Avoid food contamination by practising good hygiene. Wash your hands before preparing or eating food. Keep kitchen utensils and counters clean. Wash fruit and vegetables to kill bacteria and germs. Cook fresh and eat fresh as far as possible. Refrigerate and store food properly. If food tastes spoilt, throw it away.
• In case of any illness or emergency, finding a hospital or reaching out for a doctor may be difficult during the rain. Stay in touch with a home healthcare service for elders that offers services ranging from doctor visits, nursing assistance and medicine delivery.
About Author