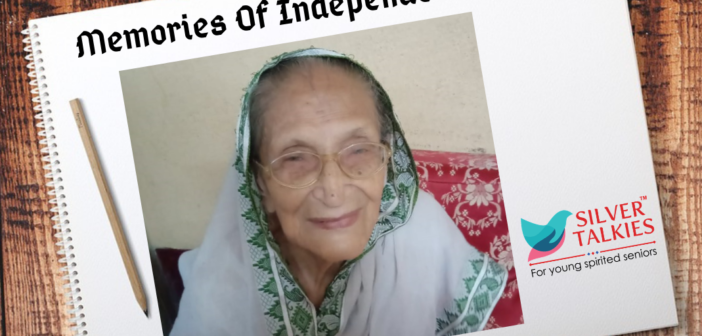 This 95-Year-Old Broke Shackles of Society to Take Part in India's Struggle for Freedom
Meet 95-year-old Parbati Chatterjee from Kolkata who went against the social norms restricting women to participate in India's freedom struggle. 
Draped in a milk-white saree, Parbati Chatterjee, 95, from Barasat, West Bengal spends her day either stitching her own blouses and petticoats or weaving sitting mats for her grandchildren or playing the harmonium and singing to it. With bleak eyesight, trembling hands and a cracked voice, she never misses a strike of the needle on the cloth or plays a wrong tune. She hardly forgets to go out for her daily walk and refuses to board a rickshaw when offered to. With a belt wrapped around her waist, she prefers getting her own medicines and daily necessities, all by herself. She says: "I believe in the true sense of freedom and feel that age cannot be a bar to your will of living independently till the last day of your life. Freedom brings me an immense sense of self-satisfaction."
When her children warn her of a fall, she tells them with pride that her freedom cannot hurt her as she has walked on the street with Netaji and Gandhiji, singing out loud for the country's freedom against the British. Chatterjee actively participated in India's struggle for Independence and marched alongside several freedom fighters, singing 'Vandemataram' and 'Jai Hind'. She had also shared the stage with Mahatma Gandhi and Netaji Subhash Chandra Bose during freedom rallies, where she performed songs, create awareness about the evils of colonialism and get more people to join the freedom movement.
"While my mother-in-law never really approved of my public performances and never wanted me to go out and sing with other men, my determination and my husband's support could not stop me from being a part of the struggle for freedom. My husband was a theatre artist and he too conducted street and stage plays to spread the fire of freedom among the masses," says Chatterjee, walking down memory lane.
Chatterjee supported her cousin brother, Bhagirathi Chatterjee, who was actively involved in the armed rebellion against the British. Starting from providing a place of hideout from the police for her brother and his allies to serving food to the young freedom fighters and nursing the wounded revolutionaries, Chatterjee's youth was as exciting as any patriotic movie.
Born in a conservative family in Kolkata in 1924, Chatterjee was not allowed to study after Class 3. "Women those days were not allowed to do almost anything. I got married off at the age of 13 when I was just a little girl. Such marriages were known as Gauri Daan where young girls were married off even before they could get over their adolescence. After marriage, I was not allowed to wear shoes as I was a woman and forced to walk barefoot until my husband would hide and carry a pair of shoes for me. I used to wear shoes once I was out of the sight of the people who knew me," explains Chatterjee.
However, nothing stopped her from learning English which she felt could become a weapon for the Indians to get rid of their colonial masters then. "I realised that we could attain freedom only and if only we could be at par with the British and knowing their language could certainly gift us equal status. I used to borrow books from my nephews, hide it under my saree and learn English in the afternoons behind locked doors after finishing all household chores. I could not let the elders in the family know about this as in those days women who read books and novels were considered to be of a maligned character," says Chatterjee.
Eventually, she witnessed India's Independence in 1947 and her joy knew no bounds. "India's independence taught me a valuable lesson. Be it the freedom of an individual or a country, it can be achieved through lots of struggle and sacrifice," she says. Post-independence, she was in touch with the prominent leaders who assumed power in the free nation. Chatterjee is a great cook and loves feeding people. She has had chances to invite and cook for the erstwhile governor of Bengal and Orissa, Kailashnath Katju and many other political leaders of independent India.
"Today I am a proud grandmother and a great grandmother and I feel elated to see my grandsons and grand-daughters doing great in their lives. I have always taught my children to raise their children, especially their daughters in a way so that they can be self-reliant and independent. At times, I have gone against their decision of marrying off my grand-daughters early and suggested them to focus on their career instead of marriage. Born as a not-so-free woman of colonised India, I have realised that the best way a country can achieve freedom in true sense is by gifting wings of freedom to our daughters," says Chatterjee.
---
Every August, Silver Talkies records memories and instances of humanity, fortitude and courage during the Independence Years — stories of life in a newly independent India; crossing over during Partition and stories of finding freedom. You can access our archive here: The Independence Years
About Author