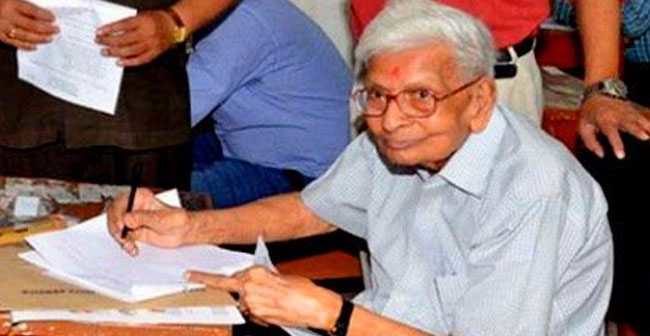 98-Year-Old Grandfather Becomes India's Oldest Postgraduate
Raj Kumar Vaishya is 98 and India's oldest postgraduate. He is also a senior citizen who doesn't believe in giving up on his dreams. Here's why…
The Limca Book of Records has recognized 98-year-old Raj Kumar Vaishya, born in 1920 in Bareilly, as the oldest person to enroll in a Master's degree programme in the country. Vaishya recently finished his MA in Economics from Patna's Nalanda Open University, fulfilling a life-long dream to become a postgraduate.
Why Economics? Vaishya says he wanted to study why India has failed to solve the problem of poverty even after so many years of independence.
Vaishya finished his BA in 1938 and retired in 1980 from his position as General Manager in a private firm in Koderma. The nonagenarian says he received the support and help of his son and daughter-in-law in enrolling for the course.
His daughter in law Bharati, a retired professor of History, helped him with his Maths and Economics work. Vaishya first sat for a three-hour MA first year examination in 2016 and the final year exam in 2017 along with students younger than his grandchildren. He used a walker to move around, wrote in English, and used nearly two dozen sheets in each exam. He cleared the final exam with a second division.
With his mission to set a goal and achieve something in life even at this advanced age, Vaishya has set an example for millions of seniors who may have given up on their dreams. Age, truly, is no bar!
#AgeNoBar #OldestPostgraduate #RecordSetter #Nonagenarian
About Author