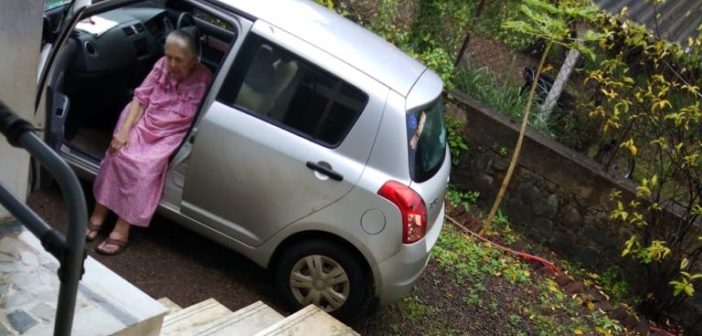 A Bond of Love: How An Ailing Brother-Sister Duo Keep Up Their Conversations
Keeping up with your siblings is super easy in the millenial generation with Whatsapp, Video Chats & Social Media at our disposal but some elders still prefer it the old fashioned way. Here's a story to warm your heart this Monday morning.
With Raksha Bandhan having just gone by, sibling love is in news. And if your sibling is someone you haven't caught up with in a long time, it's time to take a cue from Twitter user Branded Bawi's grandmom. Granny may not be clued on to technology to keep in touch with her brother but she goes one step better and does it the old fashioned way, meeting her dear sibling face to face, Here's what we noticed on her feed this morning and it made our Monday!
My dadi went to visit her brother today morning. He can't climb down the stairs and she can't climb up. So she sits in the car, he sits in the balcony and they chat away to glory. This has become a sort of a ritual now. Such a happy sight 🙂 pic.twitter.com/jR4D4z5pAU

— Branded Bawi (@ZeniaIrani) August 21, 2018
And if we can't get over the cuteness of it all, neither can the Internet. Twitter went abuzz with everyone sharing the photograph and calling it super cute.
Zenia Irani, the granddaughter who posted this, went on to say that her own father is around but cannot lift his mother up because of his back problem. So this is the solution they found. Plus, the elderly lady, who is usually mobile enough with a walker, doesn't like being carried around and has devised her own to way to enjoy her daily chats with her dear brother.
We love it even more because loneliness is a real epidemic among older people. A recent survey by Agewell Foundation in Delhi, surveyed a sample size of 15,000 elderly individuals. The researchers found that 47.49 percent of them suffered from loneliness. In the light of those not so good statistics, staying connected with your loved ones by putting in a little extra effort, could go a long way towards mitigating that.
More power to this fabulous granny we say and more power to the family for letting the elders do exactly what they wish to!
Featured image courtesy: Twitter
Like this story? If you have stories of seniors at home going that extra mile to keep themselves engaged and active despite ill-health, send them to us here. Email us on mail@silvertalkies.com
About Author