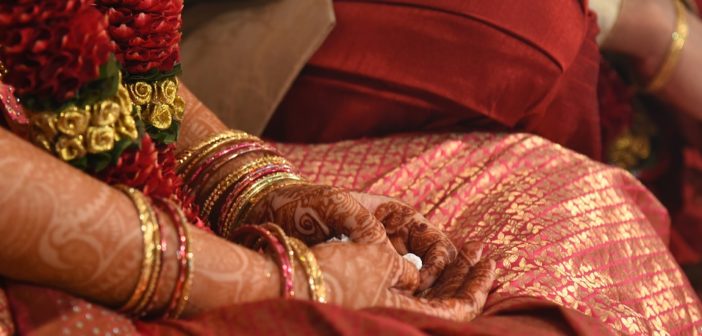 A Companion For The Silver Years
Many single senior citizens across India are now giving relationships a second chance in their silver years, through marriage or live-in relationships. Here's a look at why companionship is much needed in an older age and organizations helping seniors to achieve it.
This article first appeared in 2014. We have updated it recently with new information due to the sustained interest in the topic.

"I'm happy just to have someone with me in the house," says Janardan, a former government employee in his 70s now; he is husband to Mala (name changed on request), in her early 60s.

"I'm looking forward to finding someone who shares my love for travel," says Balaka Devi, 63. She recently registered herself (with the help of a supportive daughter) with a marriage portal that enables second marriages.
While stories of romance among people middle-aged and older have often made successful plots for many Hollywood films (Something's Gotta Give; It's Complicated; Mamma Mia), the traditional Indian mindset is largely unwelcoming of people looking for love and companionship in their older years. There are whispers and snide comments and very often a lack of support from family members. However, mindsets are gradually changing and social acceptance is finding a foothold as older people across the country are opening up to finding companions to spend their lives with. With life expectancy going up and people living longer than earlier, finding a companion in your 50s is considered absolutely normal, while looking for love in the 60s or 70s is no longer looked upon as taboo either.
While some people believe in marriage, many opt for live-in relationships. As we spoke to couples across different age groups, communities and social strata, one thing stood out. Living one's senior years without a companion to spend one's days or share a conversation with was a daunting prospect for most. Older people usually give relationships a second chance purely for this reason. And helping them out are a few organizations that have tapped into this growing social need.
Finding a Match
In Chennai, Mr. Vasanth of Vasantham Remarriage Service says almost 20- 30% of people registered with the bureau are over the age of 60. "The oldest couple we have helped get married were 78 and 76 years of age. They have been married for three years now." Vasanth feels most women who have registered with this service are looking for financial security from their partners and moral support. For men, the need is more for a companion who will look after them and help alleviate loneliness too.
Ahmedabad's Natubhai Patel needs no introduction when it comes to senior marriages and live-in relationships. The devastation that followed the 2001 earthquake in Kutch, Gujarat, led to the establishment of a unique organization for seniors by Patel. Called Vina Moolya Amulya Seva (VMAS), it works towards finding life partners for single seniors – widowed, divorced or bachelors/bachelorettes.
While Kutch was where this organization started, today it has managed to reach out to more than 7000 senior singles of different ages from all over the country. It has been instrumental in the wedding of 52 couples, and amazingly 11 live-in relationships of singles above the age of 50. Patel says, "We wanted to help the senior citizens live the remainder of their lives with companions and that is why we started this service."
In Kolkata, Dr. Amitava DeSarkar runs Thikana Shimla, an NGO that also provides a platform for senior citizens to connect with each other for companionship, apart from taking care of other eldercare needs. DeSarkar was inspired by Patel's work and took his advice.
"When I researched loneliness of elders, I saw that singleness is one of the causes of loneliness. Attraction for opposite sex is natural, even in twilight age," he adds. DeSarkar also runs a home for older people, as well as smartphone classes. After interacting with many seniors he feels that, "living alone, lacking instrumental support and being unable to share life expectations with a confidante contributes to social isolation." Having a relationship and finding companionship with the opposite sex is one of the best solutions for alleviating loneliness and social isolation, according to him.
Battling the stigma
"Marriage in the later years is not about a physical relationship but about emotional support," says NM Rajeshwari, founder of ThoduNeeda, a Hyderabad based NGO that works towards providing emotional support to the elderly. Started in 2010, Rajeshwari felt that with the joint family system breaking up and adult children often living overseas, several seniors who were on their own had nothing to look forward to except for the empty walls of their homes.
Battling ridicule about her age and 'proclivities' (she was 60 then), Rajeshwari personally met senior citizens around her and discovered that many were ready to welcome a service that facilitated companionship for them at an older age. Most were however worried about the social stigma. Rajeshwari, the brave woman that she is, wasn't. When she started ThoduNeeda with a press conference in December 2010, 45 men and 25 women attended, with a 66-year-old former bank manager and a 63-year-old lady meeting there for the first time and deciding to live together.
Since then, Rajeshwari and her organization have seen almost 50 couples stay together, whether through marriage or a live-in relationship. They organize meetings where they invite senior singles. All meetings and discussions are overseen by a lawyer who can advise regarding possible financial complications. Once a couple decides to stay together, they must announce it on the ThoduNeeda platform, so as to encourage others.
Rajeshwari rues the fact that children are often the biggest hindrance in their parents finding happiness.
"The children may have had inter community marriages themselves but they don't want their parents to get married. Very often the prime reason is property, as they do not want the new spouse to have a share in it."
Adding that this is one of the reasons why a lawyer is present for all couple meetings, Rajeshwari echoes Mr Vasanth in saying the prime reason for women wishing to marry is security, while for men it is housekeeping. Although roles are often reversed. She cites the example of a lady who got married through her organization and says her new husband makes tea for her every morning! "The husband is also happy that he is being complimented for being so thoughtful," she says with a smile.
Patel admits there are people who raise an eyebrow at live in relationships among seniors and explains the reason why some of them have opted for it. Older people have usually amassed property or some wealth by this stage in life and marriage often brings with it legal complications like changing of wills, converting bank accounts and the worst of it all, court cases from aggrieved family members.
As Patel says, "Most of our unions have been successful yet there were cases which fell through. Having the last few years of their life wasted in court cases was not our intention, and this made us suggest live-in relations." This ensured that seniors could have a companion to share their lives with, without any legal complications that marriage might bring in, especially where property was involved.
Patel understands the difficulties an older, traditional Indian woman faces in participating in matrimonial events, which is why his organization arranges for all the expenses for women coming to the meetings by paying travel and stay expenses. Though he has faced opposition in a few places, Natubhai Patel still feels that society is opening up and children are now approaching him to find partners for their parents. He feels his priceless service is helping society become more tolerant and accepting of the needs of senior citizens.
DeSarkar, on the other hand, has faced threats from some family members of clients. "One person asked me to stop contact with his mother immediately or else I would face problems." Despite threats, his initiative has found many takers, with several seniors attending the meets organized by Thikana Shimla.
The Support Systems
Every cloud does have a silver lining and children who are against parents finding companions could do well to take a leaf out of Rajeshwari and her companion Damodar Rao's childrens' books. Rajeshwari and Damodar, 69, took turns to speak to each other's children.
"I did not want them to think of me as a stepmother. I told them I'm your father's friend and there to provide him emotional support," she says. She also offered to write on a stamp paper that she had no rights on Rao's property or money, to avoid any dispute from the start. "They returned it but his children understood now why he had liked me, trusted their father's judgement and wanted him to be happy."
A relationship was the last thing on Namrata Singh's (name changed on request) mind after her husband passed away five years ago. Singh, 55, was still coming to terms with the loss and dealing with grief and loneliness when she met her partner at a conference. They started off as friends, even successfully working together on a few projects, which gradually culminated in them starting a business together.
As they got to know each other more, the closeness grew and sometime in late 2017, Singh and her partner started a relationship. For Singh, it was important that her daughters understood and accepted it.
"My daughters are in their mid and late twenties and both are extremely supportive. They appreciate the fact that I have started a company, I have a partner and what I am doing," says this independent media consultant.
While marriage is nowhere in the picture for now, it was important for Singh to speak to those close to her about her new relationship when she started. "My husband would have approved. He did not want me to give up on love as I was only 50 when he died. But I wanted to ask my mother who lived with me and also tell my father in law." Her partner too, told his daughter and ex-wife about the relationship. Although Singh's relationship grew from a friendly to a romantic one in an organic manner, the loneliness looming ahead in life also played a big part. She is extremely honest when she talks about it. "I spent the last four years alone and that was very tough. I would feel lost without a companion. I wanted someone I could depend on."
Like Singh, Balaka Devi of Kolkata wouldn't have thought of looking for a companion, until her daughter Tara suggested it. "I'm the one who told her about older people finding companions and said there is no harm in looking for someone you could spend the rest of your years happily with. My mother loves travel, enjoys good food in restaurants and movies. I'm quite busy with my work and live in a different city. I would be thrilled if she found a friend to do these things with and an emotional anchor," says Tara, who has registered her mother with a few websites and has even sent her off on a 'date' or two.
Finding A Companion
While Singh was lucky enough to find love at an older age again, some older people do need some help in finding a companion. ThoduNeeda runs a tour program for seniors where they can meet. Apart from marriage, they also welcome any seniors who wish to find a companion to share a home with, be it two women opting to stay together because it makes their lives easier. As Rajeshwari puts it, companionship makes your quality of life improve. She herself is an example of it.
After organizing matrimony meets for over two years, DeSarkar has realised that the solution to the problem does not lie in just a one day program. "I need to continue a relationship with candidates all along the year. So, we have started a closed Facebook group of interested people and we are planning on organizing dating tours as well."
Patel organizes sammelans (seminars) where prospective grooms can meet prospective brides. The seminars are announced in the local media through ads. He explains how it works.
"Here we collect the bio-data of all the prospective candidates, then they are allotted numbers and then we introduce the ladies and then the men. They each shortlist the ones they want to meet. We give the women the preference to decide first and then organize on-the-spot meetings. They are then free to exchange contact details and arrange further meetings. The organization treats the bio-data submitted as proof and does not get into the background check of the person. "Our responsibility is to make two willing persons meet, from there on it's up to them how they want to take it forward."
All the organizations ensure they take maximum care to avoid any form of cheating or misrepresentation. At Thikana Shimla's meets, interested persons can fill up a form and attach a passport size photo, age proof, address proof and proof that they are single (death certificate of spouse or divorce certificate). Those who have never been married before are given a declaration form to fill. While most take adequate care to ensure only genuine people meet and help them take the first steps, in case of a prospective match, once people connect with each other, it's up to them to take it forward.
"The trend for a legal friendship is much more than marry or live-in relationship," says DeSarkar, who feels companionship matters more than a label (married/live in) does. He isn't far off the mark. Whether it is with a little matchmaking support or finding love by chance, single seniors are ready to change social mindsets and give relationships a second chance.
---
Here's how to connect with the organizations mentioned:
Vasantham Remarriage Service, Chennai: 098402 51110
Vina MulyaAmulyaSewa (VMAS), Ahmedabad and across India
Contact Natubhai Patel on natubhai.vmas@gmail.com
ThoduNeeda, Hyderabad
Contact NM Rajeshwari on thoduneeda2010@gmail.com or visit their FB page: https://www.facebook.com/thoduneeda.sewa
You may also call: 8106367014
Thikana Shimla, Kolkata
Contact: 093308 43394 or email: thikana_shimla@yahoo.co.in
https://www.facebook.com/thikanashimla/
---
With Sheetal Mehta, who interviewed Natubhai Patel for this article
You may also like to read Finding Love After 50: True Stories 
About Author