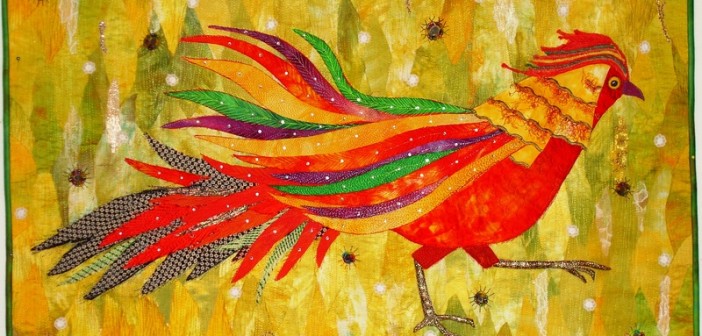 A Magical Medium: Leela Cherian's Art Quilts
Textile artist Leela Cherian's art quilts are a melange of various kinds of fabric, texture and colours, all coming together to create heirloom pieces of art.
At 76, Leela Cherian's mind is a storehouse of imagination; brimming with a riot of colours and whimsical ideas. A textile artist, Leela Cherian's artistry needs no introduction in the world of art quilting. Quilting since 1980, Leela made her first art quilt in the 90's after an introduction to British textile artist Lara Carter's work. Leela has been collecting fabric for 30 years now, her creative genius bringing them together to make exceptionally vibrant and spellbinding works of art. Her work draws inspiration and ideas from everywhere – whether it's her travels in the Yucatan Peninsula, Mexico; to Chinese gardens; the sights and sounds of India or her own beautifully decorated home and garden.
A Fabric of Mixed Media
From a distance, it's hard to tell that her canvas is fabric and the medium is textiles of various kind – each in multiple shades of colour, luster and texture, accessorised by threads, beads and her limitless imagination. Art has always been Leela's forte and as a young housewife in Vellore, a small town in Tamil Nadu where her cardiologist husband Dr. George Cherian worked, Leela tried oil painting and terracotta work among other art and craft. Her creativity needed an outlet in a township where the world was largely medical and so Leela enrolled in the Madras College of Art. "I stayed away from my family for three months and did a course in enamelling and terracotta work. I was craft starved," she says with a laugh.
Quilting was a stroke of luck. "I came across a magazine called McCalls Needlework and Craft in 1978 for the princely sum of Rs 14, which had a photograph of a Hexagon honeycomb quilt. At that time, I did not know what a quilt was and I made my first one without following the proper method!" But the artist in her was hooked and little did she know that the chance introduction was to become a lifelong passion. Leela moved to Kuwait soon after and would ask her husband to get her books on quilting when he travelled. "My main teachers were books!"
Leela's introduction to art quilting, which doesn't follow the mathematical pattern that traditional quilting requires was through the work of Lara Carter, a British textile artist, when she held an exhibition in Kuwait in 1996. "She had done spectacular work with scrunched fabric and it struck me that I didn't have to measure and follow a dimension to create quilt art."
A Story of Passion
It started her off on journey that she has never looked back from. Leela Cherian's art quilts see a variety of fabric in use, with an equal array of techniques, right from burning, cutting, sewing to appliqué work. "Fabric has an amazing range and it's possible to create so much texture with different fabrics like velvet, tulle, organza, silks and cottons." Leela prefers to hand dye the cotton she uses herself, in a jar, the emerging colour deciding the kind of shading she would use in her work. "I'm an artist and use things intuitively," says the perfectionist.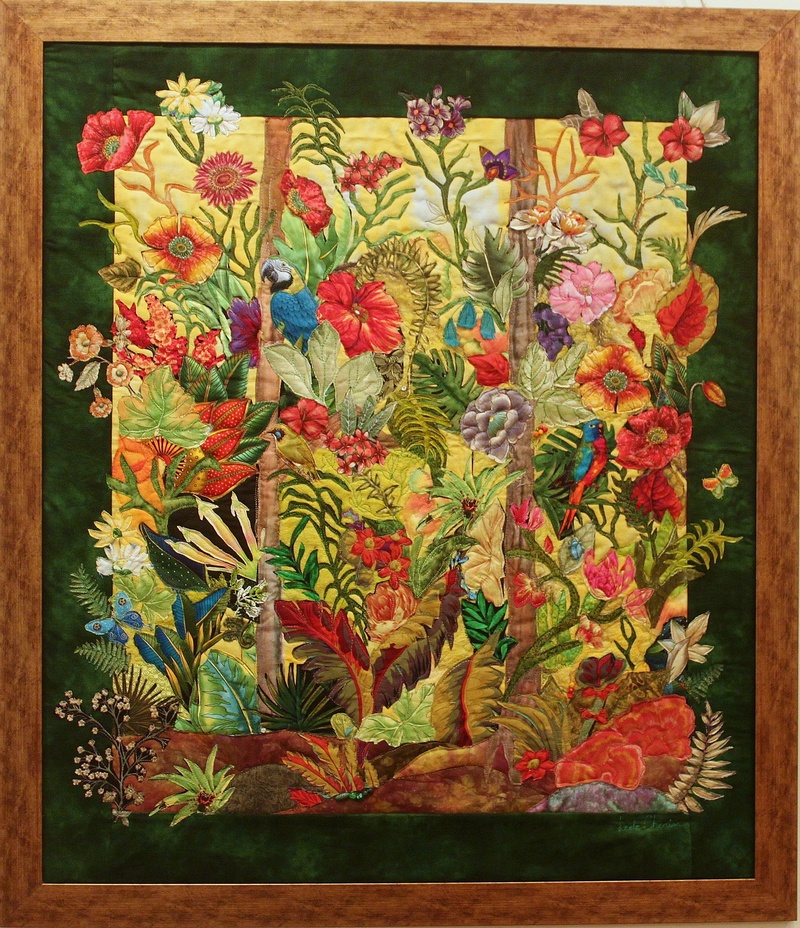 Unfortunately, the art world still identifies many like her as crafters and not artists. Leela thinks the lack of artistic status is also because quilts are seen as utility objects and as something traditionally done by women in between chores. "People need to know and understand that there are various forms of art. In India, the mindset largely is that textiles are not art."
Over the years, Leela has held exhibitions in Kuwait, Bangalore and in USA, where her three daughters live. She has appeared on a show called Simply Quilts on American television to demonstrate one of her quilting techniques in 2001. In 2010, her work 'Two Pots' was chosen for publication in the book, '500 Art Quilts – An Inspiring Collection of Contemporary Work.' Her work graces the walls of collectors the world over, including that of her three daughters who love her work, though none of them are into quilting. "They ensure I keep up a steady stream of work," she adds with a smile.
Her work process is simple and methodical amidst the bouts of intuition and creative energy. "Once I start an art quilt, I draw a full scale picture and put it up on my design wall in the workroom. I experiment with fabric and assess at every stage. The drawing serves as a reference point when she starts making a quilt." It sure is painstaking work, especially as she has grown older but as Leela says, "when you love what you do, it doesn't feel like that."
Is there a style or theme running through her works, we ask, taking in the Mughal style art quilt, the colourful vegetable vendor; the flowers tumbling out of pots and the mesmerising cityscapes that dot the walls of her home. "I do a lot of buildings. I love cities," says Leela, who comes from a family of architects and clearly loves hers arches and doorways. She also likes to challenge herself and does a variety of themes, instead of sticking to just one.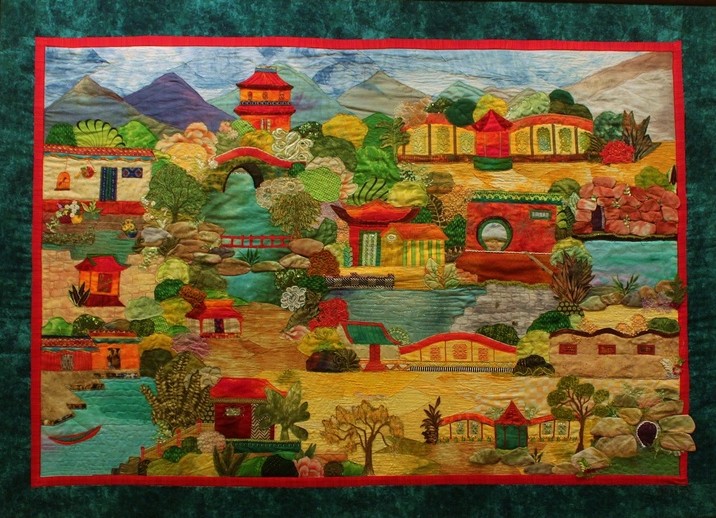 Leela loves to experiment with a gamut of techniques. "For instance, did you know that you can burn organza to reveal layer after layer?" The experimentation and eye for detail is evident in her work, which draws the viewer in by unraveling several nuances, gradation and depths. Another highlight is the sheer variety of shades, from greens merging into jades and olives, teal to turquoise, orange into amber, sunset gold into rust…
Textile art was clearly the calling that was waiting for Leela. "From the time I saw the Lara Carter exhibition and came home and did my first 'Crunch & sew' quilt, I have never looked back because the possibilities are too wide." And as you look at her range of work, you know instantly what she means. It's possible to get lost in one of Leela Cherian's art quilts and imagine the magical, whimsical world that she has created out of fabric and an her unbridled imagination. It's art in its most magical form.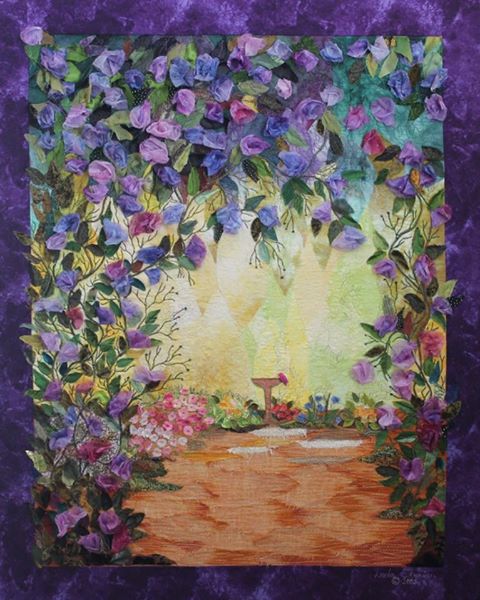 Leela Cherian's works range from Rs. 20,000 and go up to Rs. 2,00,000 or more, depending on the size and complexity of the work. To view her work or join her classes, visit www.cheriandesign.com or visit her FB page https://www.facebook.com/cheriandesign.
All photographs, including the artist's own, are courtesy Leela Cherian & Cherian Designs
About Author