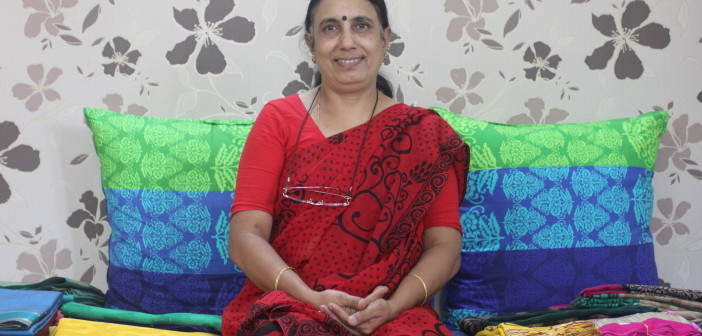 A Spirited Life: Geeta's Story
Once a young widow who struggled hard to raise her children, senior entrepreneur Geeta Chandrashekhar now runs a sari business and is an example of living life on her own terms.
Life may throw many challenges at us but how we deal with them is entirely our choice. Senior entrepreneur Geeta Chandrashekhar too made her choice. She chose to look life in its face and with her indomitable spirit took every hurdle on.
Married at 21, Geeta was a simple girl from Delhi who loved to study and joined Syndicate bank after college. All was well until life dealt her a rough blow and she lost her husband to an illness while in her 30s. The young mother suddenly found herself single-handedly responsible for raising two children. Unfazed and determined to be both "father and mother" to her children and with the support of her parents, she continued to work at the bank. Her work also helped her cope with loss. "Having a job and that too one that required me to deal with clients on a daily basis, sometimes difficult ones since I was in the advances department, helped me cope with my loss to a great extent," says Geeta.
Two years after her husband's death, Geeta moved to Bangalore along with her parents to be closer to her brother. It was an unfamiliar city for her and the new language, local clients and an office away from home didn't make life any easier. But Geeta's determination to create a good life for her children didn't waver. She not only learned the language and interacted with the locals, she also stayed away from home because of her job six days a week only to return on Saturday nights to be with her children. This continued for three long years! "I was a joint custodian at the Mysore branch of the bank, so I would leave work only at 4-4.30 pm every Saturday to travel to Bangalore by bus or train so I could spend a day with my children."
After toiling for a long time, Geeta decided to take voluntary retirement once her daughter turned twenty and moved back to Bangalore for good. She was 44.
New beginnings, new revelations
Having quit her professional career, Geeta was now looking for new avenues to keep herself engaged. She started by joining the local chapter of the Laughter Club in her locality. While attending the one hourly exercise sessions, Geeta started unravelling the latent talents of fellow members of the group. She soon decided to mobilise them to be more than just an exercise group, with help from other like-minded people. Led by Geeta's nimble mind, the group was soon organising and attending quiz sessions, participating in bhajan singing and shloka chanting competitions and even winning trophies at various cultural and sports meets meant for senior citizens. The group holds the rolling trophy for winning the maximum number of prizes at the Bangalore edition of Laughter Clubs' convention, for the last two years. Women of the group participate in the annual competition held at ISKCON temple in Bangalore. Most of the members are retirees from the University of Agricultural Sciences and are active at events and workshops organised by the Gandhi Krishi Vigyan Kendra (GKVK). Geeta is also member of the Lalbagh Horticulture Club and is a gardening enthusiast. "The idea behind all the activities is that one should continue learning whatever be the age or reason. We encourage everyone to participate," says Geeta.
But this is not all. There is more to Geeta's story.
A self-sustaining entrepreneur
Geeta is a thriving entrepreneur too. She runs a saree business from her home catering to the dressing needs of all senior women in her locality, who though fond of shopping, are unable to visit the markets due to various reasons. "All the women in my group used to appreciate my choice of sarees and would wonder at the economical prices of the same. They would also lament about their inability to shop for themselves, being dependent on others for their shopping needs and having to accept other people's choices as their own," recalls Geeta. This gave her an idea to cater to their needs by starting a saree business and bringing it closer to the women in her group. "Hence the start of my venture Vinayana sarees (named after her grand-children Vivan and Nayana)," says Geeta proudly.
Today, you can find Geeta happily chatting away with her women friends over a cup of coffee while showcasing her collection of sarees. She is fiercely independent and proud that she could make her two children stand on their feet of her own accord and via her own savings. Her struggle through their growing years has paid off. Her daughter works at a leading software company and her son is a pilot at a leading airline. "I established my business too on my own," says this proud entrepreneur signing off.
You can check Geeta Chandrashekhar's saree collection at https://www.facebook.com/vinayanasarees
About Author