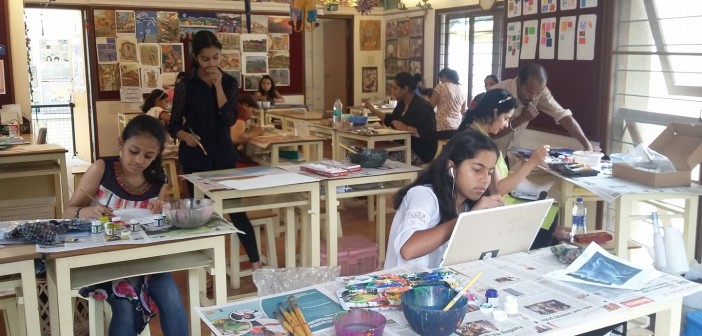 A World Of Colours For All Ages At The Art School
The Art School in Bangalore thrives on creativity and colours. Much like its founder Rehana Chaudhuri, whose energy, love and enthusiasm for art has kept the school going.
The first thing that strikes you about The Art School, tucked away in a gorgeous Indiranagar bungalow is the abundance of colour. Works by the school's many students cover every inch of the wall, taking place of pride. Started by the beautiful Rehana Chaudhuri almost 30 years ago, the school is a testament to its founder's passion and dedication to art. In fact, it comes as no surprise when Chaudhuri says that all her life and all through her growing up years in Kolkata, all she ever wanted to do was art.
When joining art college didn't find approval with Chaudhuri's parents, she went on to do her B.Ed from Loreto House in Kolkata, a training that opened doors for her in various educational institutions, equipped her to work in international schools and gave her the ability to teach children in diverse manners. "From Bombay International to Harrington House, Chennai, I taught children from various countries and learnt how to juggle various styles of teaching," says Chaudhuri. Although she taught all subjects "except Maths" throughout the 12 years she worked as a teacher, it's her artwork that she was always popular for. "I would do a lot of extra work with the students and at Harrington House, there was a hearing impaired boy who would start beaming almost as soon as he would enter my class, as it would be bright and colourful."
Chaudhuri travelled extensively with her husband who was posted at various places and finally got an opportunity to learn art formally with the artist Terry Denise in Colombo, Sri Lanka. She started The Art School only after moving to Bangalore in 1990, with immense encouragement from her husband Dhrubo Chaudhuri, a banker. The Art School offers classes for children and adults on how to draw and paint using water colors, charcoal, oil pastels, pencil, acrylic etc. They have also recently worked on collages and had a texture workshop.
Chaudhuri started from a small garage in Koramangala, with a leaky roof and one student. "But within a month I had 35 students!" she says. What worked more than the 100 pamphlets Chaudhuri printed and distributed in the neighbourhood was the work that her students took back home. "It was my best ad," she says. We look around at the walls, bright and happy with collages, watercolours, oils and are convinced it still is.
Today The Art School hosts not just young students but also adults coming to learn various forms of art, very often with their children. In fact, Chaudhuri encourages inter-generational bonding in her art school and tells us about Dr Nalini Pais, a mother-daughter and grandmother trio coming to learn art. Chaudhuri, who's 68 herself, encourages older people to come to the school to just try their hands at various art forms. "Painting can be relaxing,"she believes, adding that having a passion and creative hobby at an older age keeps the mind active and helps prevent memory loss. "In fact a lot of elderly come here, former chief secretary of Karnataka, Teresa Bhattacharya, being one of them," Chaudhuri says and she encourages them to join the acrylic painting workshop. "I serve coffee, play music and there are lot of younger people coming to the workshops anyway, so it's a fun and relaxing atmosphere." Because the seniors are not expected to produce anything and there's no pressure on them, Chaudhuri feels attending a session here makes them happy and cheerful. "They go back forgetting the aches and pains!"
Chaudhuri is extremely close to her children who live overseas and is a strong advocate of bonding with them through a shared passion. "Me and my son love to cook for instance," she says. Parents and children are always encouraged to do shared projects and classes at The Art School. "Even their communication improves this way."
Acrylic painting classes at The Art School, conducted by Ravi Kumar, a painter from Chikmagalur who teaches here over the weekends are quite popular. Chaudhuri also makes sure there's a lot of variety in the work her students do, to keep the interest and energy levels up. They have worked with oils, pastels, acrylic and watercolours. The Art School has conducted a texture workshop, a collage exhibition and even participated in Chithra Santhe, an annual art fair in Bangalore. In fact, Chaudhuri even teaches people how to run their own art schools, something a senior citizen passionate about art and looking for a second innings could explore!
Chaudhuri, an artist herself, believes in giving her students the freedom to be creative once they have learnt the basic techniques. She has a special, easy to learn formula that has been honed over the many years she has taught art. But she believes in her students expressing themselves. "The feeling of satisfaction only comes when you have done something entirely by yourself." Chaudhuri herself is big on doing creative things on her own. Not one to sit still, she is a keen golfer and has recently started working on a creative project for a charitable cause, a project she holds dear to her heart.
Her source of inspiration and motivation remains her husband, whom she has known since the age of 10. She adds with a laugh, "Yes, we are  childhood sweethearts, if anyone asks me what I do with my time, I say I have my husband and my art." And while her family and art certainly keep her motivated and young at heart, the energy, drive, passion and love for art and the need to be constantly creative, is of course, entirely Rehana Chaudhuri's own.
The Art School welcomes students across all age groups, especially senior citizens who wish to learn art. You can learn more about them at https://www.facebook.com/theartschoolbangalore/
They are having an exhibition of works by students on 26th and 27th of August from 9.30am to 1pm.  
All photographs courtesy Rehana Chaudhuri
About Author