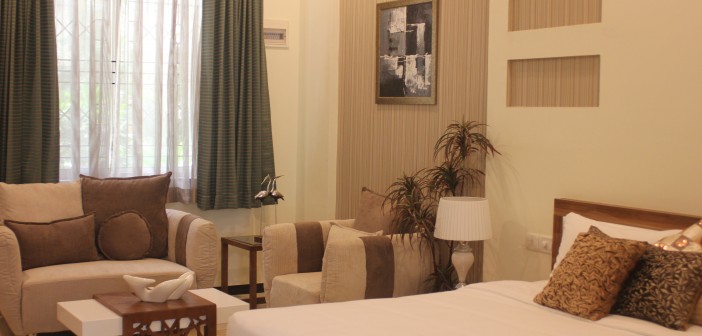 Abode for Silver Years – Mantri Primus Eden
Mantri's Primus Eden, a luxurious senior living project, promises to be a haven for seniors in their retired life ensuring their physical and mental well-being. 
Imagine spending your retired life in a resort style facility in the midst of serene surroundings, in the company of like-minded people and without the worries of mundane chores like cleaning the house, cooking, laundry etc. Sounds like a dream? Well, it can be a reality of your life as Mantri's latest venture Primus Eden off Kanakpura Road, Bengaluru offers you just that.
Mantri Developers feature among South India's leading real estate developers and Primus Eden marks their foray into senior living. A pet project of Adarsh Narahari, Managing Director of Mantri Primus Lifespaces, Primus Eden is meant to be first in the series as the company has plans to cover the entire spectrum of senior living, including assisted living and nursing care. "Inspired by seniors in the family I went to US to study the senior living models there. Primus Eden is a result of the best practices learned there and is first of its kind in India", says Narahari.
Based on luxury senior living concept, homes at Mantri Primus Eden are fully furnished, ready to move-in and are meant for active seniors over the age of 55.  Spread over 4.5 acres the project has 75 fully furnished units that are available on long term lease. The project is designed keeping in mind the imperativeness of physical and mental well-being of seniors.
The community includes a variety of common amenities like cafeteria that offers food designed by a nutritionist, a library managed in association with JustBooks, browsing centre, indoor games room with carom, billiards, table tennis etc., and an outdoor games arena for badminton and golf putting, swimming pool, spa and massage centre, a pyramid shaped meditation hall, a temple, a fully equipped gym with trainer, concierge desk to handle ticket bookings, bill payments etc. and also a multipurpose hall for movie screenings and in-house events. The residents also have the option of choosing from a host of activities to keep themselves occupied doing what they like best. A health centre with a full-time doctor and nurse and also an on-campus physiotherapist and an on-site ambulance ensure the physical well-being of residents.
Rooms at Primus Eden come as studio apartments or one bedroom apartments and are available for single or double occupancy. Guest rooms are available as well when guests come visiting. Single occupancy rentals may cost you Rs. 35000/ 45000 p.m. in a studio apartment and 1 BHK apartment respectively, while double occupancy costs about Rs. 50,000 p.m. This includes rent, housekeeping, primary medical care, concierge, events and activities, meals and snacks, comprehensive maintenance and repairs of both within home and common areas and unlimited usage of all other amenities.
So if you are one of those who love laid back lifestyle and idyllic surroundings and do not mind living in the outskirts of a city Mantri's Primus Eden may be just the place for you. Launched in November last year the residential community is fully operational and has eight residents already. To know more please visit http://www.primuseden.in/ or call 1800 121 0000.
About Author