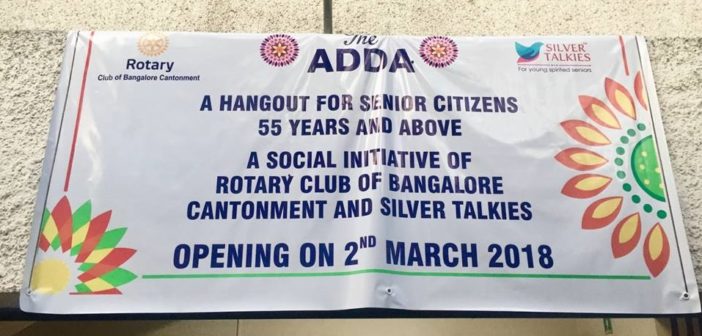 THE ADDA- A Hangout for the 55+
Silver Talkies is proud to announce the very special launch of The ADDA- A Hangout for the 55+ A Social initiative of Rotary Club of Bangalore Cantonment and Silver Talkies.
What is The ADDA?
The ADDA is a centre for older adults over 55+. Its objective is to offer them a dedicated space to explore new opportunities, engage in activities of interest and enjoy the company of their peers. It's a joint initiative of the first kind by Silver Talkies and Rotary Club of Bangalore Cantonment. Membership is open to all above 55+.
It will offer enrichment classes, expert talks, interactive activities and games, creative endeavors, library facilities and computers among others. A safe space for senior citizens to meet, interact, learn something new and spend socially active and engaging time with others. A chance for them to stay informed and up to date with our specially designed series of expert talks and activities.
Facilities include
*Library with interesting books
*Reading room with newspapers and magazines
*Board games like chess, scrabble, carrom and many more
*Desktop computers
*Counselling center
*Group activities like Photography, Music, Dance, Theatre and many more
*Facilities available on Mondays, Wednesdays and Fridays
Address:
Rotary House of Learning, 11 Promenade Road, Opposite Coles Park, Bangalore.
To Register Contact
Ms.Susy 9449759367
For more pictures, visit our Facebook page THE ADDA- A Hangout for the 55+
About Author