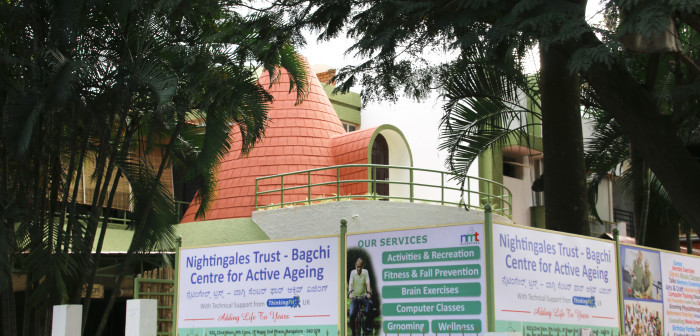 Adding Life to Years
The Nightingales Bagchi Centre for Active Ageing at JP Nagar, Bangalore has a unique concept when it comes to keeping elders physically active and mentally challenged. Here's a report. 
Think of it as a fitness centre for elders — with fitness for the mind and body both in store. The newly inaugurated Nightingales Bagchi Centre for Active Ageing in JP Nagar, Bangalore is targeted at keeping the elderly engaged and challenged. 
Stay healthy & active
The Bagchi Centre for Active Ageing is a project of the Nightingales Medical Trust, brought to fruition with assistance by entrepreneur Subroto Bagchi. It is India's first comprehensive active ageing facility and aims to promote a healthy lifestyle and fitness program along with keeping the mind engaged and challenged. It's a targeted, scientifically designed program based on the ThinkingFit research study done in UK. The ThinkingFit Study was a three year research project done in UK comprising physical activity, brain training and social stimulation. It showed significant improvement in physical fitness, cardio vascular health, memory and quality of life in participants, thereby reducing the risk of dementia. The Centre for Active Ageing proposes to do something similar and offers a blend of various activities to achieve that. goal. Some of these are:
Maitri: The idea is to make and meet friends and members will be connecting with each other through Yoga, discussions, book reviews, picnics, etc.
Aarogya: Specially designed gym for elders with physiotherapist in attendance. 
Mati: Brain gumming that includes cross training, dancing among other activities to push more blood to the brain. There is also the brain gym called Tejas and includes iPad based activities and exercises to stimulate the brain, improve concentration, memory, attention and executive function. One iPad will be shared between two people, so that both end up helping each other out and mentally stimulating each other. 
Kaushalya: This is all about learning a new skill such as a new language, music, dance or basic computer skills among others. The idea is to keep the brain active. 
Vinodam or Do Something Different:  an activity where everyone does something entirely new and different.
Then & Now aims to jog people's memory by making them write down or identify the difference in things over the years. 
Soundarya: A beauty parlour on the premises that offers pedicure, manicure, basic massage, hair dyeing. Separate days for men and women. 
Add Life to Years
Ramani Sundaram, team lead, research & development at Nightingale Medical Trust says that since the idea is to map the developments as well, members will be given a general health questionnaire that will be administered everyday. Based on the diagnosis, they will be given suggestions for various activities. "If they really want to see an effect, they need to take at least 6 weeks of the session," says Ramani, adding that the centre's goal is that even after people leave the program, they should not give up on staying physically and mentally fit and active.
In keeping with that goal, several interesting and well thought of activities have been planned by the team at the centre. "We would want members to blog about their daily activities. Everything we do here is targeted towards a specific goal. For example we have Chess and other board games that are specific brain targeted activities. We also have Wii Games that help in cognitive recognition. For elders, it's more about providing a safe environment. There's a program we have called DanceFit, where elders will have to follow steps on the screen. They can even sit on a chair and do these."
Interestingly, the centre was initially planned as a Dementia risk reduction program, when the researchers stumbled upon ThinkingFit and found it a well designed program that was practically possible. It also helped that 78% of elders who participated in the original ThinkingFit program in UK wanted to continue what they were doing as that is the kind of goal the centre wants to achieve. It helped to find a model like ThinkingFit. "It's a way for us to evaluate what we are doing and gives us credibility," says Ramani. The team says that The Bagchi Centre for Active Ageing is the only one of its kind in India as it is specifically targeted to achieve results and structured in a certain way. While there are several enrichment centres for elders across India, there is no regular assessment involved usually.
The team at the centre feel they truly need to add 'life to years,' the centre's tagline. They agree that while physical fitness is a key requirement for the post retirement generation to reduce dementia risk, they also need to try out new things and new challenges, be it trying out a new game like scrabble, if they have been playing carom all this while. Another big requirement is socialisation.
We wish The Bagchi Centre for Active Ageing all the success and hope it brings well documented positive changes in many a senior's life.
The centre is looking for volunteers, who will be trained accordingly. For membership they charge Rs 1000 a month and an initial assessment fee. As an introductory offer, they are offering a discount on the membership. Kindly contact the centre for more details.
The Nightingales Trust – Bagchi Centre for Active Ageing
922, 22nd Main, 9th Cross, JP Nagar 2nd Phase
Bangalore – 560078, Karnataka, India
Tel: 080-69999775
Mobile: 91-9035025442
Email: nbcaa@nightingaleseldercare.com 
About Author