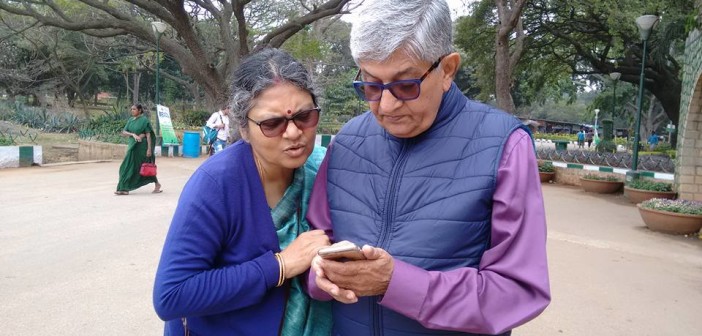 All About Your Senior Citizen Card
If you are a senior citizen above 60 years living in Bangalore, here are some details on the Senior Citizen Card, with a personal anecdote from author and naturalist Deepa Mohan.
My Senior Citizen card was stolen, along with other documents, on 23rd June 2016 on a bus (Route no. 366) between Richmond Circle and MICO Checkpost bus stop in Bangalore.
Since I'd got my card from the office of the Jayanagar MLA, Vijaya Kumar, I went there again. I was told that there is no proper process in place for replacing lost cards, so I took a form and applied once again. I did this on 27th June 2016. I was told that there was no charge, and that I could come back to the office in about a month's time, to pick up the card. On the 22nd of July, I was passing the office and decided to drop in and find out if my card had come. It had, and I got it without any further ado. I am very impressed with the clean and transparent process for getting the Senior Citizen card, even though there is no replacement process in place.
If you are in South Bangalore, you can get the card from here:
Jayanagar MLA, Vijaya Kumar
Address: 35th Cross, 18th Main Road, 4th T Block Jayanagar – 560041
Tel: 9448075433
Email: vijayakuma.jnr@gmail.com
If you click on the link, here, you will get a video of how to get there, too!
— By Deepa Mohan
This post first appeared in Citizen Matters.
---
About The Senior Citizen Card
In Bangalore you can obtain the Senior Citizen Card from the following places:
Dignity Foundation
You need: Two passport size photos and age proof.
You can attach Xerox copies of the following for age proof: Pan Card, Passport copy, Driving licence, Aadhar card or ration card as well as School mark-sheet.
Rs 50 is the fee if collected personally.
Rs 75 /-if the card should be sent by courier.
Contact Details:
Dignity Foundation
No.33K.V.Layout
4th Block
Jayanagar
Bangalore 560011
Tel: 080-26542229
dignity.bengaluru@gmail.com
http://www.dignityfoundation.com/Senior-Citizens-Id-Card.aspx
---
Nightingales Medical Trust
What you need:
1. Proof of age (one of the following):
Birth certificate
School/college leaving certificate
Election card
Passport (not expired)
PAN Card or pension card
If none available obtain doctor's certificate from Government Hospitals or Municipal Dispensary regarding age.
2. Proof of name: The name given on the form should be the same as indicated in the supporting document. If the name has changed, proof of Govt. Gazette publication should be submitted or marriage certificate produced.
3. Proof of residence: In order of preference: ration card/ valid passport/ election card.
4. Doctor's certificate: Required for blood group, illness/diseases, medication in use, and medication allergies. The certificate has to be produced on a legitimate doctor's letterhead with his/her signature, stamp & registration number. A practitioner of Indian medicine with registered number can also certify.
5. Photographs: 3 stamp size photos. Stick 2 photos on white form and stick 1 photo on the pink form.
6. Rs.50/- (official government charge)
Senior Citizen ID Cards Location: No: 337, 2nd Cross, 1st block , RT Nagar, Kasturinagar, Banaswadi, Bangalore – 560032
Tel: 080 42423535/42423535/9731447634
To know more, click here http://www.nightingaleseldercare.com/index.php/senior-citizen-id-cards
How does the card help
The senior citizen card offers discounts and benefits offered by the Government of India. Any person above the age of 60 years and holding a senior citizens card can enjoy these benefits. Some of these include:
* Reservation of two seats for senior citizens in front row of the buses of the State Road Transport Undertakings.
* Fare concession to senior citizens in the State Road Transport Undertaking buses offered by some state governments.
* 30% fare concession offered by Indian Railways.
* Income tax relief
The ID card also enables elders to utilise the various benefits available to them, in hospitals, labs, medical shops and other places.
(The above picture has been used for representation purposes only)
About Author