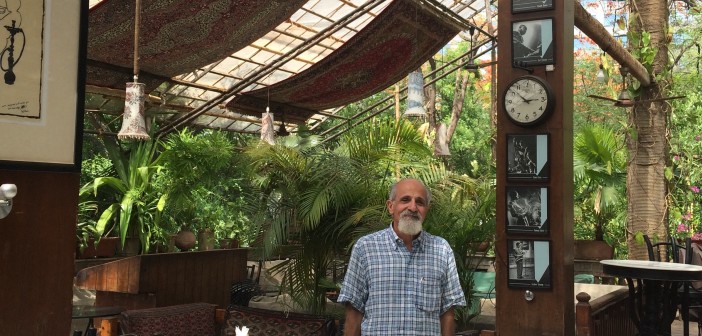 All That's Jazz: Mehdi Niroomand
Mehdi Niroomand, 61, runs Shisha Jazz Cafe, one of the few pure jazz clubs in India and calls it a dream he had long harboured. We met him to talk about his two passions – music and mountains.
Mehdi Niroomand loves Jazz. Miles Davis. And the mountains. The 61 year old affable co-owner of Shisha Jazz Cafe in Pune has brought his city into the jazz music map by staying true to his love for this genre of music and giving musicians a space to showcase their talent. "I wanted a space where musicians were given their due; a place where they were not the side attraction; here at Shisha they are well taken care of," says Mr Niroomand, who has been a restauranteur for 35 years now, having ran a place before this.
Every Thursday, Shisha hosts a Jazz night, where musicians play to a packed house of jazz lovers and music enthusiasts. Mr Niroomand is a constant presence. Supervising, walking to various tables, checking if a diner needs something, active and involved..
Shisha has also been hosting an International Jazz Fest for the past few years, inviting artists of international repute. Mr. Niroomand, whose parents migrated to India from Iran, believes that Shisha is one of the only pure artist focused jazz cafes in the country. "There's one in Delhi, called The Pianoman, which is wonderful," he says, genuinely happy that there is another place that celebrates jazz.
Mr. Niroomand trained as a geologist but circumstances turned him into a restauranteur. He looked after Sunrise Cafe, a small Irani joint in Pune, harbouring his dream of opening a space that was casual, relaxed and exclusively played jazz, the music he so loved. An avid trekker, he was inspired by the mountainside cafes in Iran and Shisha reflects a lot of their gorgeously laid-back style in its decor, which uses sofas to casually lounge on, Persian carpets and artefacts.
Shisha started in 2003, when Mr Niroomand's friend (Shisha co-owner Prithvi Chitnis) told him about a place that was available. "It had an open terrace with a huge Peepal tree over it. I'm a nature lover and that caught my attention. I felt it was the perfect spot for the Jazz Cafe I had dreamed of," Mr Niroomand says. The partners started with a paltry budget of Rs. 1,35,000, threw in some refurbished furniture, few Iranian carpets, Iranian food, supervised by Mr Niroomand's wife Mahnaz and started the place in six weeks. It was a complete hit.
"We called the jazz aficionados of the city, people came and had a great time. We set a particular sales figure target for three months, we crossed that sales figure in three weeks!" Despite the lack of big investments in the beginning, Mr Niroomand feels something about the place worked its magic on the customers. "Somehow the combination of all the elements —  food, jazz, the decor…came together and worked," he believes.
Shisha started with 70 tables and now have increased to 280. "It has expanded over the years, as our sleeping partner, Mr Chinoy, also owns the property," Mr. Niroomand adds that all of them, including his wife Mahnaz, an Iranian from Iran and son, Ehsan are involved with running the place in a hands on manner. His daughter has a hotel management degree and he hopes that someday the children will take over and continue.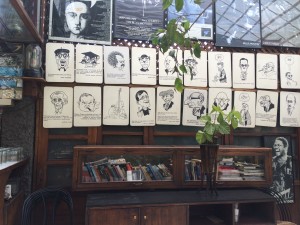 We asked him if the jazz cafe that he had dreamt of was achieved. "Oh yes! My dream is more than fulfilled," comes his emphatic reply. "We never set out to achieve this, it just happened," he adds with a wide sweep of hands, gesturing towards the place. Fourteen years on, Shisha Jazz Cafe has hosted around 600 gigs. "Most of the big names in Jazz in India and international artists of repute have performed here," Mr Niroomand adds with a touch of concealed pride.
What next then, we ask the man who has stuck to his beliefs about various things. He has stayed true to the genre of music his cafe started with and tried to keep the rates as reasonable as he can at the restaurant. "Jazz started from the streets and is meant to be affordable. The five star hotels made it expensive. We want it to remain available for everyone," he says, adding that he started his life as a restauranteur with Sunrise Cafe, his father's Irani cafe, where "we sold chai at 35 paise." That's the background I come from, he adds, candid to the core and satisfied with what he has achieved.  
As a senior entrepreneur, Mr Niroomand doesn't feel the need to make any changes to his much loved venture. "I don't feel 61 but the truth is I would like to enjoy my earnings. Maybe take longer holidays, visit the mountains more often…" He trails off before hurrying to check something with the service staff, who he says, really manage his restaurant and inviting us to come back for dinner and treat ourselves to some jazz!   
Photographs: Silvertalkies
About Author