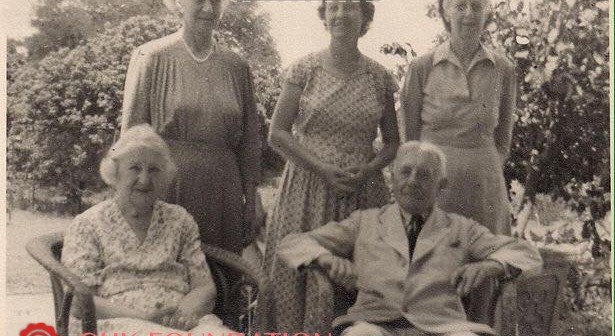 How Alyia-Phelps Gardiner Discovered Her Great-Grandfather's Legacy
British grandmum Alyia Phelps-Gardiner discovered her ancestor Gustav Herman Krumbiegel's lasting legacy in Bangalore by chance. She has now set up the Gustav Herman Krumbiegel Foundation to take his work forward in the city he loved.
What happens when you discover that your great grandfather wasn't "just a gardener" as you had thought but actually the person who established the green heritage of Bangalore? That his work found admirers in Maharajahs and horticulturists alike and is admired and respected even today? That he was an important enough person in the history of his adopted city to warrant a mention in the state board's schoolbooks?
If you are Alyia Phelps-Gardiner, 55, great granddaughter of the renowned botanist and landscape designer G.H. Krumbiegel, the person behind Bangalore's tree lined avenues that still blossom with raintrees and gulmohars, you pack your bags and set out to discover a part of the heritage you had been mostly unaware of.
The man responsible for giving Bangalore the tag of 'Garden City,' Gustav Herman Krumbiegel was born in Germany in 1865 and trained at the Royal Botanic Gardens Kew, in England. Krumbiegel was known for his work at Bangalore's  Lal Bagh Gardens, where he served as the Superintendent from 1908 to 1932. The ornamental structures in Lalbagh like arches, pedestals and fountains were designed by Krumbiegel, who is also said to have brought in more than 50 per cent of the 9,000 trees from various species in Lalbagh. He also designed the planting of flowering trees along the city's avenues, designed to blossom seasonally.
Gardiner's discovery of her lost heritage has been nothing short of serendipitous. While she knew about his work, it was "not to the extent it deserved to be known," she says. The Krumbiegel women loved India just like he did but had to leave in a rush post Independence, after his death. "So talking about him with my grandmother and mother was a sore subject as they had to leave their home in a hurry," she says. It was only when she Googled her great grandfather by chance (ironically around his 150th birth anniversary celebrations in both India and Germany) that Gardiner discovered the legacy she had inherited. "An article popped up in a London newspaper looking for descendants of Krumbiegel!" The article had been put up by Richard Ward, advisory editor of the Kew Guild in UK, who was helping with the 150th anniversary celebrations.
"It was like a thunderbolt," Gardiner, a grandmother herself, admits. And as the saying goes, one thing led to another. "I contacted Richard Ward, went to the Krumbiegel exhibition in Germany, which eventually led me on to Bangalore…." She says, about how she found herself in the Garden City. "Great grandfather made me do this I'm sure." At the exhibition on Krumbiegel in Germany, Gardiner met Narayana Swamy, a former senior assistant director of Horticulture, Karnataka and discovered more about her ancestor's work in the city.
Krumbiegel, a former Kew Gardens student, was appointed by the Maharaja of Baroda, Sayaji Rao Gaekwad, to develop ornamental and landscape gardens in his state and personal estates in Bombay and Ooty. The Maharajah of Mysore, Krishnaraja Wodeyar was a good friend of the Gaekwads and persuaded him to send Krumbiegel to the erstwhile state of Mysore for a few years. "My great grandfather started his services for Mysore state in 1908. He was the Superintendent of the government Gardens at Lalbagh, Cubbon Park and Curzon Park. In his time, he did town planning and started many societies, which are still around today," says Gardiner, who discovered all this during her visit to Bangalore in January 2017 as a special guest at the annual Lalbagh Flower Show.
Bangalore and Lalbagh held a very special place in Krumbiegel's heart as it did in his family's. "My mother is now 94 and still tells me how life was so good in India," Gardiner mentions. She believes that the Krumbiegels found a home here. "He had no allegiance to Germany or indeed even to Britain even though his wife was British and he was very vocal with those views. Due to British-German enmity, he was put in internment camp through both the wars as a enemy of the state and his family were under house arrest. Despite this great-grandfather stuck to his views and thankfully the Maharajah Wodeyar and Sir Mirza Ismail (the Diwan of Mysore) intervened on his behalf both times when he was jailed," Gardiner recounts.
When Krumbiegel died in 1956, the then Maharaja of Mysore, Jayachamarajendra Wodeyar insisted that he be buried at the Methodist Burial Ground on Langford Road, under his favourite African Tulip tree. His epitaph read, 'Whatever he touched, he adorned.'
For Gardiner, the discovery of this immense legacy has been like a responsibility that her great-grandfather may have directed towards her from the heavens. She has met people who worked with her great grandfather and had wonderful stories to share and she has seen the beauty and impact of his work firsthand. Saddened by the fast disappearing green cover in Bangalore, she has joined hands with some of Bangalore's green warriors to restore few things such as Krumbiegel Hall and the Superintendent's Bungalow at Lalbagh.
Gardiner also wants to carry forward her ancestor's work and has set up the Gustav Herman Krumbiegel (GHK) Foundation to enable that. "The foundation is about greening up previously unloved spaces and citizens taking responsibility towards that end. Our aim is also to make children learn to love and appreciate their land and animals," she says.
Gardiner has many of Krumbiegel's letters in her possession. "I hear in his letters how much he loved India and envisioned a city which could balance nature and urban development, which sadly seems to have been forgotten. Maybe I have great-grandfather's genes deeply running through my veins, because I feel his love for Bangalore and wish to return to plant as many trees, as I have big boots to fill."
All photographs courtesy: Alyia Phelps-Gardiner 
Featured image: The Krumbiegel family. Gustav Krumbiegel and his wife Katie-Clara sitting, with their three daughters behind them. Gardiner's grandmother Hilda is on the top right hand side.
To know more about Krumbiegel, visit here
About Author