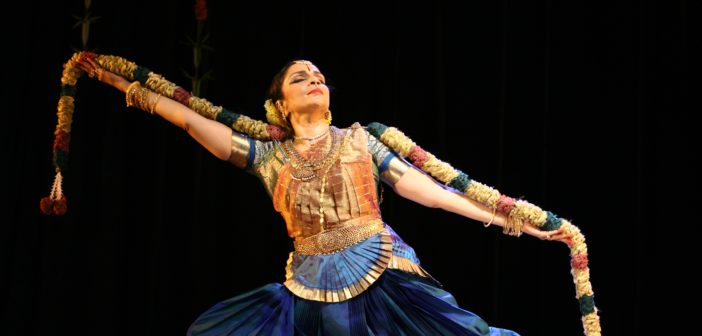 Anita Ratnam On Creating Her Own Language Of Dance
When life entered her art, Dr Anita Ratnam  stayed true to it and created a new dance style called Neo-Bharatam. She shares her journey with Silver Talkies. 
Beautiful and striking are two words that come to mind when you think of Dr Anita Ratnam, 62, acclaimed performer and pathbreaker. But what makes Dr Ratnam most endearing is her approachability and candour. Not one to put herself behind a wall, she has lived life on her own terms, much of which also reflects in the art she performs. A Sangeet Natak Akademi Award recipient for contemporary dance in 2017, Ratnam is known for Neo-Bharatam, a dance vocabulary she conceptualized gradually after moving back to Chennai from US.
What brought in the break from tradition?
"Life entered my art and made me question," says Ratnam simply. A single mom for the past 30 years, Ratnam walked out of her marriage with a three- week old son and two-and-half year old daughter. She had been working in television during her time in New York, where she lived then, having done a Masters in Theatre and Television from the University of New Orleans earlier. Though her family "had her back" during the divorce that followed, Ratnam's way of looking at art and her own way of performing changed forever.
"When you take hard decisions like that your work has to step up too. Somehow, I could no longer play the coy Radha making garlands for Krishna," says Ratnam, never one to mince her words.
Finding Her Voice
Given her classically steeped training, finding her own voice took Ratnam time. She explored various forms of movement arts and joined a physical theatre group in Chennai. She also explored modern dance and storytelling before finding the solution within herself. "I had a lifetime of Yoga in me, I had done classical dances like Bharatnatyam, Mohiniyattam, Kathakali for years, I loved social dances like Twist and Jive…I looked at the movement vocabulary I already had within me and tried to create a new language," she shares the story of her journey. "We come from a country of great stories and I wanted to tap into my own narrative, the stories of the women in my family and bring them into the larger arc of the stories of Goddesses." The result was Neo-Bharatam – a contemporary Indian movement vocabulary for the mature, evolving body, a form that celebrates dance-theatre and storytelling.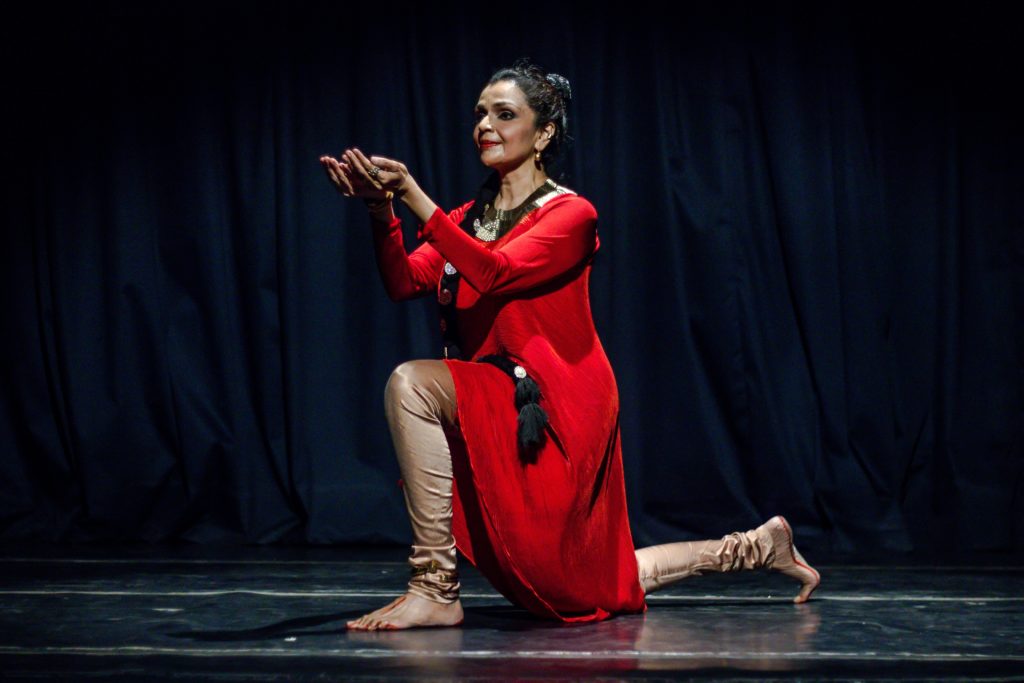 Ratnam's dance theatre with acclaimed pieces like A Million Sitas, Seven Graces, Ma3ka (pronounced Ma-tri-ka) and Neelam is an amalgamation of mythology, hymns, drums, devised movements, costumes and lights – with everybody an equal collaborator. Women remain a strong theme in her work, a reflection of her own feminist identity and of the strong women who brought her up. Her mother played tennis at the State level, judged dog shows officially, studied German and in Ratnam's own words, was a fashionista, who would dress up in beautiful organza saris. And though her father's side of the family was more conservative, her parents gave Ratnam and her two siblings, a balanced and liberal world view, though her mother's support and modern outlook remains central to Ratnam's upbringing. "Going on stage to dance was not seen very favourably in the Chennai of 60s and 70s but my mother persisted. I was a natural on stage," she recalls as one of those instances of support. Ratnam trained under Guru Raji Narayan followed by Adyar K Lakshman in the Kalakshetra tradition. "The women in my life have had a greater impact than the men in the shaping of my character and outlook to life," she declares.
Ahead of the curve
Once she had started experimenting with her own style, the acceptance didn't come easy. Ratnam honestly says she floundered for 3-4 years, "trying to find what will suit my body." She calls her journey back into the world of dance a step by step climb. "The minute you step out of something that is familiar and prescribed, it's like a train going off the track. Eyebrows are raised as to why someone who is successful and has trained for years in the traditional style, would want to do something different."
But Ratnam has never been one to heed raised eyebrows.
"My work is different and is always pushing people's comfort zones. I collaborate with a wide circle of creative people who have never worked with a dancer before. In that endeavour, many new talents have been unearthed. Sometimes dance critics have found my work too decorative but for me it is a 360-degree experience. The colours and lights are all co-performers with me."
This is why moments like receiving the Sangeet Natak Akademi award stand out for her. "You don't work for the award. You hope what you create will find some resonance. With this, I feel my work has made an impact," she says.
Always ahead of the curve, Ratnam set up Narthaki.com, the largest website on Indian dance in 2000. She also established the Arangham Trust, which acts as an umbrella body for all her performances and initiatives. Many of those initiatives have been for social causes. She has worked on issues of mental health and with rescued and rehabilitated women from the organization Sanved in Kolkata, as well as with old age homes. 'It's not a big and constant part of my portfolio," Ratnam admits, "But I want to know how I can knowledgeably use this space."
Ratnam has also set up dance festivals over the years. The Other Festival, the first annual contemporary dance festival in India is one of them. Among all her work, Ratnam's own favourite remains her work Ma3ka and A Million Sitas, highlighting the silent women of the Ramayana as well as Seven Graces, on the Tibetan Goddess Tara." It takes Ratnam one whole year to "think up work." She believes that revisiting and retelling of mythology is as important as it is interesting. Ratnam also believes in the power of collaboration. From the costume to the lights and the music, everything is star of the show in her performances.
Ageing gracefully
Ratnam's dance vocabulary is about the changing maturing body. Naturally beautiful in her 60s, she believes fitness is a lifelong commitment any professional artist should have. Ratnam does cardio training with a personal trainer, has a lifetime of Yoga practice in her and does Pilates twice a week. She also does Intermittent Fasting, where she doesn't eat anything for 16 hours. During performances, she has warm water with Himalayan salt, green tea or coconut water. At the same time, Ratnam, who travels a lot, is adventurous with her food. "I love a glass of red wine, port or sherry, with the right food and the right company."
A complete individualist, this single mum has the admiration of her two talented children, who understand her "absolute stubborn fierceness" and the fact that "striving for excellence is an everyday effort." Ratnam has a wide circle of friends from everywhere, including the LGBQT community and says as a result her children have grown up to be "non-judgmental." It's an asset in today's world, she asserts.
Age surely can't wither this fiery, passionate and creative soul. Ratnam believes as you grow older, you need to listen to your body. "The body is gently slowing down and one has to acknowledge that. You have to accept what you see in the mirror and ask yourself, how can we go out and be the best that day?"
You can't have a better argument to live your life the best way you can than that!
About Author