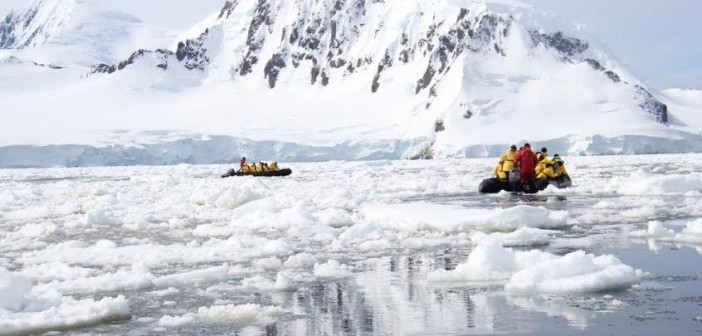 An Antarctica Trip to Remember
Not too many Indian retirees have an Antarctica trip on their must-see list but 79-year-old Arkalgud Padmanabha always did. Here is the story of his Antarctica trip in 2014, in his own words. Enjoy the words and the pictures. We surely did!
I have been travelling since 1981, when I travelled overseas for the first time on official work. Since then till 1993, I had travelled to many countries on official trips. From 1994 onwards, post retirement, I have travelled to many countries on my own, mostly accompanied by my wife. With my recent  South America and Antarctica trip, I can say I have set foot on all the seven continents of the world, with a long list of countries. While my wife accompanied me to most places, I did China and South Africa on my own, as I was more interested in these places. Only two continents, South America & Antartica were left now, and I thought, why not cover these too?
I conveyed my idea of an Antarctica trip to a travel agent in Bangalore (ITH) and they got back to me with an offer that provided 50% discount if I booked earlier. When my US based son heard this, he decided to come along and we went together.
Did I prepare myself for the Antarctica trip? Yes, I did 2-3 months of physical exercise, dietary changes, took the advice of my doctors and gym instructor and coupled that with suggestions from people who had travelled to those places. As for mental preparation, I am always fascinated to see new places and meet new people. Hence, I am not focused on risks, but on the excitement of a new experience. I was extremely happy to visit Antartica primarily because in other places we see man made structures and arrangements. Here it is nothing but nature.
The Journey
We started our journey from Buenos Aires, where we stayed for three nights to get a taste of South America. The embarkation point for the cruise is Ushuaia, the southernmost city in the world and a three hour flight from Buenos Aires. It is beautiful and the cold gives you an idea of what to expect ahead. The expedition was from December 11 to December 21, 2014. On Dec 11, the crew held a meeting to give us a detailed briefing on the weather, sea behaviour, the expedition conditions and rules to follow. 
On Dec 12th afternoon, we boarded the ship. The next two days of Dec 13 and 14, were trying days of the journey due to rough sea sonditions while passing through the Drake Passage of the Southern Peninsula. The Drake Passage is a body of water from Cape Horn to the Antarctic Peninsula. It is one of the roughest ocean crossings in the world. The ship goes topsy turvy here. The staff are used to it but passengers like us usually get a bout of nausea. My advice from the doctor on the ship was, ignore it and you will be alright, which is what I did.
Drake passage lasts two days. After crossing it, when we reached the Antarctic region on Dec 15, they examined our clothes and vacuumed it to avoid any contamination in Antarctica. The ship docked each day near a small group of Antarctic islands. We were made to wear prescribed clothing, life jacket, checked and certified before being lowered on to small boats, carrying 10 persons each.
From Dec 15-19,  everyday these boats took us to the Antarctic islands, where you can see penguins, seals, whales and birds, while surrounded by icebergs and glaciers. We would leave in the boats at 9 am and be back by 12 pm to the ship for lunch, after which, we would go again. The boats are driven by professionals and experts in Antarctic region.
It was a dream come true to visit the glacier islands, trek on snow and see the penguin highway for myself. Penguins create trails while moving up and down from the water to their colonies and we need to give them right of way. Penguin activity is usually at the top portion of any glacier, where they have their nest. It was amazing to see how in the absence of trees, twigs, leaves, etc, they've made the best use of nature. They use pebbles for nests, lay eggs and keep warming them. Both parents take turns to warm the egg. Tourists are not allowed anywhere near the Penguin highway and the crew members of the ship are designated to see that penguins are not disturbed. 
Apart from all these, there are huge icebergs all around, on which air pressure has carved different designs, almost like a sculptor's work. We were also very lucky to see Humpback Whales at a distance of 15 metres only, hunting for seals.
Preparing for Anatartica
Before leaving Bangalore, I got in touch with Tathagat, who went on a 16 month expedition to Antartica. His tips were extremely useful. I was advised to use sunglasses and pick up clothing used for skiing, as it doesn't allow any air in and body temperature is retained. The Antarctica cruise company (Quark Expeditions in my case) also sends you complete details on the health condition you need to have, what to wear, etc. More than anything, you need to have the excitement to travel and the interest. I've been a diabetic for 25 years. Now I'm at a stage when I don't let that worry me, and have realised that fluctuations in my sugar levels have become more stable after this change in attitude. 
I worked on improving my stability. My gym instructor suggested cod liver oil, egg white and milk, which helped in my case. I also did Pranayama and Bhramari in the morning.However, what I did may not suit others as each one's body is different. I would suggest consult your doctor, if you are interested in a similar journey and find out how to strengthen yourself.
Food
I'm a diabetic and a vegetarian but on the ship I did not face any problem with the food. There was a lot of fruit, milk, salad, biscuits, cereal and rice available. I also carried chutney podi, pickle and a special gojju my wife makes with me. I don't think food can ever be an impediment to travel. All you need to do is communicate your requirements.
I was 78 when I did the trip to Antartica. For me, just the fact that I am able to go to Antartica was exciting. After retirement there's plenty to do if you want to. In my case, staying active improves my own self worth. The more active I am the better my body behaves!
Future Plans
I had experienced the eerie feeling of going through East Germany and specially East Berlin, in 1985. I want to revisit the place just for seeing the place without the wall and the communist regime. Though cautioned, I would like to visit North Korea and South Korea too. Also Russia, before 2015 ends. I would also like to do as many stage plays as possible and see the Puttenahalli Lake in Yelahanka rejuvenated and the birds returning to it.  Hopefully, hearing about my experience will help spur some senior citizens and some not so seniors,  to look forward to enjoying life and contributing towards improving life around us.
All photographs courtesy Arkalgud Padmanabha
About Author