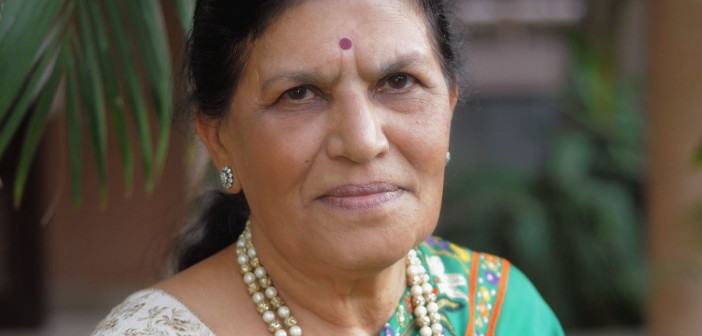 Beading her Dream
Veena Ajmera gives a contemporary French spin to the traditional bead work from Gujarat by turning them into beautiful floral designs. And she started this at the age of 65! Here's her story.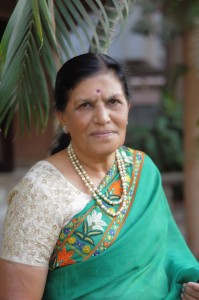 "Beadwork is a traditional skill from Gujarat passed on from one generation to another," Veena Ajmera tells us over the phone from Vadodara, Gujarat. Senior entrepreneur Veena Ajmera gives a modern European twist to the traditional beadwork. Her beaded flowers are hand-crafted by stringing glass beads on wire and wrapping them around to form stems and petals. These can be used in different ways to liven up your decor at home.
Three bead work is a traditional art from the Saurashtra region of Gujarat. In the old days, this work was done by the women in the family during occasions like weddings. From beaded coasters to mats, bedspreads to covers for Pooja items, traditionally, these would be made as part of a girl's dowry.
Veena's work is inspired by this yet different. Her style is more European. She started as a hobby that expanded into a business with her children's encouragement and her own passion to practice a skill and stay creative. What makes her beadwork stand apart are the designs which are elegant and perfect as a modern decor accessory. "The designs are my own idea. I started referring to a book borrowed from a friend and also tried out my own styles," she says. Since the work is time consuming, she now employs a team of 15 girls from economically poor backgrounds, teaching them a skill that also helps them generate an income.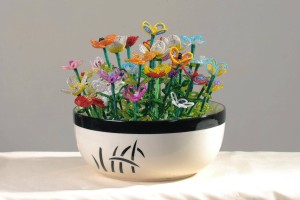 "I make the sample and decide the colour combinations and design and then give it to the girls to execute," she says, adding that some of the popular designs include flowers, table accessories like napkin rings and garden accessories like butterflies and floral decor pieces. She also makes custom designed return gifts that are very much in demand . Veena has held exhibitions in Baroda and Mumbai and receives a lot of support and encouragement from her children and husband. "Initially I would make and give these as gifts, when my kids said why don't you start a business." Her first exhibition was a sell out and since then, there's been no looking back. Today, her range of products start at Rs 50 and can go up to Rs. 6,000. From decor pieces to table accessories, book marks to curtain tiebacks to pretty gifts, her beaded flowers come with their own charm.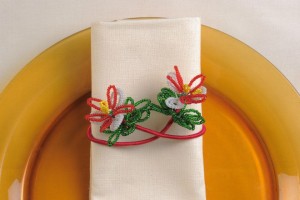 Veena savours the joy of creating something new and beautiful and enjoys keeping herself busy. "Many women my age just spend their time going to kitty parties and card parties. I felt that was not the kind of life I wanted. Now that I have the free time, I want to do something useful as otherwise the mind becomes dull and there is no freshness in thought. Because of this work, my mind always stays active and fresh, I'm constantly thinking of new ideas and designs and there are no unnecessary thoughts cluttering my mind," says this busy grandmother who loves to spend time with her three grandchildren.
Although her style of work is different, Veena is planning to document the dying art of beadwork from Saurashtra by collaborating on a coffee table book with her daughter and daughter in law. "Nobody knows moti work now," she laments, adding that in the old days, it was an inherent skill that the women in the family learnt. "This art from the Saurashtra region has not been modernised and it is my dream to preserve it in the form of a book," she says signing off. We hope the dreams turns into reality soon enough.
To contact Veena Ajmera, visit her Facebook page Beadbloom or write to beadblossoms@gmail.com. 
About Author