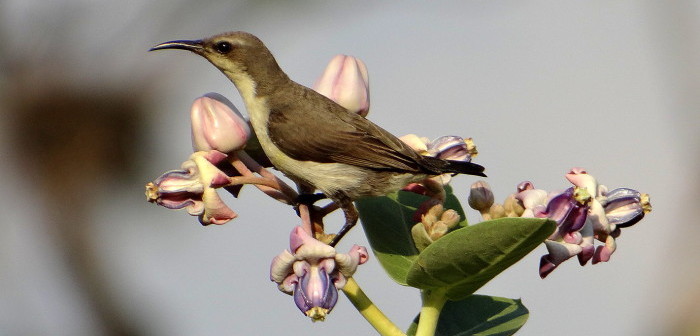 Birding in Bangalore & Beyond
Birding can be a rewarding hobby and a not very taxing one at that. Avid birder Deepa Mohan brings you this comprehensive guide on birding in Bangalore. The guidelines can help anyone wishing to start out, no matter which city they live in. Read on… 
As we age and our mobility decreases, it can become a challenge to find activities that take our limitations into account yet provide a pleasant experience. If you would like to take up something outdoors, bird-watching would certainly be an excellent activity to consider. Bird-watching or birding knows no boundaries when it comes to age; indeed, the more experienced of Bangalore's bird-watchers, who call themselves birders, are from the older age bracket.
"I never knew, until I went for my first birding trail, how much I would enjoy being out in the open air," says Pushpa Shetty. "The pace of the walk is always at an amble, to allow the group to see the birds, and anything else of interest."
Bangalore is fortunate to have a large count of bird species both in the city and its surrounding areas. In fact, during the annual Bird Day event in February, as many as 150 species of birds have been recorded in a single day of birding!
Given this wide variety of colourful, local and migrant birds, many seniors would find this an excellent pastime. "One does not have to go outside one's door, sometimes," said the doyen of Bangalore birders, the late Zafar Futehally, at the age of 90. His home in an apartment building was surrounded by trees that house birds like Barbets, Bulbuls, and Sunbirds.
Bangalore's outskirts also are haven for birds; the so called 'birding hotspots.' Birds are often not far from human habitation, so even a trip to a place like the Valley School area, off Kanakapura Road, or the Bannerghatta National Park, or Nandi Hills, can prove a very rewarding outing for people interested in birds. If one does not have a car, even a walk in a nearby park could provide excellent sightings.
Here are some tips for those who are beginners:
It would be good initially to join an e-group and FB page that belongs to the Bird Watchers' Field Club (BWFC), an informal group of Bangalore's bird-lovers. The e-group of BWFC is called "bngbirds". The BWFC organizes regular Sunday outings, as follows:
The first Sunday of the month, at Hebbal Lake, meeting at the main entrance (opposite the Hebbal station).
The second Sunday of the month, at Lalbagh, at the Glass House.
Both outings start at 7.30 am, approximately, lasting for 2-3 hours.
The third Sunday of the month, somewhere in the Bannerghatta area, the venue and the time are notified in advance on email to the egroup. This is a slightly more challenging trail and requires a little fitness. Also, this is usually under the guidance of Forest Department personnel as it is in the Bannerghatta National park area (NOT the zoo, but the forest area.)
The fourth Sunday of the month, in the Bellandur/Sarjapura area, the venue and the time is notified in advance on email to the egroup.
Apart from this, you can form your own group of friends and go to various birding areas. Since a typical birding outing lasts only a few hours, starts early (by sunrise) and finishes by 10 to 10.30am, it does not tax anyone unduly. In fact, during the migratory season (Oct/Nov to Feb/March) fruiting and flowering trees can attract so many birds that there is no need to walk anywhere, sitting in nearby parks would do. Some of our well-maintained lakes like Kaikondrahalli Lake, Bellandur Lake, or Puttenahalli Lake, can also be great places to see water-birds.
Those who would like to just watch and observe the birds can do so without any other aid to birding; but those who might like to learn the names of a few birds, can invest in a basic bird guide, such as books by Salim Ali, or Carol and Tim Inskipp. The sheer variety of birds depicted in these books will tempt people into going outdoors to find them!
Another good birding aid is, of course, a set of binoculars. Though these come in a wide variety of magnification (and price ranges!), a basic pair of binoculars, of 8 X 42 magnifications, such as Bushnell, can be around Rs. 4,000, and provide clear sightings of the birds.
With today's technology, a camera would also add to the experience of birding. Not all of us may want to invest in high-end cameras and lenses; but even basic cameras (sometimes even the ones on the cell-phones we carry) can document the birds we see quite well, and provide us hours of pleasant occupation later, as we try to identify the bird, and exchange notes with fellow-birders. This brings me to another great benefit of bird-watching…the birders themselves! The birding community of Bangalore is a fairly inclusive and informal group, and I have made a lot of good friends over the years, through this pastime. The more experienced ones are invariably helpful, and one's knowledge about birds increases quite rapidly. One's level of expertise is entirely up to what one wants; one can continue this as a gentle, pleasant hobby, or begin travelling, hoping to sight the birds that are endemic to certain areas. Bangalore is fortunate, being close to one of the world's best birding hotspots: the Western Ghats. Recently, in high summer (which is "low birding season" as migrants have gone away from southern India) at Sakleshpur, on a single coffee estate, we sighted 97 species of birds in 2 days.
"Birding provides me a great opportunity to be out and about in the outdoors, early in the morning," says Mr Harish Chandra, who retired from work recently." It is very refreshing to breathe the fresh air and look at the beautiful flying creatures that share our world and yet are sometimes hard to see." Both the easy sightings and the challenges, he says, keep him on his toes.
Usha Rajagopalan, the conservator of Puttenahalli Lake says, "Every time I sight a new species, it's a big thrill that this lake is attracting so many birds!"
For Lily Paul, health issues often preclude outings; but the big trees surrounding her home just off M. G. Road, provide endless pleasure and ease her time at home. "In every season," she says, "there are small birds such as flowerpeckers, and large birds like the Koel in my trees, and each time I look there is likely to be something different."
Another bonus of this hobby is that often one becomes interested in the birds' various habitats, opening up new vistas of learning and enjoyment. I've been birding on four continents, and can attest to the great joys of birding wherever I go.
So, here's wishing you all the joys of bird-watching, as the colourful and fascinating world of birds unfolds before you!
************************************************
Do's and Don'ts of birding:
1. Do invest in a bird guidebook, and a pair of binoculars. This enriches the birding experience.
2. Whether birding in the outdoors or just on one's balcony, do take care to disturb the birds as little as possible.
3. During birding outings, remember that birds are highly sensitive to colour, and wear dull, forest-coloured clothes. Wear comfortable clothes and walking shoes, a hat or cap, and carry water and/or snacks. Sharing one's snacks during an outing makes for great bonding between members of the birding community.
4. Do join the egroup of the BWFC. To do this, send an email to
bngbirds-subscribe@yahoogroups.com
and the administrators of the egroup will add you on to it. You can then participate in discussions on the forum and add your observations, too.
5. Do join the Sunday outings as much as you can, it helps to increase your knowledge base, and adds to your circle of like-minded people, as well.
The bngbirds FaceBook group  is at
https://www.facebook.com/groups/bngbirds/
You need an FB account, and then you can just join.
All pictures by Deepa Mohan
About Author