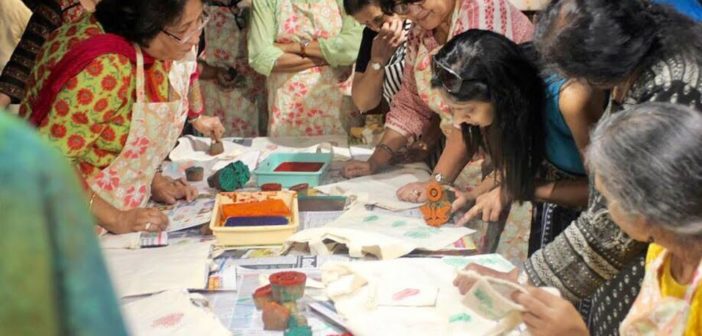 Block Printing Workshop By Go Earthy
Silvertalkies presents Block printing workshop by Go earthy.
With simple techniques and materials, this two-hour hands-on workshop made sure our lovely participants learnt the intricate process of making a block by Indian artisans and they went back home equipped to beautify almost any fabric back in their homes. Thanks to Go Earthy for bringing this colorful workshop to our creative seniors.
Go Earthy is an artisan enterprise who bring all things Beautiful, Exclusive and Authentic; handmade of the finest craftsmanship and quality!
Here is what some of our happy silvers had to say at the end of a creative and colorful workshop…
"Many thanks indeed to Nidhi and Chitra for their organisation, their attention to detail and their cheery temperaments, all of which go a long way in ensuring the success of the programs they arrange for us. India has so much art and beauty and skill and it was wonderful to learn about one aspect of it, ie, block printing. Our compliments to the facilitators whose efforts will make us look at block prints with a healthier respect in future."
~Neelu Sudan
"It was a great learning experience Thanks Shilpa for patiently teaching all us silvers!Only after struggling to get 2 colours aligned did I realise what expertise the printers in Barmer and Sanganer must have to achieve the speed with which they work in rough sheds that were sometimes quite I'll lit Hats off to our Indian artisans who produce such beautiful things with minimum facilities. Thank u Nidhi & Chitra for the workshop."
~Uma Kasturi
"Really enjoyed the workshop. Getting to know something about the history and expertise behind this centuries-old craft was fascinating. We will all, I am sure, look at even the simplest block printed textile with a lot more respect! Thank you Go Earthy. Thank you Shilpa for your patient teaching of such a large group and Nidhi and Chitra for all the organisation and concerned supervision!" ~Leela Cherian "Manish and Shilpa that was indeed a very interesting and informative two hours you spent with us.Thank you.Let me tell you all of us will now look at and appreciate block printing from a totally different angle. We realise how difficult it is and what expertise lies in the hands of these artisans. Chitra and Nidhi thank you both so much for organising this session for us silvers. You are both very caring and concerned about every detail to make us comfortable. Thank you"
~Vijayalakshmi
For more pictures, visit our Facebook page Block Printing Workshop by Go Earthy and Pigment Block Printing Workshop
About Author