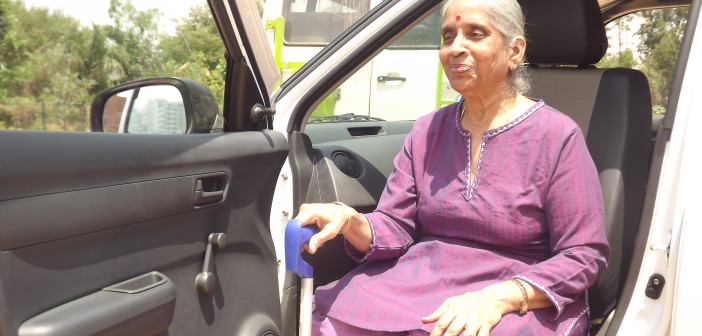 Cab service with a difference
A soon to be launched cab service for elders and the differently abled plans to bring a solution towards mobility issues. A report by Nidhi Chawla.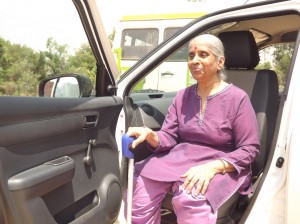 Old age can sometimes be daunting for various reasons and mobility is often one of them. Heading out of home – whether for visiting friends and family, doctor visits or for running errands – may become challenging if one suffers from movement restrictions.
However, this may not be the case much longer as here is a cab service that can help ease this pressure. Launching in Bangalore, KickStart Cabs is a cab service with a difference, with its remodelled cars that have been modified keeping in mind the needs of the elderly and people with disabilities. Their drivers have been trained specifically to be sensitive and to cater to the needs of these people.
The Inspiration
Brain child of Vidhya Ramasubban, KickStart Cabs came into existence as Vidhya wanted to leverage her experience of working with disabled people and launch a business venture of her own. "During my talks with doctors, I figured that the many senior citizens drop out of their follow-up treatment due to transportation hurdles. So looking at the unfriendliness of our transportation system towards the elderly and disabled people, a cab service for them made a logical sense for the venture,'' says Vidhya.
Equipped with a Masters in Social Work from Tata Institute of Social Sciences (TISS), Vidhya has worked extensively in the social sector in Ladakh and Delhi within India and also in Sri Lanka and Nepal. Her most noted work was in Ladakh where she spearheaded People's Action Group for Inclusion and Rights (PAGIR), a disability movement. She also launched a travel company Himalaya on Wheels, catering to people with disabilities.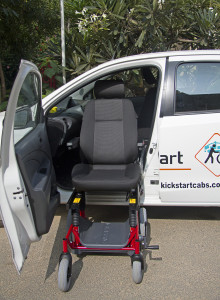 The Fleet
As of now KickStart Cabs' fleet comprises of three cars that have all been modified to accommodate a different need. The first car, a Swift Dzire, has a swivel chair that can come half way out of the front door, facilitating a person with crutches or a walking stick or on a wheel chair to make an easy transition into the car seat. The second model, a Wagon R, has the facility of a ramp, allowing a wheel chair to be wheeled in and secured into the car. Their third model, a Toyota Liva, has a detachable seat that can be converted into a wheel chair, allowing a passenger to be wheeled easily to and from the boarding and alighting point.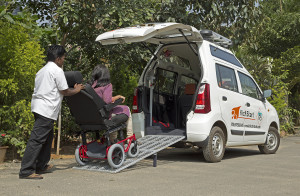 Future Plans
While the cab service has been soft launched as of now, Vidhya is launching it full scale on November 28 2013, before the World Disability Day. The venture is being supported by Mphasis Limited.
In the short term, the company plans to expand its fleet with regular cars to cater to a broader base of people, in order to achieve scalability and profitability. "We want our cab service to be inclusive and not exclusive." shares Vidhya. "We are also looking at tie-ups with hospitals, offices and hotels as we are targeting companies that hire people with disabilities, people with need for hospital visits post injuries or surgeries, etc."
Book a Cab
This is a cab service that allows people with disability to lead their life with dignity and independence. To avail the service of KickStart cabs call 91-8105600445 to make bookings. Or book online at http://www.kickstartcabs.com/. The website is compatible with the Web Content Accessibility Guidelines (WCAG) for the disabled, enabling the disabled to navigate the website easily.
About Author