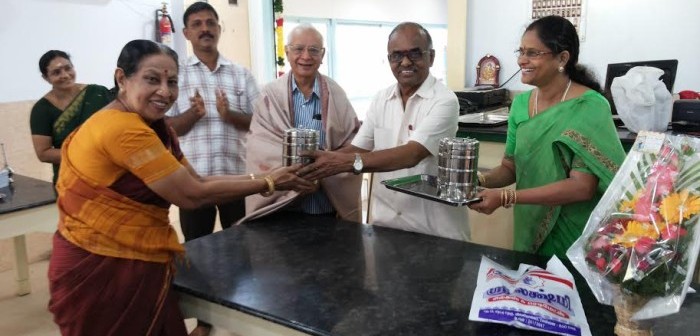 Catering to Good Health
Vijayalakshmi Ulaganathan runs the Chennai Geriatric Catering Service, which prepares and delivers hygienic food for elders who find it difficult to cook.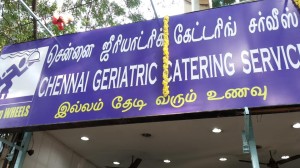 For many elders living alone, cooking and organising groceries becomes a tough chore to accomplish on a daily basis. Illness, mobility issues and several other factors make what was once an enjoyable or easily doable activity, a difficult one for many of them, especially with little or no family to help around in the kitchen. 
The Chennai Geriatric Catering Service, launched on World Elder's Day on Oct 1, 2014, started operations recently to serve this segment. Executed by entrepreneur Vijayalakshmi Ulaganathan, it is the brainchild of Padmashri Dr VS Natarajan, considered India's first professor in Geriatric Medicine and the father of Indian geriatrics.
"Dr Natarajan conducts several welfare programs for senior citizens, which focus on health awareness among others," says Vijayalakshmi, whose initial plan was to set up a day care centre for seniors. When she approached the senior geriatrician with this idea, he suggested that she start a meals on wheels service to begin with. "In Chennai, there are many elderly living alone. Several are not equipped to go out, buy groceries and make their own food. They may have the money but do not wish to employ a cook for safety reasons. Since I already run a guesthouse, it was easy for me to start the catering service and Chennai Geriatric Catering Services was born," Vijayalakshmi adds.
The response was tremendous as several people needed what Vijayalakshmi terms 'geriatric meals.' To ensure that the calorie intake is of the right proportion, Dr Natarajan has divided it between the breakfast, lunch and dinner meals. The food is low in oil and spices, with all the powders made hygienically at home. The menu too is what most elders in the area are familiar with.
The breakfast usually includes Idly or dosa and a vegetable vada. The lunch menu consists of Rice and rasam with a kootu (vegetable) and sundal, which is tasty as well as nutritious and can be eaten even as a snack early evening. The dinner menu includes chapati with vegetables or idly as per the customer's taste. Vijayalakshmi says they are flexible about the order volume and people can order all three meals or only two. Their only stipulation is that the order should be for a minimum of 10 days. At the moment, the meals can be home delivered within a 2 km radius or customers can arrange to have it picked up. They can also visit the guesthouse and eat there. The total cost of all three meals is Rs. 200 per day. If ordering individually, the lunch costs Rs. 80, while dinner and breakfast cost Rs. 60 each. Fresh juice is also available on separate order. "We also deliver special meals (based on health reasons) on request," she adds.
Vijayalakshmi, who comes with a 20 year experience in the hospitality sector behind her, is trying to scale up the operations to include more areas, while not compromising on the quality and health factor of the product. The service, which became operation from November 2014, now reaches out to 15 senior citizens in the Annanagar area of Chennai, with Vijayalakshmi saying that she has been getting more than 50 calls on a regular basis enquiring about it. "It's been a boon to many seniors in the area. Recently, a couple availed of our service as the wife underwent an eye operation. They were both around 80 plus so it was a huge help for them to have the food prepared."
Vijayalakshmi is helped in her work by her husband Ulaganathan, who ensures that the food is prepared and delivered on time. "He's a great source of support," she says.
With a dream to run a day care centre for seniors sometime in the future, Vijayalakshmi wishes to take the catering business forward and serve as many seniors as possible. She also offers an option for people in Chennai who wish to travel and worry about leaving their parents behind alone. Seniors can stay and eat at her guesthouse for a week or even up to a month, on special request.
To contact the Chennai Geriatric Catering Services, which currently operates in the city's Anna Nagar area, call 09444422890 or 9444983296.
— By Reshmi Chakraborty
About Author