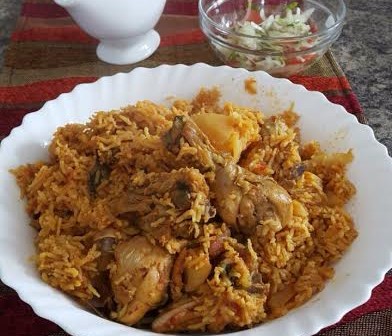 Chicken Yakhni Made Quick!
Here's a recipe of Chicken Yakhni that comes all the way from South Africa, sent to us by Tasneem Saleri-Adroos, an amazing cook and according to her cousin, quickfire in the kitchen.  Make it for a sumptuous Sunday lunch or when you have guests coming, you're sure to have them eating this pulao out of your hands!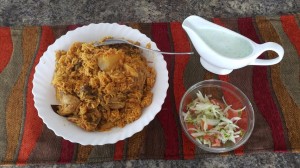 Chicken Yakhni
Ingredients
Rice         2 ½ cups
Chicken  1 kg, cut into medium size pieces
Onion      2 medium-sized, finely chopped
Tomato,  3 medium-sized, either boiled and grated or liquidized
Potatoes  2 medium-sized, cut into 4 pieces each
Yougurt   1 cup yoghurt, smoothened
Coriander Leaves  ½ cup, chopped
Spices needed:
Ginger garlic paste   2 tbsp
Red Chilli Powder     2 tsp red chilli powder
Coriander Powder     3 tsp
Cumin Powder           1 tsp cumin powder
Turmeric Powder      1/2 tsp
Whole Cumin seeds  1/2 tsp
Bay Leaves                  2
Black peppercorns    5-6
Cloves                          3-4
Salt to taste
Method
Heat the oil and ghee. Add the onions with the whole spices on moderate heat and fry till the onions are golden brown.
Add the chicken pieces along with the ginger-garlic paste and fry on moderate heat till the pieces look dry.
Add the rest of the dry spice powders and braise on moderate heat for 2-3 minutes
Add the grated or liquidized tomatoes and cook for 3-4 minutes on low-medium heat
Add the potatoes and coriander leaves, and continue cooking on moderate heat for 5 minutes
Add the yoghurt and cook on medium heat till the chicken looks tender, about 5-7 minutes
Add the washed rice, and pour 5-6 cups of hot water and stir properly; cook on medium heat for 10 minutes, and then cover the pot and let it steam for at least 20-30 min.
Serve hot with onion salad and yoghurt raita.
About Author