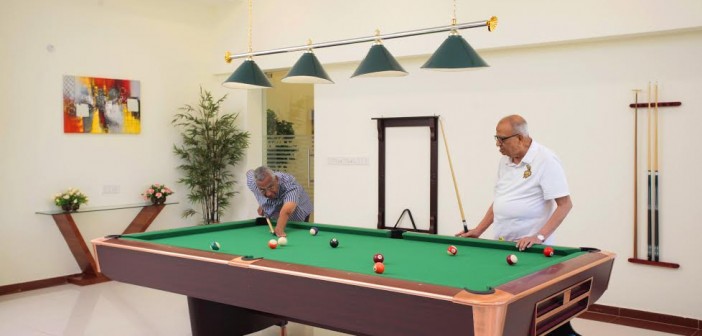 Retirement Homes: How to Choose Right
Retirement homes are fast becoming a growing trend across India. We speak to experts and take a look at the different options available in terms of facilities and financing that would help you  make an informed choice. By Nidhi Chawla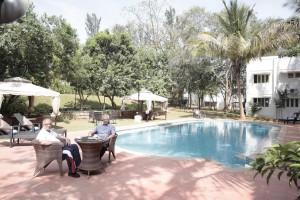 Retirement homes, a concept borrowed from US and Australia, seems to be a trend  catching up fast in India, evident from the multiple queries that we receive from the  readers of Silver Talkies. The Jones Lang Lasalle (JLL) report on Senior Living in  India says there are about 30-35 senior living projects across India, in various stages  of development. Most of these are concentrated in the South and West of India with  North India catching up fast. However only three lakh units are on offer through  these projects that will serve only 0.0001 per cent of the country's senior population,  signifying a huge market potential.
With increasing purchasing power and rise in nuclear families, there is a shift in the mindset of seniors too. They now want to be self-reliant and spend their retirement years pursuing their interests, while being comfortable and secure. Many leading real estate developers are looking at serving this need and are foraying into the senior living space. Mostly set up as independent living spaces catering to physically active and independent seniors, few real estate developers who are serious about catering to this segment are also looking at developing assisted living spaces to serve the seniors in need of assistance with activities of daily living. 
So if you too share this thinking and want to opt for a retirement home, it is imperative that you look at few aspects of this flourishing space before choosing one. We bring you a ready reckoner of sorts to help you decide, with inputs from Mr. Adarsh Narahari, Managing Director, Mantri Primus Lifespaces. Mantri Primus has two senior living projects in Bangalore – Primus Eden (ready to move-in) and Primus Reflection (under construction).
Some important aspects to consider while choosing a retirement home:
Type of retirement home 
There are mainly two types of senior living projects in the market – independent living and assisted living. Depending upon your physical condition you could choose any of the two models. While both models are adapted to suit the needs of seniors, with features like anti-skid tiles, grab rails in the bathroom, low-height shelves etc. and come with many on-campus facilities like primary healthcare, housekeeping, cafeteria and engaging activities, the main difference lies in the kind of assistance available. Assisted living homes provide you with attendants to help you with activities of daily living while independent living homes are meant for physically fit and active seniors.
Few skilled or nursing care projects are available too for those requiring continuous nursing care. 
Primus Eden is an independent senior living project that comes with a health centre, well-equipped cafeteria with menu designed by qualified nutritionists, facilities like swimming pool, gym, library and indoor and outdoor games, etc.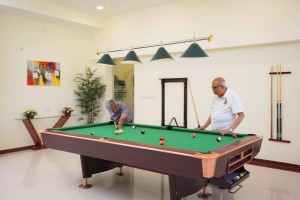 Financing model
After you have decided on the type of retirement home you need, you need to look at the finance model that suits you. There are three models to choose from, each with its pros and cons.
Outright Buy –Charged on a per sq ft basis, the title of the property is in your name allowing you to use it for financing purposes if needed and also gives you the benefit of capital appreciation.
Pure Rental – You need to pay a monthly rent along with a nominal deposit at the beginning of your stay. While this eases out the capital burden and gives you the flexibility to exit any time, you do not benefit from any of the advantages related to capital appreciation available to a house owner.
Long Lease – You need to pay a high initial deposit and a regular monthly rental. While this option eases the initial investment needed in case of an outright purchase the benefits of capital appreciation are limited and refund options for the deposit can sometimes be unclear.
Talking about Mantri Primus' projects, Adarsh Narahari tells us, "For Eden there is a refundable deposit of Rs 25 lakhs and Rs 25,000 per person per month as the monthly fee. This includes facilities of food and beverage (F&B), medical, concierge, housekeeping, all activities, utilities, etc. At Reflection we are selling apartments starting from Rs 40 lakhs onwards. Monthly cost here varies from just Rs 2,000 per month onwards depending on the services availed."
While deciding the finance model you also need to keep in mind the aspect of inheritance and resale.
The self-owned senior house can be transferred or resold like any other house, however the retirement home can be occupied by only senior residents. So in case you are bequeathing the property, your heir would need to wait till they are senior citizens to move into this house or resell it to another senior citizen. This makes these properties less liquid.
Size of unit
Various options are available when it comes to sizes of the unit – studio, 1 BHK, 2 BHK, 3 BHK and even villas, with sizes ranging from 500 sq.ft studio apartments to 2500 sq.ft 3 BHKs and villas, as per the JLL report. You can choose the size you need as per your requirement.
Primus Eden has the option of studio and 1 BHK homes.
Budget
Senior homes usually come at a premium vis-à-vis regular homes. However the good news is that the price range is really wide, from 35 lakhs to over a crore, hence you should be able to find something to suit your pocket. While considering budget you also need to factor in monthly maintenance charges for the use of on-campus facilities, besides the outright purchase costs.
Facilities
Most of these projects come with on-campus facilities to keep you physically and mentally active – swimming pool, gym, library, indoor games, etc. Doctors and nurses on call, security and cafeteria taking care of your meals and tie-ups with third parties to facilitate well being, both mental or physical, are common.
Primus Eden has tie-ups with Nationwide for medical, Superseva for concierge and VAR for housekeeping services in addition to other on-campus facilities highlighted earlier.
While all the above are important, Adarsh Narahari also asserts the importance of checking out the credibility of the senior living developer/ operator and their track record for care and passion.
So next time you go house hunting in a senior living project do weigh in the above aspects while arriving at a decision.  Wishing you happy living!
About Author