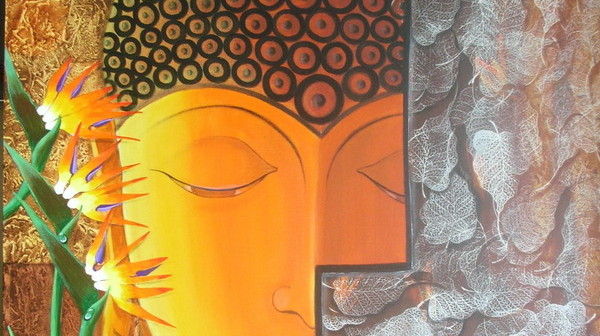 Colour your dreams…
…That should be the tagline of Devyani Parikh's life. A lifelong lover of art, this Mumbai doctor followed her passion to become a painter of repute.
This is an extraordinary tale of an ordinary woman. Introducing septuagenarian Devyani Parikh, a Mumbai based retired doctor who is now a famous painter. Born in 1941, Devyani was the only daughter of her engineer father and homemaker mother, and eldest sister to her three engineer brothers. Although engineering was the predominant profession in the family, she found her calling in medicine and studied at Jai Hind College and GS Medical College in Mumbai to become a doctor. After marriage at 23, she went on to join the Central Railway Head Quarter Hospital in Byculla, Mumbai, where she worked relentlessly for over three decades as an anaesthetist. Devyani retired in 2001 from the helm as Medical Director, Central Railway, having successfully led over 600 people.
However, while this story was being written, another chapter was unfolding in her life.
Devyani's love for art started at a young age. As a young girl she was always dabbling with new mediums like rangoli on the floor, sand, glass beads, charcoal, wood shavings, earthen pots, etc., as her canvas. Her first laurel came during the first year at medical college when her cross-section of a human neck was exhibited in the anatomy hall of GS Medical College for few years.
Such was her passion for art that for many years, unhindered by a hectic student life, Devyani visited Mumbai's landmark Jehangir Art Gallery  every weekend to study the works on display. On one such visit, she met the famed artist K.H. Ara, who after seeing her work encouraged her to participate in an upcoming exhibition of the Bombay Art Society. Of the 800 paintings submitted for the exhibition, only 150 were displayed in the gallery. Of these, only six were printed in the journal of the Bombay Art Society. Devyani's painting was among these elite six, alongside prominent names like S.H. Raza and B. Prabha.
From here on Devyani's journey in the world of art started. She would create two or three oil paintings over a couple of months, as allowed by her strenuous work schedule. She would participate in exhibitions like the All India Railway Art Competitions and the annual shows at Jehangir Art Gallery. With no formal training in art, she picked up techniques and ideas from friends, galleries and from the works of other artists and developed her own style and technique.
"On one occasion, given my tight schedule my husband took my painting to Jehangir Art Gallery, where it was displayed in the centre of the hall. However, when he went back in the afternoon the painting was not there. On checking he was informed that a tourist from US who was travelling the very same day, insisted on buying the painting right away for Rs. 1, 000," Devyani reminisces. From Rs. 1,000 then for a 5 feet x 2 ½ feet painting to Rs. 1 lakh today for a painting of similar size, Devyani's work has come a long way. Today she uses acrylic colours for her work as they dry faster and suit the Mumbai weather conditions better.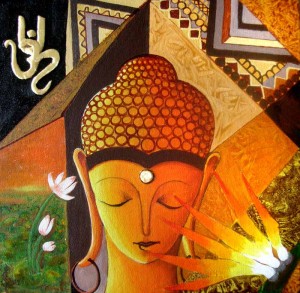 Post retirement, Devyani took up painting with a vengeance.  What started as a hobby grew into serious work. Her first break came in 2005, when she got an opportunity to hold a month long solo exhibition. "I could not believe that this gallerist liked my work so much and wanted to exhibit it in her newly opened art gallery. I later found out that the gallerist was a Grandmaster of Feng Shui and was impressed by the earthy tones of my work." The work was very well received and she sold 33 paintings from her collection. Remembering the event Devyani says, "After the exhibition I realised that I had committed a blunder by not keeping a theme for my paintings, a norm of the artist's world." However there was no looking back from here as Devyani went on to hold many solo exhibitions and also participated in various group exhibitions. Today the tally stands at seven solo exhibitions and 45 group exhibitions, including exhibitions in Singapore, San Francisco, London and Mauritius.
In 2006, a chance introduction to Buddhism, through books gifted by a friend to keep company on a long haul flight, added a new dimension to Devyani's work and proved to be the turning point of her second career. She had now found her inspiration and started by making sketches of Lord Buddha. "I struggled for more than a month to get the sketch right. When I look back at my work dating 2005/ 2006, I feel they were not perfect. Today I think I have a better grip on painting the Buddha," she says humbly.
Devyani has been depicting the life of Lord Buddha in her work and has painted many incidents from His life, like Floating Buddha, First sermon in Sarnath, Buddha and Amrapali, Buddha walking on lotus, etc. "The uniqueness of Buddhism is both its mysticism and philosophy. Buddha's paintings, if made with passion, bring out tranquillity, serenity and compassion. People respond better to the paintings when I tell them the associated story or event." Devyani's personal favourite is her work with golden leaves, a technique that she picked up while in San Francisco for an exhibition.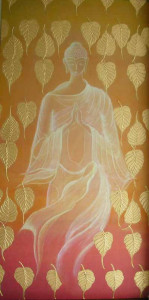 Devyani has had several moments of euphoria she proudly remembers. The biggest one being an unexpected phone call from Christies in early 2009,to send six to seven images of her Buddha paintings, which they later shortlisted to auction in New Delhi. The other notable achievements have been her being filmed in action by Rediffusion YR, an eminent advertising company, and later being screened at the International Advertising Festival in Cannes, France in 2010; her paintings receiving the highest bids during an auction by 'TIE' at ICICI bank in 2009; all her work getting sold at an exhibition held by Edelweiss, her painting being selected for India Summit 2008 and painting for the NGO 'Junior on Canvas.' Devyani's works have found place in the homes and offices of various collectors in India, Dubai, Australia, Singapore, UK and US. They also adorn the walls of some hospitals, offices of real estate developers in India and Indian Navy.
Talking about her regular day, Devyani says, "Painting is my life today. While I spend 6-7 hours daily working on my passion, it is not just about picking up a brush and painting. There is a long process involved starting from conceptualizing the idea, deciding on the subject, story, size, proportions, colours, varnish etc., to buying supplies, labelling, framing, contacting the galleries and buyers etc. I continually strive to reinvent my work and keep learning. However all the hard work pays off when the work gets appreciated and sold."
Today, 12 years, approximately 800 paintings and many accolades later, Devyani is still very humble and grounded when she says, "There are many artists who are much better than me but have not met success just for the lack of language skills or because they reside in remote areas." She attributes her success to God's blessings and feels He is the one holding her hand and guiding her through this journey.
We wish her all the success and pray that she continues to colour her own dreams and bring cheer to the lives of others through her calming and serene portrayal of Lord Buddha. Amen!
To view more of Devyani's works visit her website http://www.devyanis.com
— Nidhi Chawla
About Author