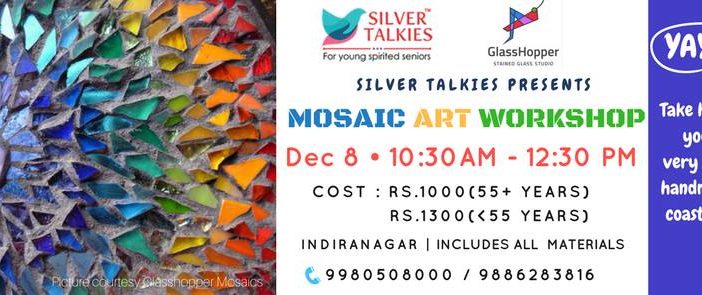 Craft Yourself Some Mosaic ART This Christmas
We have a Mosaic ART workshop for 55+ (open to below 55s too but preference to seniors) coming up for you. 
Silvertalkies presents MOSAIC ART WORKSHOP
Come join us as we create a masterpiece from a myriad of colors. Make your own mosaic coasters as a holiday gift for yourself or your loved ones. It is going to be a fun and memorable morning set in a lush green garden. Need we say more!
Level: Beginners
By: Mosaic and stained glass artist, Saarus Nirhali, Glasshopper
Workshop Date and Time:
Friday, Dec 8, 2017
10:30pm – 12:30 pm

Cost: Rs.1000/head (55+ years)
Rs.1300/head (<55 years)
Includes all materials + take home your very own handmade coasters
About The Workshop:
Using pre-cut mosaic pieces you will design and finish your own coaster. All materials are included.
Register now: 9980508000 / 9886283816
About Author