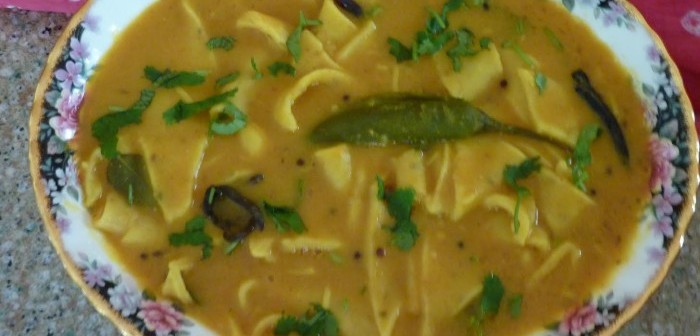 Daal Dhokli Recipe
Here's a recipe of traditional Gujarati dish Daal Dhokli from cookbook author Bhanu Hajratwala
Bhanu Hajratwala was raised in a traditional Gujarati family in the Fiji Islands where she developed her taste for authentic homemade Gujarati dishes. When she moved to the United States after marriage, she learned to improvise and maintain authentic flavors, despite the limited availability of ingredients. She has compiled several cookbooks for community organizations, recipes for worship during ceremonies and has conducted cooking demonstrations and classes throughout the United States and in New Zealand, Fiji, India, and Australia. Bhanu Hajratwala's book 'Gujarati Kitchen – Family Recipes for the Global Palate' is a book for all Gujarati cuisine lovers across the world. The book is aimed at opening vistas for Gujarati food, made popular by the likes of Dhokla, Thepla and Khandvi, in more and more kitchens while also preserving traditional recipes which have never been catalogued before. So while you will find the usual suspects in Hajratwala's book you would also realise there are many undiscovered gems of this increasingly popular cuisine. Here's her recipe of Daal Dhokhali.
Daal Dhokli or Spicy Pasta in Daal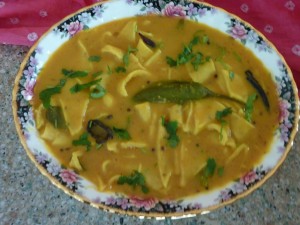 Preparation time: 1 hour (does not include soaking time)
Serves 4-6
Soak split pigeon peas (tuvar daal) in 4 cups water for at least 2 hours or overnight.  This is a wholesome meal in itself and is delicious on cold days.
To make Fresh Masala
½ inch ginger, peeled
1 garlic clove, peeled
1 fresh green chilli, decapped
½ inch fresh turmeric, peeled or ½ tsp turmeric powder
1 tbsp oil
1 tbsp lemon juice
Grind above ingredients together and set aside.
To Make Daal
1 cup split pigeon peas (tuvar daal),soaked
4 cups water
1 large tomato
1 sweet potato (yam), 2-3 inch piece, peeled, halved
1 large tomato
2 inch slice of eggplant
1 tbsp salt
Prepared Fresh Masala
1 tsp turmeric powder
1½ tbsp coriander powder
½ tbsp cumin powder
3 tbsp lemon juice
3 tbsp sugar or ¼ cup jaggery (gor, gur)
6 cups water
4 kokam (optional)
1/8 cup peanuts (optional)
1 tbsp grated coconut (optional)
6 fresh green chillies, halved lengthwise
10-12 curry leaves
Method
Wash and drain split pigeon peas.
In a medium covered pot, add split pigeon peas and 4 cups of water. Add tomato, sweet potato, eggplant, and salt.
Bring to boil. Let cook covered on low medium heat for about 30 minutes untilsplit pigeon peas are completely cooked. (If using pressure cooker, use only 3 cups of water)
Remove from heat. Mix with an electric or handheld mixer until daal, sweet potato, and tomato are well blended.
Mix in Fresh Masala, turmeric, chilli, coriander, and cumin powders. Add lemon juice, sugar, and 6 cups water and mix well. Add kokam, peanuts, coconut, fresh chillies, and curry leaves and set aside.
To Make Dhokli
2 cups whole wheat flour
1 tsp chilli powder
½ tsp turmeric powder
2 tsp carom seeds (ajmo, ajwain)
2 tsp salt
2 tbsp shortening
2/3 cup + 2 tbsp water
1 tsp oil
Oil for rolling board and rolling pin
Method for Dhokli
In a medium bowl combine flour, chilli, and turmeric powders, ajwain, and salt. Mix well. Rub in shortening.
Add water and knead into pliable dough.Divide dough into 6 equal parts.
Lightly oil rolling board and rolling pin.
Roll one part of the dough thinly to a large circle 10-12 inches in diameter. Cut into strips in two directions, creating diamond shapes about 1½ inches wide.
Transfer Dhokhali on a tray or wax paper.  Set aside.
Repeat with the remaining five parts of the dough.
To Make Daal Dhokli
Bring daal to a boil and let simmer.
Gently add dhokhali pieces into the simmering daal. Stir gently frequently. After the last dhokhali is added, let boil for 5 minutes.  Stir often.
The consistency of the daal varies from family to family. To make a thicker consistency, boil longer.  To make thinner consistency, add ½ cup of water or more as desired.
Remove from heat.
To Temper Daal Dhokli
2 tbsp melted ghee
4 dried red chillies
½ tsp fenugreek seeds
½ tsp mustard seeds
½ tsp cumin seeds
¼ tsp asafoetida
¼ cup fresh chopped coriander leaves
Heat ghee in a small covered pot.
Add chillies, fenugreek and mustard seeds and let pop.
Add cumin seeds, let brown.
Add asafoetida.
Pour ghee mixture into daal and cover to prevent splattering.
Add coriander leaves and mix.
Serve hot topped with a teaspoon of ghee.
Serving Suggestion
Serve with plain yogurt and papad.
Note
Will keep in refrigerator for up to 7 days.
Heat and serve.
To know more about Bhanu Hajratwala, check out www.gujaratikitchen.com
About Author