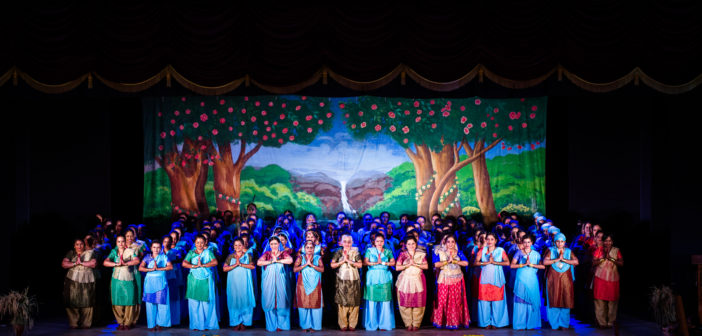 Dancing Away The Years
A number of women are taking to dance in their later years thanks to the efforts of Athma Laya, a platform for all women to dance, age no bar.
What do Acharya Vinoba Bhave and the dancers of Athma Laya have in common?
Acharya once said, "If we wish our nature to be free and joyous, we should bring our activities into the same order."
The 'not-so-young' dancers from Athma Laya echo the sentiments of Acharya Bhave in their art and dance with passion. "I feel lithe, sprightly, joyous, and youthful and I walk with a spring in my steps," says Meenakshi Ramanathan who is in her late 50s. Her voice too has the lilt of a dancer.
Recalling that she couldn't pursue dancing beyond the age of 15 and having missed out on the traditional Arangetram, the debut on-stage performance – Ramanathan always felt that she had missed the bus to the pleasures of dance.
"I had come across a stage performance in 2014 by the dancers from Athma Laya. Truth be told, I was far from impressed as the dancer in me was looking for perfection. But over time, I realized that it was 'the' place for dancers like me who want to pursue dancing beyond what one would call the dancing age."
Athma Laya is a platform for all women to dance despite being way past the shelf life in the dancing sphere. Ramanathan joined the school and realized her dream of giving a performance on stage for the first time in her life during their annual program last year in 2018,  called 'Dance hour nite'.
"Everybody gets a chance to come to the front to perform," says Ramanathan who danced in three of their items — Aanandalaksmi; Garuda Gamana and the Kashmiri rofu. "I felt tremendous joy in performing and while seeing my grown-up son video graphing from a vantage point."
Does Dance Help As We Age?
Research has found that dancing improves strength and muscle function in older adults, as well as increasing balance and flexibility, leading to better stability and fewer injuries. Dancing can also improve your cardiovascular health and takes care of overall emotional well-being. Mala Bharath launched Athma Laya in 1998 with a deep commitment to women.
"Most women who wanted to dance couldn't due to societal norms yet the passion was latent and sometimes glowing strong."
Hence, she started Athma Laya, a dance school that teaches Bharatanatyam as a therapy for women. Her predominant aim is to see a lot of "happy women smile" for whom dancing as a hobby or dream was paid put by marriage or other limitations or who earlier had limited resource to learn. Bharath feels that the journey itself has been an evolution. "We focus on not just the steps or the physical aspect of dance but also the emotional balance which is taken care of through expression and also focus on meditation for clarity of thought. Ours does not focus on perfection but more to do with passion." Bharath reinstates.
Athma Laya's once a week class allows dancers to dance within their limitations. Interestingly, the dancers constantly stretch beyond that, surprising themselves in the process. All they need to join a class is a medical certificate and an intrinsic motivation to come to the class, rain or shine.
Athma Laya helps women to experience bliss and feel complete within. The program is focused on training dancers to one song at a time to avoid putting them under unnecessary stress.
No Dearth Of Cheerleaders
Dancing at this age? That seems to be a question that thankfully, no one is asking. 10 centres in Chennai with one each in Hyderabad and Bangalore, reflect the growing popularity of dance hour with Athma Laya. The family members, be it the parents, in-laws, husband or children have been of great support to the older dancers.
Vijayalakshmi, mother-in-law of Vaidehi, a dancer in her 40s, is one proud woman. "My daughter-in-law is artistic and is also a perfectionist. We had limited opportunity to learn during our younger days and also limited means. Now that she is learning to dance, I am happy that she is able to manage a full-time job, has been a hands-on mother and is one 'perfect dancer.'
Vaidehi laughs it off when she says, "at home, this is one more reason to bond with my teenage sons as they encourage, tease and have fun at my expense! None of us has that kind of time and energy to be a professional dancer, but the very act of rhythmic movement and expressing emotions has brought forth such positive energy that I feel young and lively and I am able to handle much more both in the professional front and also at home."
Ramanathan who is living by herself reminisces: "From the moment, I broached the topic with my son, he actively encouraged me to follow my passion to overcome my empty nest syndrome and just brushed aside my worry about what would people say. From then on, there has been no looking back? Nothing else mattered to me except my son's approval and that itself was a revelation to me. I was worried that he might feel I was beyond the dancing age!" Her practice sessions were mostly in her large kitchen as the sauces and sambar simmered on the stove and she recalls her son who has been her cheerleader, record the same without her knowledge.
"My dance has even lessened my pang of his going abroad on a work-related stint." And it has come with a surprising benefit for this avid traveller! "At a personal level, I am happy that I have sufficient balance and flexibility to use the Indian loo when I travel," she says chuckling.
Kalarani, who at 64 has been with Athma Laya for the past six years, quips with laughter lacing her words, "Yes I do have certain limitations due to my age…I can't squat…by the time I clamber up from the squatting position, the song is done!" Yet amidst all that light-hearted banter, she feels that all her niggling knee pain or stiffness simply disappears as she pursues her passion for dance!
About Author