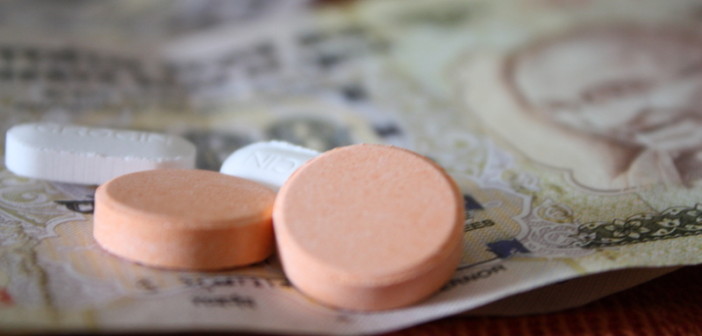 The Dangers of Self Medication
Self-medication without the doctor's advice can come with its own risks, especially for senior citizens. Lalitha Balasubramanian takes a look at what can go wrong and how senior citizens can stay safe.
It is not uncommon to see someone buying a strip of Crocin or Coldarin and stock it for use during a fever or cold. But the fact remains that even these commonplace medicines have side effects. Sedatives, painkillers and steroids are known to have dangerous side effects. The stocking and usage of over the counter drugs or painkillers without the supervision of a doctor has led to self medication and over medication being considered as a significant health concern for senior citizens, as in their case, the risks are enhanced due to age.
Repeating Medicines Without Supervision
Namitaben Shah (name changed) was prescribed a painkiller two times a day for five days for a backache by her orthopaedic surgeon. This was to be combined along with physiotherapy sessions on alternate days for a month. She felt much better after the treatment but after a lapse of about a year, there was a recurrence of this back pain. "Having kept the prescription intact in my medical file, I started taking the painkillers again without consulting the doctor. Within a week, though the pain became bearable, I was having bouts of giddiness and vomiting. As I stay alone, I consulted my family doctor, who advised me to stop the painkillers and immediately referred me to the orthopaedic surgeon." She was lucky. If she had had a fall during the bout of dizziness, it could have led to unnecessary complications like fractures or broken bones.
Namitaben's case is not an isolated one.
"Most elderly patients are on multiple drug therapy for various conditions like Diabetes, Hypertension or High cholesterol," says Dr. S. Subramanian, a General Practitioner and Family Physician, practising for over 30 years in Matunga, Mumbai. "The risk of taking medicines by themselves without consulting a doctor is not at all advisable. With their age related ailments, it becomes essential for even physicians like us to apply ourselves before prescribing additional medicines."
Everyone is aware that drugs save lives, but unfortunately their side effects could endanger the life itself or the quality of life. For instance, steroids are used to treat a variety of conditions in which the body's immune system malfunctions and causes tissue damage to critical body organs. These steroids can be organ saving and, in many instances, life-saving. "Steroids are not bad, if used for proper indication, under medical supervision for proper duration. But most of the drug misuse is in the painkiller and steroid category," says Dr. Subramanian. "They should be taken according to the physician's advice." Steroids have been known to cause weight gain, cataracts, weak bones, diabetes, hypertension and ulcers as side effects. Constant use of steroids, even under prescription, can lead to steroid dependency, while sudden stoppage can cause exhaustion, vomiting and nausea.
Elders are prone to aches and pains and many tend to depend on painkillers for relief. "Painkillers are prescribed to assuage pain. But anything taken in excess is bad and if the pain is chronic, an effort has to be made to find out the root cause of the pain. Continuous usage of painkillers can be dangerous and can cause side effects like acidity, nausea, vomiting, diarrhoea, dizziness, and can even lead to kidney or liver malfunction or failure at the worst," says Dr. Ashwin Mohan, an Ophthalmalogist at Narayana Nethralaya, Bangalore.
Doctors prescribe antibiotics to treat infections caused by viruses or bacteria. "Antibiotics have to be taken at specific times for a particular duration under the supervision of the doctor," says Dr. Mohan. There is a tendency among people, especially seniors to stop taking the antibiotic as soon as they feel better. "But it is absolutely essential that they complete the course and then stop taking the antibiotic. Taking inadequate doses for an incomplete duration could make the virus resistant to the drug and the same medicine may not be effective when prescribed for the patient at a later date." However, if antibiotics are taken without consulting a doctor, the side effects can cause the patient to have loose motions, nausea, vomiting or even colitis. Some patients develop swelling of the lips and face.
Taking Precautions
The spate of deaths caused by overdose of painkillers and medicines prescribed for depression set the alarm bells ringing in various countries. The US Government recently published the first National Standards for prescription painkillers. These guidelines recommend that doctors should try normal pain relievers before prescribing an addictive prescription medicine. Policy makers in many countries, including India, are alarmed at the physical and mental deterioration caused by unnecessary use of over the counter drugs. The Indian Government has recently banned around 344 fixed dose combination drugs.
It is much easier to get patients to take one drug instead of many and such combination drugs are prescribed by doctors everywhere. But hundreds of combination drugs entered the market without the approval of the Central Government and many of them, like the popular Vicks Action 500 and Corex cough syrup, were being sold freely over the counter at all medical shops. The complete list of banned drugs can be accessed in this Indian Express Report. (Click here to read ). Many of the cough syrups used to treat dry cough or cough with phlegm are alcohol-based, and have side effects like drowsiness, dizziness, nausea, stomach pain, and sometimes uneven heartbeat too.
"Senior citizens have to be warned about the ban on these drugs and discouraged from using them," says Dr. Subramanian. His advice: "Patients should understand the risk of taking medications by themselves not only in old age but even when they are younger. Every person, especially elders, should have a family physician. He/she should be consulted before taking any medicine. Even if they are consulting a specialist, it should be in coordination with the family physician, as he would have full knowledge of the patient's medical background."
So the next time you plan to pop a pill for the pain, think twice and preferably consult your doctor about it.
About Author