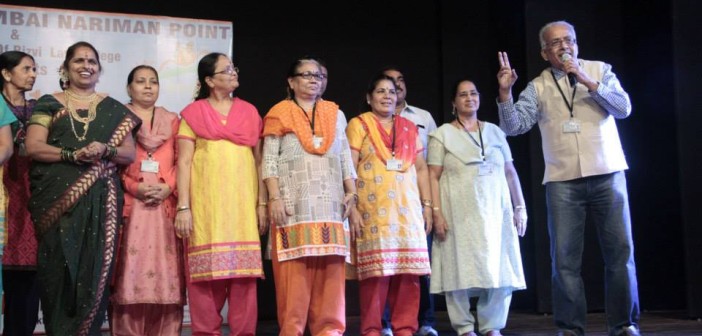 A Day of Umang!
Every year, a group of senior citizens in Mumbai come together to celebrate their 'umang' in a unique talent show for seniors. They sing, dance, laugh and do things on stage that traditional Indian culture doesn't always expect from elders. We find out what keeps them going.
A never-ending zest for life, a celebration of talent and passion. That's what makes Umang- a talent show of senior citizens in Mumbai, held every year since 2008, special. Umang is organised by the Mumbai based Silver Innings Foundation in association with Rotary Club of Mumbai Nariman Point and Rotaract Club Rizvi College. Sailesh Mishra, the person behind Silver Innings, says the purpose behind its conceptualisation was the idea that elders in India had to join the mainstream crowd instead of being relegated to the sidelines. So they decided to provide a platform where seniors could display their talent. "How else would people know what seniors can do?" Mishra asks, adding that most elders he has worked with over the several years love to dance and sing. "They just need a little handholding," he adds, smiling. What strikes Mishra every year is how joyful the show is and the enthusiasm of the senior participants, some of whom are regular participants. From 10 participants initially to 25 participants selected out of several entries and a 1000 plus strong audience, the show has come a long way.
This year, the show was held in association with several other organisations like Dignity Foundation and Helpage India at the well known Birla Matoshree Hall in Marine Lines, Mumbai. As a testament to the talent that was to follow, it began with a Ganesh Vandana performed by Bhanumati Vyas, 67 years young and clearly an expert at balancing burning diyas on her head and in both hands.
Navneeta Parmar, who has been participating regularly and choreographs dance pieces for the show now, didn't let age come in the way of passion. This former bank employee started learning Bharatnatyam at the age of 44 and performed her arangetram at the age of 54! She had taken voluntary retirement and was keeping herself occupied with social work when she read about Umang in a newspaper, asking seniors to participate. Navneeta was instantly hooked. "It gave me the chance to be on stage after many years." Now 67, she has been part of most Umang shows and trains other women over 55-60 who wish to participate and dance. Her oldest student is 75 years young!
Hansa Mehta, who participates with her husband Bhaskar has been a part of Umang for the last 5 years. From catchy Bollywood numbers to dancing to more classical tunes, she's done it all. Hansa always loved dancing but it was a passion that took a backseat as she grew up, got married and raised a family. "My husband supported me after his retirement and even performs with me," comes the proud reply. Her two sons are extremely supportive. As for society, which can get judgemental the moment people step out of defined lines, Hansa says she doesn't care anymore. "We have struggled all our lives," she says, "now it's time to enjoy the rest of it." Hansa and Bhaskar have inspired other seniors to learn dancing as well. "Bhaskar is diabetic and took up an interest in dance because of me. Now he enjoys it enough to forget his illness. We did a show recently for a local group and had seniors coming up asking us to teach them." The couple's enthusiasm is infectious and Hansa tells me that they practice by getting a professional choreographer to teach them steps.
Ramgopal Cancherla is a member of the Laughter Club in Andheri East. "The bulk of our group is 55 plus and we love to participate on stage," he tells us. He and 15 members of his group performed Laughter Yoga exercises and a Laughter Song at Umang, which as Cancherla describes, talks of the benefits of Laughter Yoga in the form of a song that is sung like a relay! Cancherla, 65, says they have been performing on stage since 2009 and every year the group tries to give new participants a chance.
The biggest change he has seen since his group members started performing on stage? "Most of the housewives in the group were earlier too shy or hesitant to even look people in the eye and talk. Now they are extremely confident."
It's the confidence she sees in the women around her that keeps Navneeta going too. "Many of the women I teach get a renewed source of confidence after they perform. They come and thank me for teaching them, saying that it changed their life and gave them a lot of pleasure."
"When I dance, I don't feel my age," says the exuberant Hansa, who informs us endearingly that she started wearing jeans after participating in a fashion show for elders. "I know people may laugh, point fingers and say why is she doing all this at this age but why think of that when it makes me happy?"
Mishra, who has been working with senior citizens over eight years says he is constantly amazed by what the participants come up with and the joie de vivre they bring to Umang, which is open to people over 55. "In 2010, an 80 plus gentleman performed a candle dance!
Most seniors love to sing and dance. Sometimes they need a little handholding. Umang also shows that we should not allow the child in us to disappear." The talented lot at the show and their supporters certainly haven't.
Silver Innings hosts the show each year. If you are over 55 years and wish to participate, please email silverinnings@gmail.com
About Author