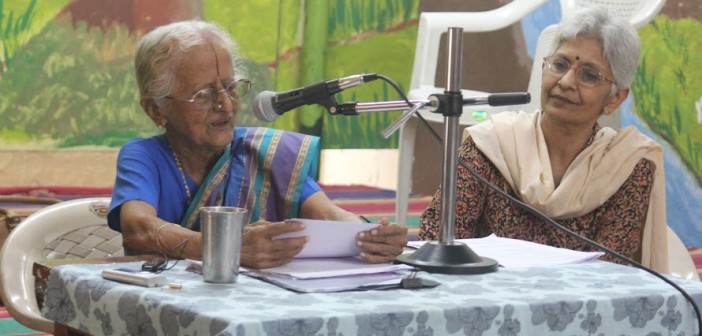 Down Memory Lane With Smt.Ranganayaki
The Silver Talkies team was delighted to have been invited by Nightingale Elders Enrichment Center of Nightingales Medical Trust for an interaction with Smt.Ranganayaki- a nonagenarian, as she recalled her experiences during World War II, the Quit India movement and India's first Independence Day.
We bring you excerpts from this memorable morning.
It wasn't just another Monday morning with everyone trying to tackle the Monday blues, traffic and gloomy Bengaluru weather. We were excited and looking forward to meet our speaker for the day, Smt.Rangayanaki, 92 and take a quick jog down the memory lane with her. It was a full house at the Nightingale Elders Enrichment Center and Smt.Ranganayaki made sure she reached the venue on time, greeted everyone with her infectious, warm smile and began to share stories that were closest to her heart.
Crushing all rules of not asking a woman about her age, she began her talk by saying she was born in 1925 and was lucky to be born into an academically inclined family in those traditionally conservative times in Kumbakonam. Speaking about education and gender divide back in her days she said " In our Chemistry group in B.A. class, we were just 5 girls as against some 25 boys or so." And there was little or no interaction between the boys and girls."
She celebrated the birthday of her daughter in 1947, the year India celebrated its first Independence day. Recollecting days of the Madras Evacuation she said the Second World War raged at full blast in 1942. In Madras the sight of any plane sent people scurrying to dig deep in their gardens to bury their valuables before fleeing. She recalled how her mother's cousin would stealthily listen to Saigon Radio amidst the blackout for news about the enemy advancing.
Watch out for more on the Madras Evacuation in our August special!
She paused for a bit with a huge smile on her face and said, Bharat Ratna Dr. S. Radhakrishnan (whose birthday is aptly celebrated as Teacher's day) was her father's teacher and later his colleague.
Throwing light on her fan girl moment, she chuckles and tells how she very narrowly missed seeing Gandhiji. "He had come for a meeting at Coimbatore in 1935. I refused to go with my family preferring a cultural session at school. But that session was cancelled as most were at Gandhiji's meeting. I thus missed both the meeting and the session."
She wraps up by thanking her niece who gave her the confidence to speak through her experiences and soak us all in the beauty of the by gone era.
About Author