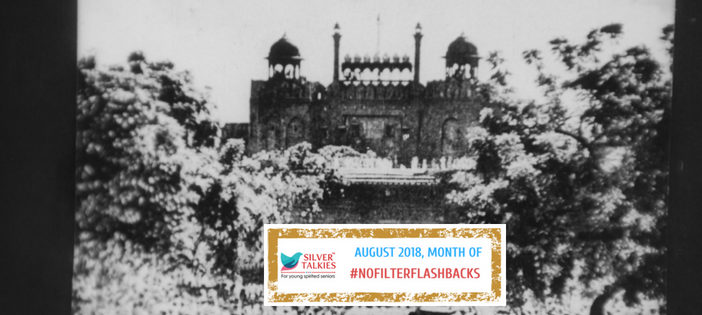 An Era Of Gandhian Ideals: An Octogenarian Remembers The Freedom Movement
Vatsala Parthasarathy, 82, remembers a time when life was lived by simple Gandhian ideals. She cherishes the memory of the great leaders of our freedom struggle and feels they have shaped her life and helped her play a positive role as a home-maker. Here is her account of the pre and post Independence years, shared with us by her daughter Kala Sunder.
My early childhood years were influenced by the freedom struggle dominated by Gandhiji's non-violent (Sathyagraha) means. When I started schooling at Calcutta, World War II was looming large over the horizon. The Japanese were advancing in South East Asia. So the families were evacuated, and we moved to Madras, where we had roots. Later there were evacuations from Madras too, and whole families moved. We went to Cuddalore near Pondicherry, and stayed with our grand uncle. I was enrolled in a local school, and when the evacuation was lifted, we were back in Madras. The neighbourhood St. Ebba's girls school, where my mother and her sisters studied, had not re-opened, so all the neighborhood children were sent to a secondary school started by Ramakrishna Mission.
My father was still working in Calcutta and was wise enough to realise that his children's education should not get disturbed due to the war, the independence struggle, partition and its aftermath, the riots that took a heavy toll on the life of the nation. So he set up an establishment in Madras solely for the purpose of our education. Myself, my sister and two brothers  did our schooling in Madras and visited our parents in Calcutta during the holidays. At that time my father used to narrate true-life stories about himself, the social conditions that existed and how he coped with life's situations.
My father was a self-made man, a firm believer in Gandhi's philosophy and adhering to truth, honesty and all other good traits that make life worth living. After finishing his schooling he joined the university. At that time the freedom movement was taking root in many educational institutions. Influenced by patriotism, and the path set by national leaders, many students took part and my father was one of them. His brothers were in the service of the British government and fearing loss of their jobs, they pleaded with him not to take the plunge into student politics but to divert his energy to living the Gandhian way of life instead – speaking the truth, wearing home-spun khadi clothing and the whole way of living which Gandhiji loved.
This made an impact and he decided not to inflict suffering on the whole family, and heeded their advice.
I remember vividly an incident. We had all gathered to celebrate the marriage of my aunt. All arrangements were in place, and we received the shocking news that Gandhiji had been assassinated. The marriage was to take place the next morning, and the elders decided against canceling the whole affair but to perform it in a quiet way instead. Though it was a very solemn affair, my father did not take part. He shut himself in a room on the top floor, took to prayer and fasting and ended his fast after Bapuji's cremation. Now I feel, perhaps this was his way of doing penance, having failed to participate actively in the freedom movement. Throughout his life my father was respected for his strict principles and even admired for sticking to his dress code – only khadi!
The Ramakrishna Mission school taught us to sing patriotic songs, use the thakli and charkha to spin yarn. Many of us wore khadi dresses and took pride in being part of the freedom movement. I had made a scrapbook containing photos of the leaders, Gandhi, Nehru, Patel, Rajaji and other giants among men, who trod on Indian soil. I used to collect a lot of articles from The Hindu and felt sorry when the leaders were jailed. I celebrated when they were released.
India achieved Independence and August 15, 1947 was a day of celebration and rejoicing. We listened to Nehru's famous speech and the hoisting of the tri-colour flag from the Red Fort of New Delhi, over All India Radio. It was a memorable day, but it was marred by Partition. All the same, it was a day to be celebrated. In the evening all of us children got into a bus and went to witness the illumination.

All the major buildings were beautifully lit up, and crowds lined up to get a glimpse. There was a festive spirit all over the city. People sang, holding up National flag, and buses moved at snail's pace! We were elated – we were part of  a New India, free from the foreign yoke.
Building a new India fell not only on the shoulders of leaders, but also the citizens of the whole nation. This Herculean task was undertaken by our first prime minister, Jawaharlal Nehru. His cabinet consisted of a number of able leaders. The constitution was written by men who were very well-versed in jurisprudence. We had a dream – to do away with injustice and poverty and build a modern and secular state. We had the opportunity to read and hear the speeches of Nehru, exhorting his countrymen to be partners in building factories, institutions of higher learning, and instilling a sense of scientific temper, and doing away with superstition. Our generation had very high hopes to build a better India for the future generation. We have succeeded in some ways, but a lot has to be done so that the fruits are shared by all sections of society. I find there is very little evidence of the spirit of sacrifice now. All the same the hope is still there.
Our generation had a number of great women leaders to look up to. During the independence movement Gandhiji had the vision to involve women in the freedom movement, and many women were given important positions in the Indian National Congress – Sarojini Naidu, Kamaladevi Chattopadhyaya, Aruna Asaf Ali and other women leaders played very important roles in bringing ordinary women out of their homes to become part of the gigantic experiment of building a new India. Without losing their roots, women leaders, in villages and towns across the country were involved in spreading female literacy, doing away with age-old superstitious beliefs and many other ills prevalent in society. So we, the younger generation, were influenced by these events.
Featured image: The Indian Flag at the Red Fort on August 15, 1947 (Photograph: Wikimedia Commons)
---
Silver Talkies is collecting memories as part of its #NoFilterFlashback #MonthOfMemories throughout August. To read the complete series, click here: https://silvertalkies.com/category/community/memories-musings-community/
To contribute your own memories of life during partition or living in pre and post independent India, mail us on mail@silvertalkies.com
---
About Author