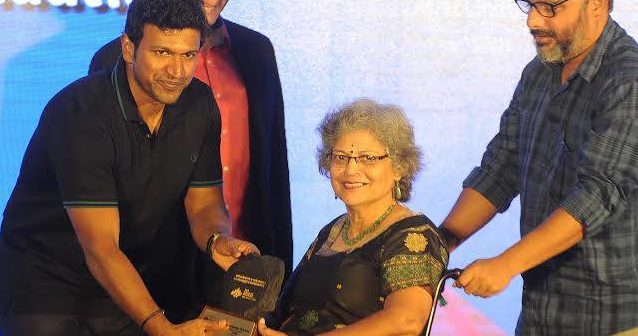 Ex-India Hockey Player Jacqueline Colaco On Participating In TCS World 10K As Champions With Disability
Jacqueline Colaco, 69, a former hockey player for India, didn't let early onset rheumatoid arthritis keep her down. She's become an active campaigner for disability rights. She tells us why she 'runs' as a Champion with Disability in the TCS World 10K run held in Bangalore.
I am a person with a disability; a PwD – person who dares! A person with drive, who accepts challenges!
That's why I have registered for my 12th annual 'run' in a wheelchair, at the forthcoming TCS World Bengaluru 10K Run on 19th May 2019. No stranger to the sports arena, I have participated in athletics at the Kanteerava Stadium, Bangalore through my academic years and thereafter, specialized in hockey, representing Mysore and India during the '60s and '70s.
Being a 'Champion with Disability' in the Charity segment of this Run, my aim is to raise awareness and funds for an NGO – Diya Foundation, which trains young, intellectually challenged adults to raise them to a level of independent yet assisted living.
This is similar to my physical situation after Rheumatoid Arthritis hit me at the tender age of 37, and my minimal dependence on caregivers since. I am convinced of a need for greater understanding, sensitivity and outreach towards this much-neglected sector of mental health where social stigma deters us from viewing such folk as 'especially equal'; as requiring enabling and empowering in order to mainstream them. My statement is also that being a Person with Disability (PwD) need not stop you from 'running' to achieve your purpose in life. Hence, at 69, I am excited to be 'running', even though I normally limp around on arthritic legs. Sport and social outreach are embedded in my blood!
In the 'wheelchair run' category, some like me have an escort-pusher; others are self-propelled. During my sports days, I never dreamed I'd return 50 years later for a 'different kind' of 'run' and for a cause! As rookies in 2008, my zealous young volunteer escort and I realized what novices we were at the game. Our co-participants zoomed away while we zig-zagged all over the roads. My wheelchair encounters had until then been limited to postoperative trips down smooth hospital corridors, gently manoeuvred by expert attendants. My escort was a first timer too, so for both of us this 'hard to control' adventure began fairly traumatically. I had no intention of 'flying out' of the wheelchair (no seat belt here) through an accidental bump into a sidewalk. It was initially difficult though to convince my companion that I was not here to win the race, but only to show my spirit for the game. Thankfully my message did get through in a short while and thereafter the ride was slow, smooth and enjoyable.
We had the road to ourselves as we wheeled along some decent ones (both these experiences rare in today's Bangalore). Early morning walkers cheered us along, as I distributed my poem 'Beatitudes of the Disabled'. I also spoke to media crews about the need for more awareness among our people that the disabled can be more productive in society's mainstream. I told them of this possibility if basic and better facilities of infrastructure like ramp access to buildings and disabled friendly roads and transport are provided. My message was well received and I hope is bearing some fruit.
The event, which was a truly fun-filled experience of camaraderie among Bangalore citizens, brought us in a happy and fulfilled 'last to finish'. Even though tired, and by now, my enthusiastic escort panting as well, we had achieved our mission to spread the vision of the inspiring organization in whose cause we had 'run.' Now we're veterans!
In 2012 I received the award for being the highest fundraiser among Women Care Champions with my collection of Rs.10.01 lakhs, and in 2017 with the ICare award for highest Individual Fundraiser. Truly proud to dare! I am now ready and set to 'run' once more on May 19, 2019, and to raise Rs.5 lakhs and more if I can.
TCS 10 K Run registrations are on till Friday, April 26, 2019. If Jackie's story has inspired you to register, click here: https://tcsworld10k.procamrunning.in/apply-now
Featured image: The author receiving the ICare Award from actor Puneeth Rajkumar in 2017.
All photographs courtesy the author
About Author