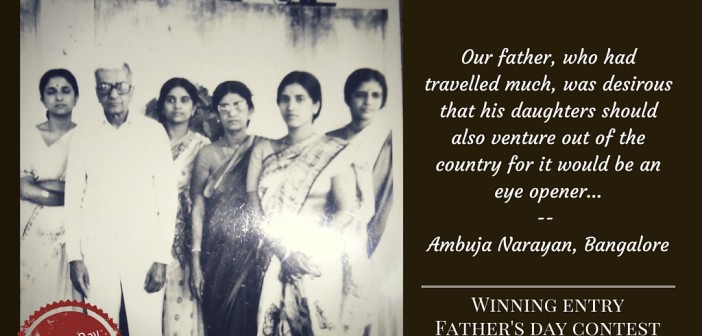 Father's Day Contest: Learning to Fly
Our reader Ambuja Narayan's father believed that travel expanded the horizon. Here is a memory shared by her about a precious gift he organised in keeping with his belief. This is the winning entry in our Father's Day Contest. Enjoy this lovely memory about a father who believed in letting his daughters fly.
Nothing broadens our mind more than travel does. This was what our father implicitly believed. Hence, he would encourage all family outings, be it temple tours, weekend getaways around Bangalore or our school and college trips. We being a jing bang of seven siblings with jolly good parents, our cousins would also pile on with us whenever a plan was announced for outstation escapades. Our dear papa would say jokingly that his vehicle could expand to fit in as many as possible. "More the merrier," he would add! Any day would be auspicious to pack up and get going before sunrise with a good amount of snacks and goodies for the road. Such was his spirit!
It was the summer of 1972. Our national carrier Air-India announced a round trip of Bombay-New York, New York-Bombay for just Rs 4500, an unbelievable price in the present travel scenario. Our father, who had travelled much was desirous that his daughters also should venture out of the country for it would be an eye opener. Right away he jumped at the AI offer to gift a package tour to my younger sister and me that summer. Insisting that the experience would be fantastic and educative, he began briefing us about the do's and don'ts for our maiden foreign tour. Both of us were terribly excited no doubt but with a bit of apprehension, since by then we had four kids in the age group of 5-10, with spouses neck deep in their work schedules. Leaving the kids in 'care of our spouses' seemed totally impractical. But the lure of a foreign tour of six weeks was too tempting – a chance of a life time.
Luckily it was vacation time for schools. Our father worked it out for us by sending a very reliable household help to manage the two families together in our sea facing Bombay apartment until our return. Papa's enthusiasm was infectious. Our spouses and kids agreed to send us for a dream holiday nodding to all our instructions till the last minute. Foreign exchange limitations, weather management, food and safety tips were seriously considered. Couple of families were to receive us at New York airport. The whole itinerary was well planned for a whirlwind tour. USA beckoned us two women. When we experienced the splendour of USA in 1972, we could comprehend the meaning of Rudyard Kipling's quote from his poem 'The Ballad of East and West,' and the refrain, 'Oh, East is east and West is west, and never the twain shall meet.'
However, now there is neither East nor West but one global family.
On our return, we were delighted to find a positive change in our spouse's attitude in sharing family responsibilities. We had missed each other. Children seemed to have had a whale of a time in our absence and couldn't  wait to grab our shopping items. In a way, when we left our families behind to enjoy and see the world, we women severed our umbilical chords once  again and grew up further. One has to keep growing and learning with life experiences and that's exactly what our father was trying to teach us we suppose. It's a memory like no other.
Ambuja Narayan is a senior citizen and founder of Non Resident Indian Parents Association. She lives in Bangalore. 
Photograph courtesy: Ambuja Narayan
About Author