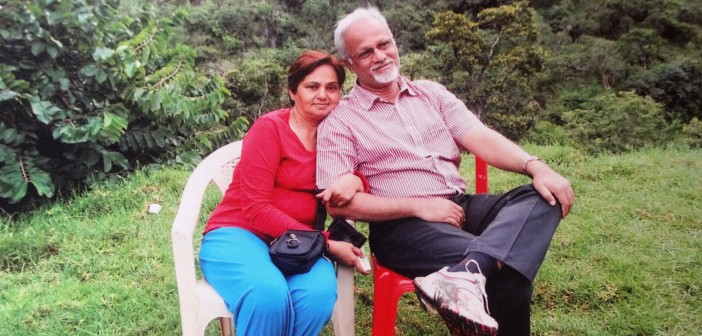 Finding Love After 50
How about giving love a second chance in your second innings? Some single senior citizens across India are choosing love over loneliness, despite hurdles on the road. We bring you a special Valentine's Day story on finding love after 50.
Rashida & Naim, 60 years
In a perfect world, men and women would marry, live long and happy lives together, and leave this world at about the same time. But we live in a world that is far from perfect. People sometimes die young, leaving behind grieving spouses with potentially long lives ahead of them. Life dealt a similar bad hand to Rashida after she lost her first husband of eleven years to cancer in 1989. Rashida was only 34.
After Rashida gathered herself, she got busy raising three kids (two step children and one her own) single-handedly while fighting tooth to nail against all adversities, including non-cooperating in-laws. Such was the fire in her belly that during the next sixteen years not only did she bring up her kids and settle them down, she also completed her education and became the only female lawyer in the Bohra community in Bangalore, earning respect and social standing for herself and her family. She had come a long way from having lost everything after being evicted from a flourishing family business to standing on her own two feet. While fulfilling her commitments Rashida had decided against remarrying even though their spiritual leader Mohammed Burhanuddin was a strong advocate of remarriage for women of their community. Rashida says, "I had told myself that I shall think about marriage only after my youngest one is married and settled.
Some supreme power must have heard her prayers, for a month after her youngest daughter's marriage, Rashida received a marriage proposal from a handsome white-haired man Naim, who had recently lost his second wife to cancer. A meeting later and at the behest of her children, Rashida decided to give her life a second chance and agreed to marry Naim. Both of them started a new innings at the age of 50 when they tied the knot in a small nikah ceremony surrounded by close family and friends in April 2005. Post marriage, Rashida felt the wheels turning back in time as she found herself responsible for bringing up three kids from Naim's earlier marriages, the youngest Sakina being only nine. She gave up her career willingly and got busy with her new family. Eleven years hence with the eldest daughter married, the son practicing emergency medicine at St. John's Hospital in Bangalore and Sakina studying BBM in Mumbai, Rashida is discovering herself again. She has certified herself as a yoga instructor and counsellor and spends time teaching yoga and counselling young men and women of marriageable age from her community at her small office in Gottigere, Bangalore since the last few months.
When asked if it was all worth it, Rashida says "I have been to Haj twice, first time as a single widowed woman and second time with Naim. I could not thank Allah enough for providing me with two strong arms protecting me amongst throngs of people while I was paying obeisance at Kaaba."
That sums it all. Love can sneak up on you when you least expect it and all you can do is accept it with open arms and be willing to give life a second chance, for it may be worth it.
(With contribution from Preeti Durg)
M Rajeshwari, 67 & B Damodar Rao, 69
M Rajeshwari says she has five children now. Three of her own and two of her husband Damodar Rao. "We've been very blessed," she says. "Our children accepted our marriage from the start and did not raise any objections." Rajeshwari, 67 and Damodar Rao, 69, decided to become companions almost 3 years ago. They met at Thodu-Needa, a Hyderabad NGO run by Rajeshwari that works towards providing emotional support to the elderly. A divorcee, Rajeshwari had been a single woman for 33 years and Mr Rao was looking for a companion after the death of his wife in 2009, when they met at her organisation. "He had a long list of the qualities he wanted in a lady, when he came to us," Rajeshwari says, humour lacing her tone.
After almost a year of being in touch, with Rajeshwari scouting for a 'suitable match,' Rao realised he had become fond of Rajeshwari, the active, energetic lady he had turned to for setting him up. "He saw that I was not idle, that our interests matched and started liking me. We had grown emotionally close to each other."
Rajeshwari was flattered but marriage was not on her mind. She laid down her conditions. She had been taking care of her 85 year old ailing mother and would not be able to move in with Rao. "I was independent and did not want to burden anybody," she explains. Both she and Rao and also took turns to speak to each other's children. "I did not want them to think of me as a stepmother. I told them I'm your father's friend and there to provide him emotional support." She also offered to write on a stamp paper that she had no rights on Rao's property or
money, to avoid any dispute from the start. "He returned it but his children understood why he had liked me, trusted their father's judgement and wanted him to be happy."
Today the couple stay together in the same house. They exchanged garlands but haven't registered their marriage. "We both wanted a live in relationship and are happy with it," Rajeshwari says. The couple have common interests like travel (they recently visited Goa with the entire family) and social work, though like everyone else, they've had to make their share of adjustments. "He is an avid tea drinker, I need my coffee. Now we have done a compromise to drink coffee in the morning and tea in the evening," she adds laughing. Being single for a long period gave Rajeshwari enough time to devote to her NGO. She has now taken a conscious decision to separate her professional and personal life. "I no longer take calls anytime and try to stick to a schedule. We don't want to create issues out of small things. The idea is to stay happy.," she notes, adding, "We say cheers to each other and drink our coffee. If we were alone, we couldn't have done that!" 
Sriram, 61 & Dhanalakshmi, 54* 
Sriram and Dhanalakshmi's story is a bittersweet one. When Dhanalakshmi was a young girl in her village, she liked Sriram, a local boy few years older than her and on his way to a bright future. Dhanalakshmi never gave voice to her feelings and was married to a man who was a widower with four children. Sriram meanwhile rose high in a government job and had a happy married life, until his wife passed away from cancer in 2013. 
"I had taken leave from work and tried to give my wife whatever comfort and treatment possible in her last years. After she passed away, I went through severe depression," he says. He met Dhanalakshmi, who had been widowed recently at their village and the old connect was revived. But the couple never expected the severe backlash that followed. Dhanlakshmi may not have had a happy first marriage but had brought up her stepchildren like her own and was much loved and respected in the village. "When she accepted my proposal, her children and relatives refused to accept it." Her only son, who lived in US, was hesitant and against Sriram initially but came around after he visited him in India. "I showed him my medical records, he spoke to others about how I had cared for my first wife, saw my healthy lifestyle and only then he agreed." Sriram says.
Sadly Dhanalakshmi's sons, relatives and daughter in laws continued their opposition. "They have several reasons, including who will marry their children if the grandmother married in her 50s!" Sriram says, adding that all the children are highly educated and it is sad that they still think along these lines.
After being ostracised by people in her village and trying to convince people in vain, Dhanalakshmi came to Hyderabad and the couple were married in January 2016. Sriram too faced ostracism and threats from the village but stuck to his guns. He knew that Dhanalaksmi was the right person for him.
"I felt happy that somebody wanted me and had liked me from the start. Dhanalakshmi's first marriage had not been a happy one and here she was, ready to sacrifice everything for a chance at happiness." 
Sriram did not want to let something like that go.
He had been grief stricken after losing his first wife and suffered mentally and health wise. "But I followed a rigorous Yoga schedule and worked on my health. I decided to live out the rest of my life in a happy way." His sons understood his father's loneliness and supported him. 
Dhanalakshmi is still upset about the situation with her children and trying to build bridges with them in small ways. The couple have a lot of adjustment ahead of them, with Sriram having lived in a city all his life and Dhanalakshmi having spent her time in a small village. He has introduced her to Yoga and tries to be her emotional anchor. She in turn is trying to take care of him the best way she can and making friends in her new neighbourhood.
Given the situation they have come through, Sriram is confident things will work in their favour, especially for Dhanalakshmi, who had never thought she would find her old love after 50 but who also wishes to be reunited with the family she left behind. "I'm sure her children will accept soon," he hopes.
We wish their story the happy ending it deserves.
*Sriram and Dhanalakshmi's names have been changed on request
Rajeshwari Kakarla 65 & Koteshwara Rao Kakarla, 75
"I had been lonely for 32 years, since my husband passed away. My children were very small then. I brought them up, educated them and got them married. My son is a software engineer in Canada. It's only after the children were on their own feet that I thought of myself." That's Vijaywada resident Rajeshwari Kakarla, 65, married to Koteshwara Rao Kakarla, 75.
Rajeshwari met her husband at an event organised by Thodu Needa. She had been lonely for years and decided to seek a companion. Kakarla had been widowed 8 years ago. He did not have children. Her children were against the idea initially, fearing societal repercussions and their mother's safety. But Rajeshwari, then 62, decided she would live life on her own terms. What gave her the courage? "I have four sisters and four brothers. All of them supported my decision."
Rajeshwari kept the news from her children initially, after legally marrying Kakarla in March 2013. A few relatives objected but she was sure of her path. "Some days later my son came to know and called to congratulate me and also apologise for not supporting my decision earlier."
The fact that his mother had taken the step to get married at the age of 60, still unthinkable by many in the Indian society, made him realise how confident she had been about her decision. He followed it up by visiting Rajeshwari and her new husband along with his wife and child a month later. Kakarla's whole family has accepted his new wife with open arms.
But Rajeshwari's happiness wasn't complete. Her daughter refused to accept her mother's new marriage for almost 3 years. The thaw came at the beginning of 2016, when Rajeshwari called to wish her estranged daughter for the New Year. "She broke down and said sorry. She also wished my husband and called him Nanagaru (father in Telugu) for the first time.
Rajeshwari's story has finally had a happy ending. She and her daughter have started visiting each other and recently she and her husband went to bless their granddaughter on her 16th birthday.
"We have never raised old issues. I don't blame her or ask her why she did not support. We have both moved on from there."
Silver Talkies wishes all the couples who found love after 50 nothing but health and happiness on the way forward. We also wish our society develops more tolerance and acceptance. 
— Interviews by Nidhi Chawla & Reshmi Chakraborty
About Author