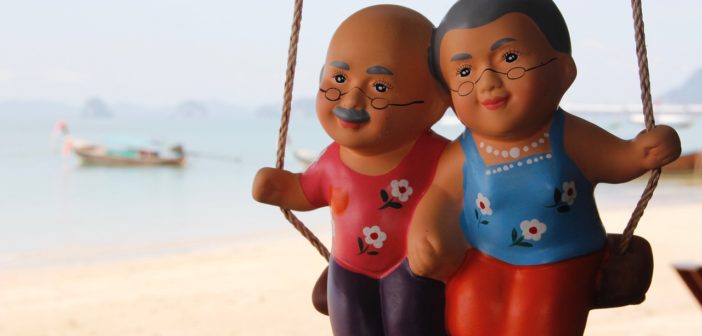 Five Decades and On, Their Love Is Still Growing Young And Strong
Here are some golden love stories going strong for five decades and more that will make you believe in the true meaning of love, once again. 
While the world was gearing up for the merriment of Christmas, TP Gopinath and P Manorama from Bengaluru were tripping in Goa to celebrate their 56th marriage anniversary. In case you ever thought that Goa is a romantic destination only for youngsters, you are widely mistaken as this 87-year-old retired income tax officer and his 74-year-old homemaker wife have broken all stereotypes and are immersed in celebrating being happily in love with each other for about six decades. Who says love fades with age? Gopinath and Manorama are exemplary in proving that age, in fact, adds more charm to love and the bond of marriage grows even stronger.
Accept The Differences
It all began long back in 1963 when Gopinath came to see Manorama with his parents and it was love at first sight. Theirs was an arranged marriage and the two tied the knot on December 23, 1963. Cut to December 23, 2019 and the duo was enjoying a boat cruise and watersports in Goa with their daughters and grandchildren, celebrating their 56th When asked about the secret of a happy marriage, Manorama says: "Being a little adjusting and not expecting too much from your partner are keys to a beautiful life and a successful marriage. Too much expectation in anything makes you sad. Instead, do your best and leave the rest on your partner."
Originally hailing from Kerala, the couple settled in Bangalore after marriage. As both of them came from two different backgrounds, they naturally had a difference in opinions on certain things.
"However, that never was a big issue as both of us tried our best to respect each other's opinions and embrace them. During vacations, we used to visit our hometown and spend time with both of our families. Not everything was as we wanted it to be. It is important to realise that nobody is 100 per cent perfect. When you see something negative in others, you must understand that you too may be having a negative side. Also, never compare your life with others. Life is full of both plus and minus and you must accept it that way," explains Manorama.
During the initial years of their marriage, the couple loved going to movie theatres that had an escalator because it was a novel concept then, as well as going out for shopping. Living in a joint family taught them the recipe of having a sound understanding between each other and today they are proud grandparents of three, enjoying their life heartily and together.
Together Through Tough Times
The love story of Krishna Raj, 84 and Priyadarshini Raj, 75, going strong for the last 53 years, is no less than a movie script. Their relationship began in filmy style in August 1966 when Priyadarshini had just finished her post-graduation from the Delhi School of Economics and Krishna was still studying in Germany. Krishna had come home in Bangalore to see his ailing father and was keen on getting married as he had two more years to complete his engineering when a common friend and cousin introduced the couple to each other for the first time. After a brief visit to her home, Krishna turned up the same afternoon to talk to Priyadarshini.
"After exchanging our views and expectations, he wanted my response to his marriage proposal the very next day. He was in a hurry as he had to return to Germany before his semester started. What impressed me the most was that he took his own decision of getting married to me and he never promised me a life like a bed of roses. He said he could not come back to India in the next four years and hence, we got married in just three weeks' time," says Priyadarshini.
Their wedding took place on September 11, 1966, and they have been together in love ever since. However, the journey was certainly not a cakewalk. Adjusting to a new culture and a new relationship along with learning a new language without formal classes were very challenging for Priyadarshini. "But at the age of 22 everything is fun and exciting, so we plunged into this with joy. Our love grew from a sapling to a strong tree. Our income was very limited at the beginning as he was a student. Despite all the odds, we went on holiday and enjoyed ourselves. Our first holiday was in Spain as I was sun hungry. Those days it felt like Alice in Wonderland," says Priyadarshini, walking down the memory lane.
The couple lost one of their daughters when she was just three and lost their only son when he was 25. As they were raising an ailing son, life was never smooth for them but they had each other's back. Priyadarshini says: "Our fights never lasted very long. At the end of the day, there were red roses. We faced all issues by sharing our thoughts and seeking a solution to every problem. We had no family support and held hands and waded through the water. Now we have only our daughter who is the apple of our eye."
The couple feels that there is no recipe for a successful marriage. Understanding each other, accepting each other's imperfections and not leaving each other's side even during the rough times are what make a marriage work. "Marriages are made in heaven and its ingredients are both tears and smiles. Hence, always enjoy your relationship and make it grow stronger," say the couple who is settled in Germany for the last 45 years.
Age can test many things, including the strongest of marriages but these silver couples show us how with acceptance, empathy, understanding and love in our hearts, it's possible to walk the long road together — hand firmly in hand.
---
Click here to read about some amazing benefits of having an active sex life after 55.
About Author