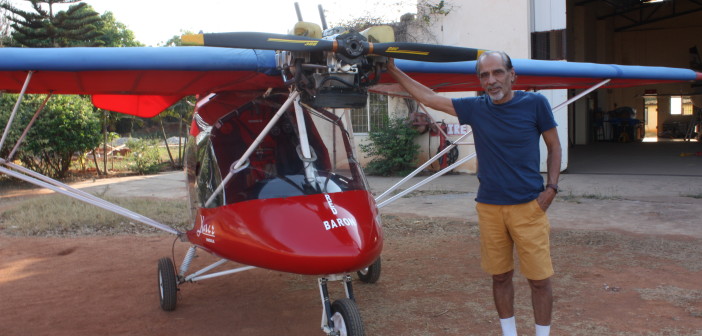 Flying High With Ashok Mehta
Retired Fighter Pilot Ashok Mehta's venture provides a one of its kind Microlight Flying experience.
Did you know you could go flying right in the middle of Bangalore? You could get into a small, lightweight Microlight plane with an instructor, be airborne for 20-30 minutes and even get the feel of actually flying the machine yourself as the instructor explains the mechanism to you and lets you take the controls for a while.
Sounds tempting? Thank Wing Commander (Retd.) Ashok Mehta, 67, a former fighter pilot with the Indian Air Force, whose venture Bangalore Aerosports is one of the few in the country to offer Microlight flying.
A Life In The Skies
Flying is a way of life for Mr. Mehta, an army officer's son. He grew up near the Hindan Air Force Station close to Meerut and was fascinated by planes flying right above the house. "I felt captivated even then," says Mr Mehta, "Eventually, I joined the NDA and then the Indian Air Force (IAF) as a fighter pilot and fulfilled my dream. I was in the air force for 25 years."
Post retirement, Mr Mehta's flying dream was far from over. An aviator at heart, he wanted to have a life that was simple, relaxed and involved flying and wished to extend that experience to others. He spent two years after retirement getting a Commercial Pilot's license, despite not being keen on flying a commercial airline, the standard route that he says many ex-IAF pilots take. "I just wanted to see how the civil world worked and explore options, so I spent a lot of time and money training myself."
Mr Mehta was sure that he wished to continue flying but not as a job. "I did not want to fly big planes. I wanted to fly for the thrill of it and share that thrill with people."
That's when he launched Bangalore Aerosports, a company that specialises in Microlight flying. A Microlight is a two seater aircraft, weighing around 450 kgs, designed for recreational flying and training purposes. Bangalore Aerosports started Microlight operations in 1999 and since then Mr Mehta, who is a DGCA (Directorate General of Civil Aviation) approved examiner and his team, have trained around 100 pilots.
Mr Mehta explains that for normal flying, microlights go 1000 ft above the ground, while for cross country flying (e.g., Bangalore to Mysore), they fly at 5,000 ft above ground. "The plane itself is designed to fly at 10,000 ft above sea level and can travel 350 km in one go," he informs. While he has trained people over the years to obtain a Private Pilot's License on Microlights, many people also come in for a recreational flying experience.
Spreading Wings
In fact, it is this experience that is closer to Mr Mehta's heart as he wants to get more people airborne and make them feel the magic of flying. "When I started this, I wanted it to be a sporty, comfortable experience, not a very regimented one. Microlight flying is gaining in popularity and we are one of few centres in the country that provide this kind of an experience," he says, adding that they operate everyday.
Bangalore Aerosports operates out of Jakkur Aerodrome in Bangalore and Mysore airport. Mr Mehta himself lives on a farm 60 km away from Mysore, where he offers guests the experience of camping and even taking off on a Microlight aircraft!
He says this is what he planned to do with his retired life. He is not a believer in hanging up his boots and says that in India, mindsets are different when it comes to retirement. In fact, he recommends flying as an exciting hobby for retirees to take up, if money and time are not constraints, as many people do overseas. "I do not look at this as a pure business. It is a profitable venture but for me it is also a way of life. I fly everyday, sometimes with students, sometimes with trainers, sometime for training and maintenance purposes and the day I fly, everything falls into place – right from my beer to my food!"
Mr Mehta has explored options to expand the venture to other cities but hasn't found the right match yet. "The issue with scaling up is that as a job it looks glamorous but is a tough task. It is well paying but is hard work at the end of the day. Safety regulations and precautions have to be followed diligently. Not everyone is up to that task."
Staying constantly updated and introducing new things are however key factors to stay in the game. Bangalore Aerosports recently introduced Powered Hand Gliding as Mr Mehta believes there should be a basket of adventure sports on offer. "We have three microlights and one powered hand glider. We also plan to introduce Powered Para Gliding. It is much simpler to learn and does not require a license. For Microlights, you need to do 20 hours of solo flying and take technical exams. It can be strenuous."
A one time Microlight flying experience of about 30 minutes, with an instructor, costs about Rs 6000, though costs may vary according to flying requirements. "The difference with others is that we also give them the controls at one point during the flight," Mr Mehta says, adding, "My satisfaction comes from the fact that I'm able to provide something different and interesting to someone's life. I'm able to provide what many call a life changing experience." He shows me feedback from clients. It has exhilarated comments from husbands who've been gifted a flying experience by their wives, a young boy thrilled to get his first taste of flying, a young woman gushing over her wonderful birthday surprise…For Mr Mehta, it's this joy that counts.
As a senior entrepreneur, Mr Mehta suggests people should take up something they are really good at, as well as something that can make a difference to someone's life, in whatever way possible. He also believes people should put their expertise to use. And while money is important to sustain a business, he feels that it should not be the sole driving factor. "You need to enjoy and be passionate about what you do; you should also be making a difference, in whichever way. "I feel very strongly about that," he sums up.
Bangalore Aerosports can be reached on http://www.bangaloreaerosports.com/
About Author