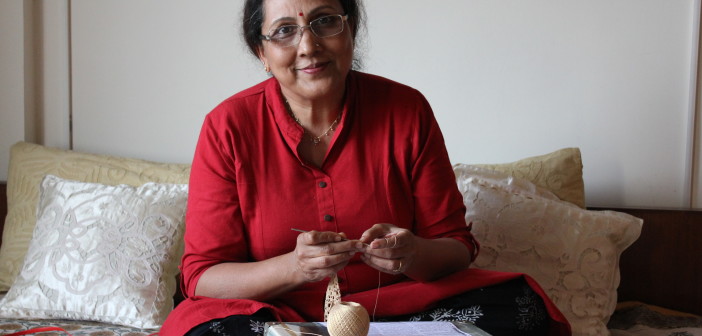 For The Love Of Crochet
Aruna Pai is a crochet magician. Her designs give traditional crochet a contemporary twist and are spread over doilies, clutch purses, cushion covers among others.
I see crochet and I am reminded of my grandmother deftly using her crochet needle and doling out pretty crochet laces which she would later sew onto handkerchiefs in different colours and present to all her daughters, daughters-in-law and granddaughters. I own woollen jackets that she made for me so painstakingly, laden with love. So when Aruna Pai tells me she started learning crochet from her grandmother when she was 15, during summer breaks, I am instantly transported back to Ambala, the residential place of my Nani.
In this age of YouTube tutorials and a depleting breed of learners of hand-made art, meeting Aruna Pai feels like taking a trip down the nostalgia lane. Aruna is actively pursuing her love for crochet and evolving her designs to match today's trends, for her creations are sophisticated, trendy and contemporary. One look at her doilies and you hear Ooh's and Aah's appreciating her immaculate work. It is not just her doilies but her purses – clutches and batuas; cushion covers and window valances that too elicit a similar response from her fans and customers alike.
Aruna belongs to a time when marrying early was an acceptable norm if a suitable boy came by. So there was nothing out of the ordinary when she got married at the age of 17. Life became all about family and leading a happily married life with husband, in-laws and later, her two children. But in this new home too Aruna was surrounded by people with artistic allegiances. Her husband's aunt was an accomplished embroider and kept Aruna busy with projects alternating between crochet and embroidery that adorned nooks and corners of her house. "Other than my grandmother and aunt, I also owe a big deal to the friends from North India that I was surrounded by as they were always busy either knitting, embroidering or crocheting and were a great influence at inculcating the habit of using my spare time productively," says Aruna. So what started by copying designs from physical samples of crochet, gradually transitioned to taking inspiration from and improvising on designs found in books and on the internet. Today Aruna makes Irish crochet which is intricate and takes a lot of technique.
After dappling with crochet for more than 35 years, Aruna's love for crochet culminated into a small scale business started two years ago on encouragement from friends. "Success of my venture can be attributed to a woman's innate desire to want something that she liked in another woman's possession. It has been entirely word of mouth," laughs Aruna. She sells via her own Facebook page and the international website Etsy. She is still to launch a standalone Facebook page for her business.
The eldest of four sisters, Aruna is now passing on her Nani's legacy by teaching the art of crochet to a couple of women in her area and is looking forward to introducing her 6-year-old granddaughter to this beautiful art. "My granddaughter goes around telling proudly to visitors – this has been made by Ammama and I am going to learn from her too. So this summer break I plan to get her started while she has interest in learning".
Was it a piece of cake learning crochet? It is an easy art to learn but takes a lot of practice and learning by way of trial and error to get the technique right. "Very recently I came across a beautiful peacock in crochet that I wanted to recreate. I jumped into the project without checking the dimensions of the end product. It turned out to be a massive piece and I had to spend a day carrying it around in the house from wall to wall until I found it the perfect place. I hated admitting to anyone that I had misjudged the project," says Aruna laughingly.
How does it feel being an entrepreneur in her 50's? "Oh! It has been a massive boost to my confidence. I believe being independent is very important for a woman. The thrill of being paid for your work is inexplicable. I could not complete my degree but being an entrepreneur at this age feels immensely satisfying. I am 56 but do not feel that old yet so when I am addressed as per my age it feels weird but being an entrepreneur makes me feel good, independent and younger. I experimented with cooking business for a year but found it too taxing. I still take orders from friends but crochet is where my heart is and I am enjoying every bit of it and hope to scale up my venture soon".
You can write to Aruna Pai at arunarpai@gmail.com or reach her on Facebook at https://www.facebook.com/aruna.pai.90
(All photographs courtesy Kavitha Pai)
About Author