From the Potter's Place
A chance introduction to pottery opened up new vistas for artist Shalan Dere. Nidhi Chawla Manoj brings you her story in our new series on Elderly Entrepreneurs.
Shalan Dere, 66, management graduate from the Jamnalal Bajaj Institute of Management, Mumbai, had a full-fledged corporate career and a family to take care of for over three decades. A chance introduction to pottery, through a pottery teacher her daughter found in her college fest, gave her life a new and unexpected direction.
"I was always fascinated by art work and pottery that I saw at exhibitions. Attending pottery classes over the weekend, amidst my work life, made me realise that I had a knack for this art form and took to it like a fish takes to water," she says. Shalan attended only about 15-20 sessions with her teacher, but such was her zeal to learn the art that she bought a wheel and placed it in her kitchen. She would experiment with this new medium on many nights, after winding up with her responsibilities of the day. Since her pottery teacher did not have a regular kiln to fire her work, Shalan's passion made her drive initially to Dharavi and later for two hours every Saturday, to a friend's place just to fire and glaze her work. This continued for two years until Shalan decided to set up her own studio 'Potter's Place' in 1998 with an electric kiln. What started as a hobby gradually turned into a full time profession, after Shalan retired from her corporate career, at the age of 54 in 2000.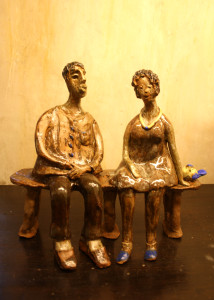 With her studio bigger in size by now, Shalan had started moving away from the wheel and started experimenting with hand-building techniques. Using her hands unleashed her creativity like never before. She continued to draw inspiration from nature and other contemporary artists and started finding her work very satisfying. "Not having a formal training or a guru gave a free rein to my creativity and I continued the learning process through trial, error and experimentation", Shalan reminisces, adding, "Although I enjoyed my corporate life immensely, it was strenuous both physically and mentally. Pottery too can be physically taxing but the mental peace and gratification that accompanies it, takes away all the physical pain."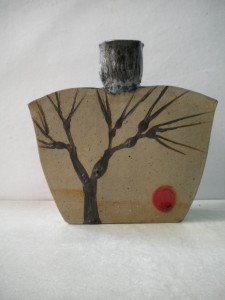 What fascinates Shalan even today about pottery is the response and dialogue she can have with clay. "I think of a shape, an idea, or just a thought and when I and clay get together, it happens! Till today I am as excited to start my day with clay as ever."
Shalan works in her studio 10 AM – 6 PM, six days a week. She creates her own designs, clay and glazes and now has a gas kiln in her studio. She works mainly in stoneware, with temperatures ranging from 1170 to 1260 degrees centigrade and continues to work on the wheel and with terracotta when she is experimenting with sawdust firing. In between all this she finds time to hold weekend workshops for others who are interested. She says, "I interact with 6-10 students over the course of a month and find being a teacher very rewarding as it eggs me on to keep trying new things".  "My 12 year old grandson too comes to learn during his holidays and is a natural. He has instructed me to bequeath my studio to him," she quips.
Shalan is now a regular at exhibitions and has shown her work at the Kala Ghoda Arts Festival in Mumbai and Potter's Market in Kolkata for last couple of years. She feels while people's interest in ceramics and pottery is improving, there is still a long way to go. Until now her clientele has largely been through word of mouth as she has not taken up any proactive marketing measures. However she proudly says, "No one has gone empty-handed from my gallery." She retails through her gallery cum studio and takes customised orders too. So if you are looking for murals or tiles for your house, beautiful bowls, platters and kettles for your kitchen or sculptures for your living room, check out Shalan's work.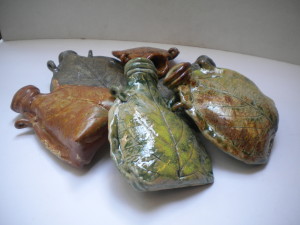 You can find her at http://www.pottersplace.co.in/ or visit her gallery at POTTER'S PLACE, 'Sumati', Lt. Dilip Gupte Rd, Mahim, Mumbai 400 016 [behind Bombay Scottish School]. You can also find Shalan on Facebook http://www.facebook.com/shalan.dere and http://www.facebook.com/group.php?gid=50208717914.
About Author