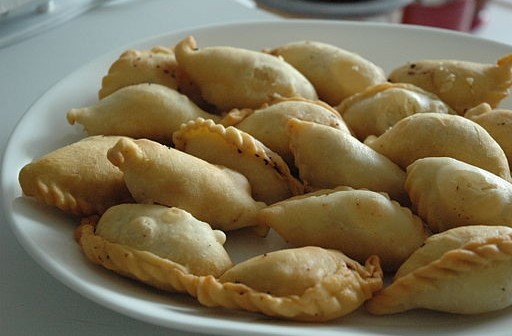 Holi Special – Gujia recipe
Gujia is made in many households across North India during Holi, the festival of colours. Here's a recipe for Gujia sent in by Kameshwari Tiwari from Nashik. It's a favourite with all her children and is her specialty every Holi. 
Gujia is a must have delicacy during Holi. Here is an easy Gujia recipe for you to try.
Ingredients
Maida (flour): 1 bowl
Sugar: 1 bowl
Khoya: 1 bowl
Ghee: 5 teaspoon
Cardamom powder: 1/2 teaspoon
Coursely ground small pieces of cashew, raisin, pistachios and almonds
Milk to bind the dough
Oil for frying
Method
Add ghee to maida and mix well. Add milk to it to make it a stiff dough. Set aside for an hour.
Roast the khoya on slow flame for five minutes till the colour is pinkish brown. Add cardamon powder and dry fruits in the khoya.
When the khoya mix is cool add sugar to it and mix well. Make small balls of the maida dough. Roll each ball into circle. Place two teaspoons of the khoya mixture in one half of the circle and turn the other half over to make a semi circle. Press edges firmly and trim the edges with a cutter. Heat the oil in a deep pan and fry till gujiyas are golden brown.
The above quantity will make 10 to 12 gujiyas. Hope you enjoyed this Gujia recipe for Holi.


About Author