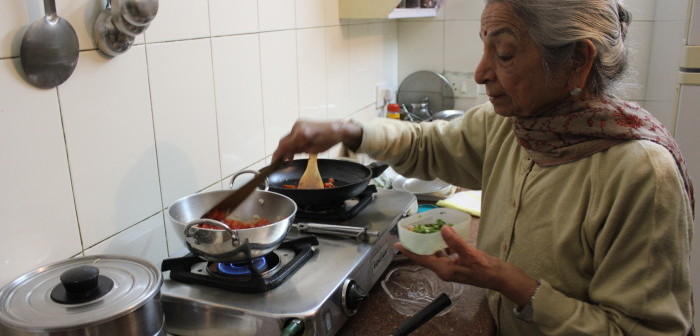 How These Seniors With Travelling Spoon Are Hosting The World At Home
Travelling Spoon helps bring local cuisine to a global palate. We speak to the founders and some of the seniors associated with it and discover a great second innings for those who love cooking and food. 
Kamla Sachdev is 81, energetic, well informed and occasionally host to visitors who wish to know more about India through its food. A retired school principal, this active octogenarian is a host for Travelling Spoon, a service that helps people to experience authentic local cuisine and food in people's homes around the world.
Started by Aashi Vel and Stephanie Lawrence, who bonded in business school over their joint passion for food, TS is present in 35 cities across the world and growing! Many of their hosts are over 50 and great cooks, making it a great Second Career option to try out for seniors who love the ladle.
"Travelling Spoon is like having a friend's mum cook for you when you are travelling," says Aashi, mentioning names like Freeda in Cochin and Flower in Kolkata who provide a great spread. It is also a great way to give the hosts, many of whom are retired and in their 60s or 70s, a chance to show off their culinary skills, introduce their culture to someone new and make money doing what they love.
All the hosts with TS are vetted. "We're the only company that does it," says Aashi proudly. Before they go ahead with a host, they visit him or her, eat the food and understand why the host wishes to join. The reasons can be varied but in many cases it's recognition and a chance to show off their cooking skills. Aashi mentions Harish and Mallika, a couple based in Varanasi in North India, who are hosts with TS. "I want to give Mallika a platform to show off her skills," says Harish. Most of the TS hosts are found through word of mouth, emails to friends and the social media. About 50 per cent are through existing host referrals.
Aashi and Stephanie believe that a large number of people are looking for an authentic food experience when they travel. She also believes that sharing that food in someone's home makes it a different experience altogether. "When you sit and have a meal with someone, no matter what cultural views you have, you think of the other person as a friend," is how Aashi puts it. 
"It's an interesting experience," says Kamla Sachdev, who has hosted several people so far and specialises in North Indian food, complete with 'Roti-making' demos if the visitors ask. "Most visitors are keen to know about Indian culture and are interested in knowing and watching how we cook," she adds. She hosts along with her daughter Geeta and enjoys the "cultural exchange" that comes with the experience. A Diwali dinner hosted in 2013 was a specially memorable one. "I asked the guests to participate in pooja as that would give them an essence of the celebrations. They joined us in illuminating the house and the child with them was amused by the crackers."
It's the world coming a little closer, says Freeda Ipe, a grandmother from Cochin who specialises in delicacies from Kerala. "You will get the typical Kerala meal outside also but the conversation at home is what makes the difference," she says. Politics and the government are sometimes great conversation starters and Freeda, a former teacher, says that she sees a lot of interest among her visitors in knowing about Indian politics, especially around election time. She has hosted mixed groups, which include Americans and Europeans.
"Whatever you serve, they like," Freeda, an ardent baker at heart adds, cautioning that as Indians, hosts can sometimes go overboard in presenting a variety of dishes and some visitors can find the spread little too big and overwhelming. Those minor hiccups apart, Freeda feels these meals make for good conversation and company, adding that it also helps to be appreciated and occupied. A typical spread by her includes signature Kerala dishes like appams, stew, pork roast and fish baked in banana leaves. "We don't know how to stop at two or three dishes," she laughs.
An involved and loving grandmother, Freeda has also given demonstrations of how appams are made and her visitors have gladly tried their hands at it. She feels the meals are an eye opener for many a visitor and gives them an insight into Indian lives. Her concern about strangers coming home long gone, she now thinks that it's the home setting that makes all the difference!
Isn't that a great way to showcase your hobby and get started on a second career as well? If you love feeding people and setting out a good spread or would like to encourage senior hosts by booking a meal, contact Travelling Spoon at http://travelingspoon.com
All photographs courtesy: Travelling Spoon
Update: In July 2018, Silver Talkies interviewed Iti Misra, also a host with Travelling Spoon among the many other ways she works with food. You can read about her here:
About Author