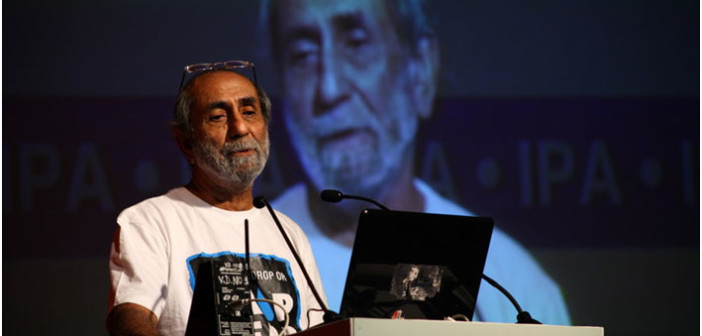 How An 80-Year-Old Is Saving Water In Mumbai
National award winning artist Aabid Surti once watched his mother fight for water in Mumbai chawls. Now his NGO Drop Dead Foundation works to save every drop by fixing leaking taps.
Aabid Surti, 80, has had a wonderfully chequered life. From selling his cartoons at an early age to working as a spot boy and then a scriptwriter in the Hindi film industry to creating popular comic characters like Dabbuji, Bahadur and Bela, which became iconic in the Sixties and Seventies. In other words, you could say this national award winning octogenarian artist and writer has done it all.
But it's his avatar as a water warrior and founder of the NGO, Drop Dead Foundation (DDF) that's probably closest to his heart. Surti launched it in his 70s, when he visited a friend's house and was bothered by the sound of a leaking tap. "When I asked why didn't he get the leak fixed, he said no plumber would come for such minor work." So Surti got hold of a plumber and got the tap fixed. It was the start of DDF in 2007. Together, Surti, the plumber and a volunteer made rounds of homes in Mira Road, the Mumbai suburb where he lives, fixing leaking taps and providing a much needed free service.
Why would the sound of leaking tap bother him enough to start an initiative? The answer lies in Surti's childhood in the chawls. He remembers the daily struggle for water his mother went through, waking up at daybreak and standing in queue for water at the common tap every morning."There were times when fights broke out between the women, for their share of water. It's a very strong childhood memory that kept on haunting me whenever I saw a leaking tap or water wastage anywhere," he says. Think of it as his tribute to the struggle his mother made for something that is a basic right.
Around the time he started DDF, Surti read an article that said, if one drop of water is wasted every second, 1,000 litres goes down the drain every month. "That's 1,000 One litre Bisleri bottles!" says Surti, who couldn't imagine that kind of loss and thought he had to do something.
According to Surti's website, between February 2007 to February 2008, DDF visited 1,666 houses on Mira Road, fixed 414 leaking taps free of charge, and saved about 4.14 lakh liters of water. Surti says in all these years of functioning, DDF has probably saved 10 million litres water. All because one man decided he could take up a big cause in the smallest possible way.
The zeal to follow his passion seems to be an inherent trait in this talented artist, writer and cartoonist, whose series Bahadur found a fan following among many Indian children growing up in the early 80s, including Bollywood superstar Shah Rukh Khan. "I was reading about your tap drive," SRK wrote to him in an email in 2007, "It sounds like one of the little big things my dad would have done." He goes on to add that he was a fan of Bahadur comics in his childhood.
Surti's first interest in cartooning came from Mickey Mouse comics thrown by British soldiers when their train passed Mumbai's VT Station in the days after World War II. As he became adept at drawing cartoons, he also seized the opportunity to market them. "I was part of Boy Scouts and there used to be a day when we had to earn money for our food. I walked into the Times of India office, which was close to my house and went up the editor and showed him the cartoons I had made." His cartoons were sold and Surti had started earning a livelihood, no matter how small the sum was.
Surti applies the same zeal to the Drop Dead Foundation, leaving no stone unturned to spread his message of saving water. The process they follow is simple yet methodical."On Mondays, the plumber, a volunteer, and I approach the building secretary for permission. If the secretary agrees, then we put up posters on the housing society's notice board on the ground floor or near the lift, with our tagline 'Save Every Drop or Drop Dead.' We also send pamphlets that explain what Drop Dead is and visit the homes on Sunday morning." There were of course initial hiccups that Surti and his team faced but he is emphatic that in most cases, the reception from people is positive and even full of love and admiration.
Funded entirely by Surti, the main expense of the initiative are the plumber's charges (though the plumber has also worked for him for free) and the commute to the various apartment complexes. Funds are however constantly required to keep DDF going and Surti raises money by selling T shirts of the NGO at exhibitions and fairs. He also attributes the continuation of his NGO to God, who he says, has always come to his help when there has been a shortfall. When he started in 2007, Surti was worried about funds. Almost as a sign of things to come, he was awarded Rs 100,000 as a Lifetime Achievement Award from the Uttar Pradesh Sahithya Sanstha. He used the money to fund his campaign for another three years and just when he was wondering how to sustain his work further, he was awarded Rs. 50,000 for his contribution to Hindi Literature from the Maharashtra government. In 2015, superstar Amitabh Bachchan decided to contribute money towards Surti's NGO, helping him to further propel his work. "God is my fundraiser," Surti says and it certainly seems to be so.
Surti encourages everyone to take up the initiative. He isn't looking for a name, all he wants is to save water. People who wish to take up the Drop Dead Foundation's work in their locality are encouraged by him to do so. "Especially senior citizens, who can easily spare one Sunday and take this up," he says, adding, "If I can, you can."
If you wish to contribute towards his selfless work or start the initiative in your area, visit http://ddfmumbai.com/
About Author