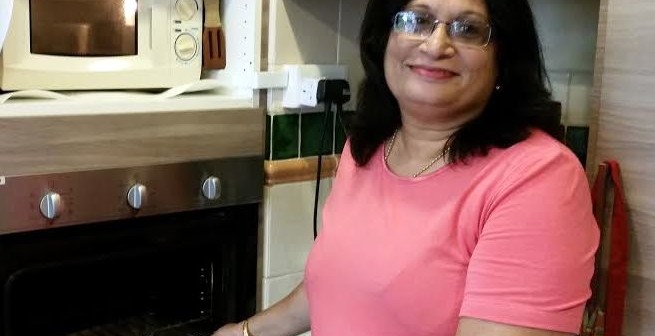 How Bridget White Kumar Is Bottling The History Of Anglo-Indian Cuisine
Bridget White Kumar recalls growing up in the mining town Kolar Gold Fields in Karnataka and how that shaped her interest in Anglo Indian food and its history.

Growing up in the British mining town of Kolar Gold Fields in the 1950s and 60s was quite like finding yourself in a little corner of England, reminisces Bridget White Kumar, 64, well known culinary consultant, cookbook author and most importantly, a custodian and researcher of Anglo-Indian cuisine.
Golden Memories
"In Kolar, which had many Anglo-Indian families, our upbringing was influenced to a great deal by the British," Kumar says, going down memory lane. Since we are speaking close to Easter, she remembers what was the staple on the table during Good Friday, a day of abstinence for Christians. "On Good Friday my mother would serve a vegetarian meal of Rice and Moong Dal Kanji or Porridge, if you wished to call it. We usually had it with papad or salter dry fish. My mother would add some jaggery to it. It was always a simple lunch menu on Friday."
Food was out in full force on Easter Sunday though and Kumar remembers a huge "total English breakfast" complete with sausages, bacon, fried eggs, mashed potatoes and the works. But it was usually lunch that saw the true flavours of Anglo Indian cuisine coming out. "My mother would either serve a Coconut Rice or some kind of pulao, chicken curry and our famous Ball curry, a pork vindaloo perhaps with all the other accompaniments. For dinner, it would always be a roast, either a beef roast or a chicken roast, though we also had roast turkey when we were younger."
Fowl was aplenty at KGF, as Kumar, who had four generations of her family living in KGF and a plethora of cousins, uncle and aunts, remembers. "Each house had half an acre of land around the house and so we all had 'fowl runs' or enclosure for chicken, turkey or other livestock. They were quite big and you could comfortably walk in and out, she recalls.
KGF was a very British down in those days and while the lifestyle and way of living of most Anglo Indian families living there were influenced by the British, it probably had its most remarkable effect on food. It also helped that there was a variety of British foods and goods available at KGF in the early 50s. "These were sold through stores like The English Warehouse, Spencers and Creswell, who stocked everything from Polson's Butter, Coleman's Mustard, Baked Beans, Quaker Oats to Kraft Cheese," Kumar mentions, adding "The food had become part of our lives."
Gradually as the mines were nationalized in 1956, the social landscape of KGF Mines underwent a change. Most of the Britishers left and there was a huge exodus of many Anglo Indians too. Most of the younger Anglo-Indians like Kumar moved to study or work in Bangalore or Chennai. "Many families moved out of KGF to be where their children were, though there are about 50 Anglo Indian families living in KGF, which still follow the older traditions."
Nuggets of History
Kumar left KGF eventually to move to Bangalore but the nostalgia of a cosy, intimate childhood, filled with families, friends and the aroma of good food never quite left her. "I was always nostalgic of my mum and grandmum's cooking and the way they used ingredients. The old recipes were judicious in the use of spices, something unique to Anglo Indian food." So Kumar, who had been handed down books with recipes from her mother and grandmother, started preserving them, researching more about Anglo-Indian food, it's origin and influences. Anglo Indians trace their origins to the Britishers in India during colonial times. Over the years, intermarriages with Indians resulted in a community that followed many European traditions and customs, merged with local influences. Most of us would have heard of famous Anglo-Indian dishes like Dak Bungalow Chicken and Railway Mutton Curry. Anglo-Indian food took on a life of its own, drawing from British, Portuguese and even Dutch origins, peppered by local spices and other ingredients. It could truly be called the original 'fusion food' from India.
Interestingly enough, Anglo Indian food carries different influences from various parts of India, given that the community was settled in diverse places. "Some recipes are pan India," says Kumar, "though ingredients could vary regionally. For instance, Anglo-Indian dishes originating from Calcutta have more mustard oil, while ours from the South tend to use more coconut."

She has some more interesting nuggets up her sleeve. "Did you know that some Anglo Indian food has Chinese and even Mughal influence? Or that the Portuguese had a large part to play in our cuisine and many of us have Portuguese blood is us? Our Vindaloo is in fact very different from the Goan Vindaloo!"
The Portuguese used preservatives like wine vinegar, tamarind and garlic as a method of preserving food and many of these influences show up in Anglo Indian cuisine. "The addition of tamarind and vinegar in food to make it sour is all part of the Portuguese legacy," she adds. Many Anglo Indian dishes have very interesting names. Kumar shares some of the origins. E.g., the famous Railway Mutton Curry was a direct product of the British Raj, when only East India Company officials and Indians from the upper strata of society travelled by train, considered an aristocratic form of transport. The trains came with very elegant and fancy dining cars attached fancy cars attached and food had to remain fresh throughout the journey. The Railway Mutton Curry got its name from those train journeys in style!
The other well-known dish, Daak Bungalow Chicken owes its name to the Daak Bungalows or Rest Houses along the postal route. Carriages would stop at these rest houses and the caretaker would prepare a dish, invariably chicken, as they were reared in house. Over the years, the recipe passed down from the original caretakers to their sons who would take over. The Lal Murgi Curry of today owes its origin to the chicken curry from the Daak Bungalows.
Preserving A Legacy
While the interest in preserving old preserving, learning about traditional techniques and researching food history was always there, Kumar went about it professionally after 2000, once she took voluntary retirement from Canara Bank, encouraged by her daughter who went overseas armed with a collection of recipes written by Kumar. "She came back and told me how much her friends liked it and asked me to put all the recipes I had collected together in a book."
The result, after a plethora of trials are four Anglo-Indian recipe books, including one exclusively on vegetarian dishes, something not many would associate Anglo Indian cuisine with. Her signature book, Anglo-Indian Cuisine – A Legacy, won the Gourmand Cook Award 2012 in the Best Culinary History Book in India category. "This prestigious Award is considered the Oscars for cookbook writers," says Kumar, whose expertise has also seen her train chefs from some of the best hotels in Bangalore, Chennai and other cities. She conducts cooking workshops and demonstrations at hotels, restaurants and different groups and is always ready to share her passion with others. Women's Groups, Corporate Offices, etc. Her training sessions have been held at the Taj West End Bangalore, The Taj Connemara Chennai among other hotels of the Taj Group.
Active with her research and creative work, Kumar is always brimming with ideas and says 24 hours are not enough. Her husband passed way five years ago and though the grief hasn't quite gone, Kumar has kept herself occupied and says she's quite happy in her own company. "We should have something interesting going on in our life and have our own identity. I've kept myself busy so that I don't brood" she says with equal measure of confidence, cmfort and wistfulness.
Kumar shares her recipe of Brindal Vindaloo on the occasion of Easter. With what else, but history attached.
BRINJAL VINDALOO (Aubergene or Eggplant Vindaloo)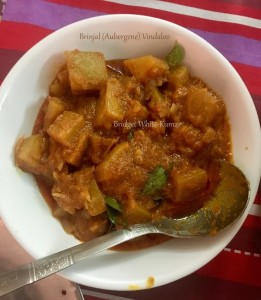 Many Anglo-Indian dishes have a unique history behind their existence. The very popular and familiar curry dish "Vindaloo" is derived from the Portugese word "Vinha De Alhos". "Vinho", meaning wine or wine vinegar, and "Alhos", meaning garlic. It was originally a 'vinegar and garlic' based watery stew made with pork or meat in Portugal. However, after the Portuguese introduced it in India, it was completely revamped with the addition of spices and chilies, and over the years it has become one of the spiciest and most popular curry dishes all over the world. Originally a Pork dish, Vindaloo later became popular using other types of meat, fish, poultry and even vegetables. I am sharing an easy recipe for a lip smacking Brinjal or Aubergene Vindaloo. The same recipe could be used to prepare Vindaloo with any other vegetables, fish, chicken, meat or pork.
Serves 6 Preparation time 45 minutes
Ingredients:
1 medium size whole seedless purple Brinjal
2 onions chopped
2 teaspoons chillie powder
½ teaspoon turmeric powder
2 teaspoons ginger garlic paste
1 teaspoon cumin powder
½ cup tomato juice / puree
2 pieces cinnamon about one inch in length
2 table spoons vinegar either white vinegar or malt vinegar
1 teaspoon sugar
Salt to taste
3 tablespoons oil
Remove the skin and cut the brinjal into medium size pieces and soak in salt water till required.
Heat the oil in a pan and sauté the onions till golden brown.
Add the ginger garlic paste and cinnamon and fry for some time.
Now add the chili powder, cumin powder, turmeric powder, sugar and tomato puree and fry till the oil separates from the mixture
Add the cut brinjals, vinegar and a little water and bring to boil.
Reduce heat and simmer till the gravy is sufficiently thick.
Please note: There is no need to garnish this dish with chopped coriander leaves as it would detract from the original taste.
All Photographs: Bridget White Kumar 
We have a Christmas Special workshop coming up with Bridget. Click here to know more! 
About Author