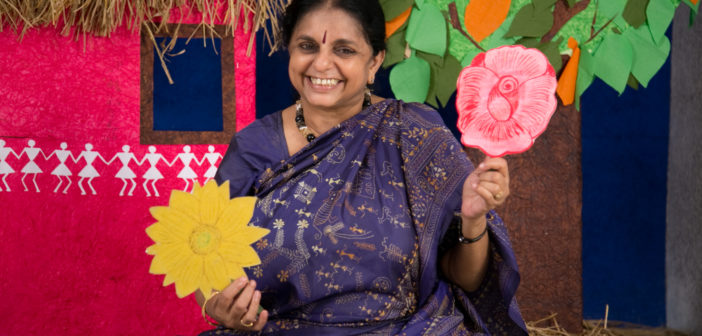 How Geeta Ramanujam Revived The Art Of Storytelling
Storyteller Geeta Ramanujam has been synonymous with the revival of storytelling and its application in education and other areas. She shares her journey with Silver Talkies.
It's hard to believe that storyteller Geeta Ramanujam, 61, was once shy of public spaces and scared to be the first one to raise her hand and answer a question. Watching her now — enacting a little kitten and playful puppy, her voice rising high and low, eyes expressive, fingers dancing to the rhythm of her story — is an enthralling experience. Ramanujam, who founded the Kathalaya Trust to revive the traditional art of storytelling, has been a pioneer in using stories as a learning tool and has introduced the concept across several schools and even among corporate organizations in India.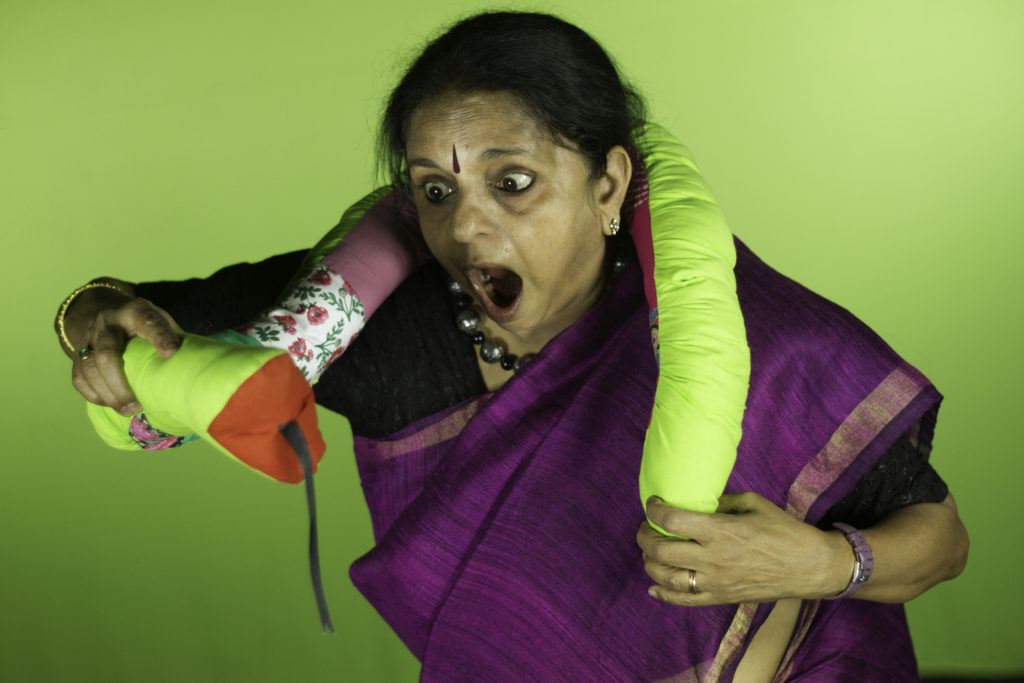 Setting Up The House of Stories
"I was the first one to bring a modern application to the ancient knowledge system of storytelling," says Ramanujam, acknowledging the belief she had in the importance of storytelling in education. The Kathalaya Trust, started by her in 1998, runs the Kathalaya Academy of Storytelling, the only internationally recognised academy for storytelling worldwide. She set it up after discovering that her true calling lay in using stories to make a difference in the way children learnt. "As a history and social science teacher, I used storytelling as a methodology to transact learning and make it interesting for the students. While the children enjoyed them, some teachers and people had an adverse reaction and felt it was deviating from the normal system of rote learning,"
Ramanujam says she was "extricated" from her role as a teacher and put in charge of the school library. She turned, what many would view as an adversity, into an opportunity that changed the course of her life. "I saw that the children were returning books unread and would use storytelling to engage children and draw them towards books specially the classic tales or books that they would not naturally take to."
"One of the parents thought it was a brilliant idea to have a workshop on storytelling and invited me to organise one in their summer camp that April. That was 1996 and my first storytelling workshop in Bangalore. It went off extremely well and unknown to me in the audience there was a person who even wrote about it in the newspaper, describing the storytelling session and giving my number." There was no looking back after this. "The phone calls never ceased and I was invited to do a workshop in a school to train teachers."

Ramanujam has trained over 85,000 people since then!
Kathalaya's 3-day Beginner's Course in Storytelling is an extremely in-demand and coveted course for many, both for professional and personal reasons. "I often hear at the end of the three-day workshop how it was great academically but they got more out of it because it completely changed someone's way of thinking. It is easy to acquire a skill but it is also possible for us to know oneself through something like this. It addresses intelligence and also the emotional quotient," Ramanujam adds.
Evolving With Stories
Ramanujam grew up listening to stories from both her parents. Her mother narrated them in Tamil and her father told her stories in English. In those days, without any access to televisions, computers or cell phones, with the radio being the only source of entertainment, she had time to listen to discourses, watch films and read books, all of which helped in her journey as a storyteller. "My keen observation led me to emote characters and voices after listening to discourses or watching films. These latent talents helped me later in my journey as a storyteller."
Storytelling has helped Ramanujam, unassuming yet impactful in her trademark bindi and beautiful sarees, in multiple areas. "I was scared of the dark. Now I travel the world alone. And all these phobias I had of loneliness, of wanting to prove myself…all these fell apart when I began storytelling," she says with disarming honesty. "Storytelling came as a breath of fresh air and stories resolved and dissolved all those hidden figures within." It's a journey many people she trains in her workshops experience themselves, as they share their personal stories, describe their inner journey and emotions that have often been hidden deep within.
Storytelling is all about acceptance, Ramanujam believes.
"Through storytelling and through my journey, I discovered how to deal with relationships and people and how to deal with adversities and pain too. I believe that when you gift someone a story it transforms their lives and the stories remain etched in their hearts thus healing them."
A Long Journey
Ramanujam's own journey has been one of learning and acceptance at both ends. Her family did not quite understand her passion for storytelling and her drive to start an institute for teaching it in the beginning but gave her the time and space to do her work undisturbed. "There were days when I slept at 2 am and woke up at 6 am," she reminisces, adding that despite the success of Kathalaya, that drive hasn't wavered. "I just rest when I need to."
The road to Kathalaya hasn't been without its struggles.
"I had to cross many hurdles along the way. I almost reached the brink of closing down the institution many times when kind hearted volunteers, children, or good souls showed me new paths or shared innovative ideas to sustain the organisation," she says. Serendipity and belief in her hard work paid off gradually. "In 2003, I visited the USA for a personal reason and got invited to attend a Storytelling festival. Eventually, I also performed there and became the festival's guest of honour. In addition to this I met the Mayor of Tennessee who also happened to be the organizer of the festival. He offered to help me with the required affiliations to start the International Academy of Storytelling in India. I also won accolades like the Ashoka Foundation fellowship, the Best storyteller award and more recently the Bengaluru Hero Award in 2018, which has helped me to continue with storytelling."
Ramanujam's perseverance and reputation as an internationally renowned storyteller has helped her establish Kathalaya into a truly global institute and increase the courses on offer. "I wanted to add a Diploma in Storytelling and got the much needed support and affiliations from the University of Edinburgh and the Ministry of Culture Sweden." Kathalaya would be completing the 100th batch of its academy course soon and is gearing up to celebrate 20 years of a rich storytelling legacy. A publication of 20 different stories is in the pipeline.
All the awards and accolades received over the years has only motivated Ramanujam further. Her calendar is full 365 days a year with travel, training and performances around the world and despite the full utilization of storytelling in learning yet to take shape, she continues her journey with the same dedication and energy she started it with. She is also sure that she doesn't want to become an workaholic. "I always find time to do things close to my heart. I still find happiness in little things like cooking, cleaning, reading and spending time with family members, attending family functions, chatting with siblings and mom and still finding time for my meditative jaunts," says Ramanujam, who has one daughter who lives overseas.
Like any good raconteur, Ramanujam does have plans for a book in the future. "I will soon be compiling all my travel and stories for upcoming storytellers and future generations." And there are several more stories stored up in the various corners of her consciousness, waiting to be used "A good storyteller should be ready to accept and adapt to new environments, culture, regions and merge with the local scenario. Make your story the star," says Ramanujam, as an advice to all storytellers. "It should be like a perfume that lingers."
To know more about Geeta and the courses offered by Kathalaya, please visit http://www.kathalaya.org
About Author