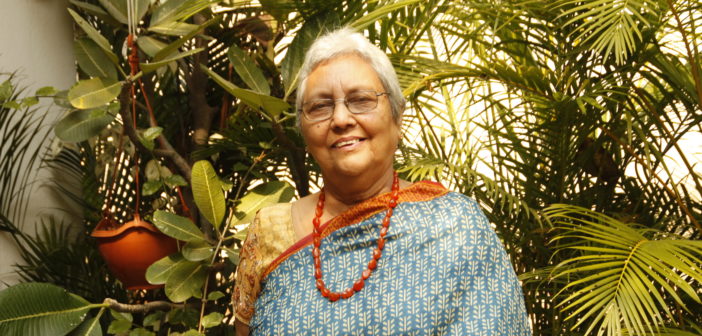 How Uma Jain Deendayal Is Keeping A Photography Legacy Alive
Meet Uma Jain Deendayal, the woman preserving the legacy of Raja Deen Dayal, the father of photography in India.

In 1966, as a 23-year-old when Uma Jain entered the Deendayal home in Secunderabad after marrying Prabhas Deendayal, the fourth-generation scion of the Deendayal family, she was struck by the artistic work that the family was involved in. Raja Deendayal, the iconic legend of photography in India had already passed into history, having created a highly valued body of work between 1844 and 1910. Raja Deen Dayal's son Gyanchand and his sons were carrying forward the legacy when young Uma joined the family.
In her 70s now, she is working hard towards preserving that legacy.
Coming from a background of Literature and Arts, Uma's sense of aesthetics helped her dive into the craft in a whole-hearted fashion. She learnt all about what goes on in a dark room, the invaluable glass plate negatives and about preserving and protecting the enduring legacy of the patriarch – Raja Deen Dayal.
Raja Deen Dayal who lived from 1844 to 1910, was born in a family of jewelers in Meerut (UP). He studied engineering at the Thompson College of Engineering (now IIT Roorkee). He developed an interest in photography after joining the government service at Indore. Soon his work was noticed by the royal family and he started working with the royals of Hyderabad and others. He went on to photograph British dignitaries and their families as well. His photographs are an important record of those times.
Uma's husband Prabhas Deendayal was managing Foto Crafts at Abids – one of the six photography studios run by the family. After his sudden death in 1996, Uma took over the running of the studio. It was a challenge.
"That was the time when printing and developing was still being done in the traditional way. With my father-in-law I had learnt a lot about the various processes. The whole process was very challenging mainly because it was so complicated. We were printing archival pictures also which had to be done in a perfect manner. We had to live up to the Deen Dayal image — everything had to be just right. At times it was not easy but we managed. I carried on until 2010, when we had to shut down Foto Crafts."
Shutting the studio down seemed a reasonable thing to do as technology had changed photography completely. "Everyone became a photographer with his or her mobile phone. There was no longer any craft involved in printing pictures. People had started doing their prints on home computers! So, we became redundant as digital printers came into the market," she says.
Uma went back to join something of greater value. She focused on preserving and starting the digitization of the Deendayal archives because they were really "precious" and needed to be cared for. She admits, "My father in law had this vast body of work from the years 1930 to 1984 and also the earlier works of Lala Gyanchand and Lala Deendayal. We have it all and it is our duty to preserve and protect it from the ravages of time."
The process of transferring the images on the glass plates to the digital format is a complicated one and Uma mentions special scanners have been purchased for the purpose. A result of that was an exhibition of archival prints from the Deendayal Collection, held at the Guruswamy Centre in Secunderabad recently.
Under Uma's supervision, the archives of Raja Deendayal are once again being noticed and admired. She shares a family anecdote about the legendary Raja Deen Dayal.
"I recall my father-in-law telling me he would not be deterred by any odds. In those days, the glass plates had to be imported from Germany and he did that. Later he employed a British engineer to do his own glass plates inhouse. There was also this apocryphal story of how he rode a bullock cart with all his equipment up many a hillock to get the best possible shots of landscapes. From all these stories my abiding impression was that he never stopped and he never gave up till the very end. Perseverance was his virtue".
In 2006, the Government of India issued a stamp to commemorate the legendary photographer's work. Meanwhile Uma Jain Deendayal carries on with the conservation of the archives, on occasion readying prints for exhibitions and the rare sale. She is working on the digitization of the fragile prints to preserve them for longer. She also welcomes research students and serious scholars if they wish to view the vintage photographs from the collection. The family is also seriously contemplating starting a museum, where all the work of the Deendayal family can be exhibited.
You can read more on their website laladeendayal.in
---
Liked this story? You may also like to read: Rukmini Varma: Raja Ravi Varma's great, great granddaughter and celebrated artist
About Author