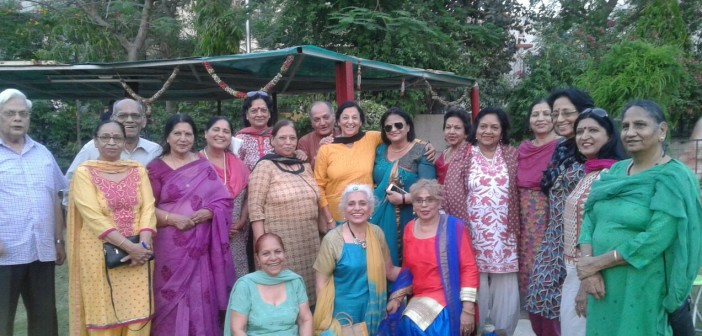 Humjoli: Social Network for Seniors
Humjoli, a senior citizens group in Noida, provides a support system for its members, many of whom stay far away from their children.  
Every month, at a park in Sector 21, Noida, Uttar Pradesh, a merry group of senior citizens meet to discuss, socialise and have fun. Called Humjoli (friend in Hindi), the group, with 105 members at the moment, works as an informal support group for senior citizens living in the area. Meena Vohra, ceramic artist and one of the founders of the group, is in her late sixties and an example of growing younger with her years. She and few of her friends felt there was a need for a group like this as many senior citizens lived alone or away from their children, who stay overseas or in other cities. Mrs Vohra and her friends Priya, Kanta, Veena, Deepak and Indu felt there was a need for community support and Humjoli was born.
The group mainly connects through Whatsapp and tries to help out each other in their times of need. They meet on the second Wednesday of every month. Though their meeting point is Shivaji Park at Jalvayu Vihar, Noida, people are welcome to join from other areas as well. They have associated with a doctor and a nurse, a couple who reside in the area and are available 24/7. When required, senior members can avail of their services, instead of having to commute to a hospital for minor things. The group also takes care of getting bill payments done for members who are not mobile or unable to do it themselves.
Interestingly, it's done by the active members of the group, themselves senior citizens. "There is no money involved," says Mrs Vohra, adding that this is an initiative that is meant to keep the community spirit alive.
Discussions at their monthly meetings at the park range from environment to health. "We are discussing the water crisis these days," Mrs Vohra adds, referring to the severe water shortage and draught in Maharashtra and other parts of India this summer. They also play games and celebrate festivals with gusto. In fact, they celebrated Baisakhi recently with some of the members even performing a traditional dance! "There are people who have nobody to talk to and for them these are wonderful opportunities," Mrs Vohra points out. The Whatsapp group helps to keep the members connected with each others' lives, happenings and problems if any at other times. "If anybody has to go to the hospital, someone is there to accompany them. Help is available for everyone."
What the group really adds to the lives of its senior members is an instant social connect and cheer. Mrs Vohra mentions a wheelchair bound member, who has to carry her oxygen can everywhere. "Earlier she wasn't keen on coming but I convinced her. She came and said she hadn't laughed like that in a long time. Today, she is a regular visitor." Members also include cancer survivors who are a source of inspiration to everyone in the group. "There is an eighty year old gentleman who lives alone and does all his work himself, including cooking. Such people show how active one can be even at a later age and are very inspiring."
Humjoli's monthly meetings also see talks on various subjects given by experts to educate and inform the members. Recently, a diagnostic centre spoke about the importance and need for preventive measures. It is also a platform for all members to exhibit their innate talents like singing, dancing, playing a musical instrument or reciting their own works of poetry. "E.g., one of the members is a retired Air Force pilot who loves to sing old songs from the Seventies and keeps us entertained," Mrs Vohra tells us.
What matters the most is however the support system the members have in each other and the happiness they get out of the social connect the group brings. If you live in Noida or any nearby area and would like to join the group or enroll a loved one, do contact Mrs Vohra on 9899672403 to join. The address where the group meets is:
Shivaji Park, Sector 21, Jalvayu Vihar
Noida, U.P. The park is located behind the Airforce canteen. 
All photographs courtesy Humjoli/Meena Vohra
About Author