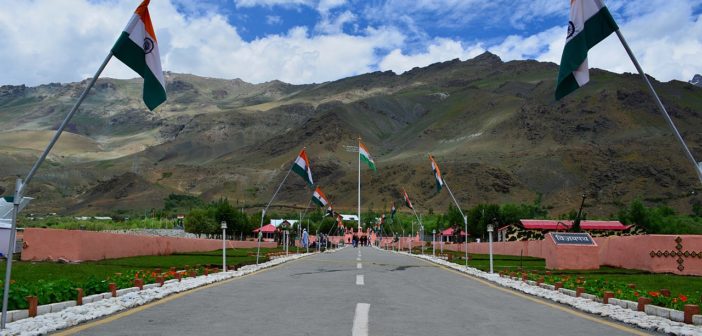 My Stay In Kargil
Shyamola Khanna's book, The Cow in Kargyll, talks about life in the Air Force. It starts with her stay in Srinagar where her husband commanded the Air Force station during the Kargil war of 2000. This being the 20th year of Kargil war, excerpts from the book, shared with the author's permission.

It was a pleasant Autumn evening when we got the message that Maddu (my dear late husband, Air Commodore MD Khanna) was to take over the Air Force Station, Srinagar, as the new Air Officer Commanding (AOC). For a fighter pilot, it is the ultimate assignment—that of commanding a flying base. I was thrilled to be able to go back to the valley as it always epitomized the last word in romance—maybe I was fed on an overdose of Hindi cinema where every second movie had the valley as the backdrop!
When I told  my family and friends, their  reactions were typical:
"What's wrong with you? You don't have to go!"
"Are you quite out of your mind? You are going with him?
 "He is a soldier, let him go. He has to do his duty."
 "You will get killed. Pata hai na, wahan goliyan chal rahi hai"
On the 12th of January, 1999 I landed at Srinagar at 1100hrs, on a bright, clear morning. The airfield was covered in snow and I was quite thrilled to see the white blanket reaching the horizon. The sunshine was warm and inviting and when I stepped on to the first step of the ladder, I really felt like a 'queen of all I surveyed'.
Maddu was there along with his deputy, Jeetu Dhillon. I was bright and chirpy and thrilled to feel the warm sunshine.
"Hey, this place is not as cold as Delhi.  Hmm… it feels great. Delhi was bad."
The deputy started laughing, " Ma'am just wait for half an hour. Then tell us whether Delhi was warmer or..!"
Half an hour later, I was sitting with four other ladies who had arranged a kind of welcome tea for me. I was trying to talk but my teeth would not stop chattering and I could hardly string a few words together!
 We were invited for dinner that night. As the evening approached, Maddu told me very gently that the maximum temperature that day was minus 5 degrees. I nearly jumped. So the minimum must have been hovering between minus 7 and minus 10.
I was given a  thick flannel inner vest which served as my blouse. A pleat here, a pleat there and the sari was in place. I put on a cardigan to match. Mind you all this was done within touching distance of the bukhari. Maddu sat on the bed and said that he was timing me. With a big grin on his face, he told me that he had never seen me get dressed so fast.
 Like a good husband, he got me my coat and in true "Clark Gable" style, he held it out for me to wear. I did and began to feel quite warm. That was also when I also looked at myself in the mirror.
And I burst out laughing! 
I looked like a blooming teddy bear, with all my padding in and out. The worst was that the coat refused to button up. So I put on a the la-di-dah air and pretended that it was supposed to be like that!
My feet were freezing and with the two pairs of woollen socks I was wearing, I could not fit into the sneakers I had been wearing all day.
With no other options left, I put on the snow boots I had and said goodbye to the last vestiges of sartorial elegance. 
"Thy chariot awaiteth, my lady!"
---
Id celebrations
Within ten days of my arrival, it was time to celebrate Id. Parrey, the mali, brought me a small packet of meat and said that it was prasad and I should accept it.  The dhobi Akbar, brought us a full meal, almost a wazwan and the old man, Kuttay, who ran a shop in the premises, sent us a huge cake. The meal turned out to be scrumptious and we called others to share it with us.
Now, what does one do with a huge, rich creamy cake, especially if there are no kids around?
I did the next best thing. I invited all the officers' children. There were hardly about 15 of them and they were all very excited that AOC Aunty (the Commanding Officer's Wife or COW for you!) had invited them for a party. The cake was cut and the cook made lovely hot samosas. The children and I played in the lawns and the one who had the maximum fun was Tootsie, our pet. She ran with the kids and chased the ball with them!
Manav, a cute little five year old, went home and told his parents that AOC Aunty was celebrating her dog's birthday!
---
Welfare Meetings 
At the very first welfare meeting, I asked all the airmen wives and officer's wives present on the station to please attend so that we could all meet and interact. A circular went out from the  Admin Office that the 'First Lady" wanted to meet everyone!
The women who came there were a lot like any average housewife and homemaker. Many were excited to be in the hills as this was probably their first (or last!) chance to see the place. Like mothers everywhere they worried about their kids and schooling, they worried about shoes, uniforms, books, etc. So the question hour carried on:
Madam ji, the children need school shoes.
Madamji, uniforms ka kya hoga?
Madamji,  we want to go with our husbands when they are allowed out for that one hour every day. They bring back vegetables which are bad or not required, we would like to pick and choose.
Thus it would go on. At every monthly meeting of the AFWWA ( Air Force Wives' Welfare Association), the similar questions would come up.  Finally, one day I had to tell them the harsh truth.
"AOC  has repeatedly told you all that for the very tricky security situation, you are not being allowed. Are you ready to accept the odd sniper's bullet? 
"Soch lo, agar goli lagee  toh zimmedari kiski hogi?  Apke bacchon ko kaun dekhega?"
(Think about it—if you are hit by a bullet, who will be responsible? Who will look after your kids?)
If you are willing to be responsible for your own death, then I shall ask AOC to let you go. Think about it and let me know."
Then we started engaging the families in various cultural events and celebrations of all the festivals— right from Holi, Deepawali, Durga Puja, Christmas, Ganesh Puja, Onam, Id,  et al. We went for all the celebrations and it kept everyone relaxed and comfortable. Onam and Christmas celebrations were especially unique as all Malayalee families celebrated both, irrespective of whether they were Christians or Hindus.
---
Going out 
It felt a little strange, to say the least —- getting into the official car with a gun-toting guard from the Quick Reaction Team (QRT) sitting in the front seat. His gun was pointed out of the window. Then there was a QRT jeep following us with three or four more similar soldiers, carrying their weapons. It was daunting and humbling and a reminder that we carried our lives on a short string. Many a service officer had died in spite of such precautions. Of course, slowly, we learnt that the terrorists targeted the BSF, the police and the army. The Air Force had not been the target till then.
It was a weird feeling going into the market—- deep in the pit of my stomach, there was this fear and unease. What have we done here?
Where are all the pretty carefree young Kashmiri women who used to frequent the streets and the wayside cafeterias? And the soldiers—everywhere you turn you see the olives, bristling with weaponry. They are patrolling the streets at all hours.
Fear stalks everyday life in the valley. There was no eating out, no walks down the boulevard, no strolling down Residency Road to window shop.
---
Entertainment while the war is on
Even while the Kargil war was on, we kept the schools functioning. So the Air Force school and the Kendriya  Vidyalaya were running full steam ahead. None of the families had gone home and none wanted to go home.
So we decided to stage a little play. It was to be a double-pronged weapon—- occupy the kids and their mothers in a creative outing so that there was no fretting for the fathers who were away in the border areas. I sat with a few of the ladies and rewrote our version of Snow White and the Seven Dwarfs. Every evening around five o'clock, the kids and their mothers would walk into the Officers'  Mess. They would sit on the floor while the actors would run through their paces.
Poonam, a tall 13-year-old,  was the wicked stepmother while Snow-white was pretty little Tanusri. All the little boys were the dwarves. The forest was made up of  10 odd kids who held on to branches and came to the stage.
Our brilliant engineering officer, Chiru Saha and his team made the sets in a couple of hours, just before D-day!
The 30-minute play was performed in the Officer's Mess to a packed hall. The kids performed flawlessly. After the success of this one, the kids wanted some more, so we had a mini fashion show, only with kids. 
— The above are excerpts from my book, The COW in Kargyll. 
All photographs courtesy author, except cover photo.
Cover photo courtesy: Kargil War Memorial, Shyam Akirala, Wikimedia Commons
---
 We shared the above to mark 20 years of  Kargil. If you enjoyed reading that you may also like to read A Brigadier's Life
About Author