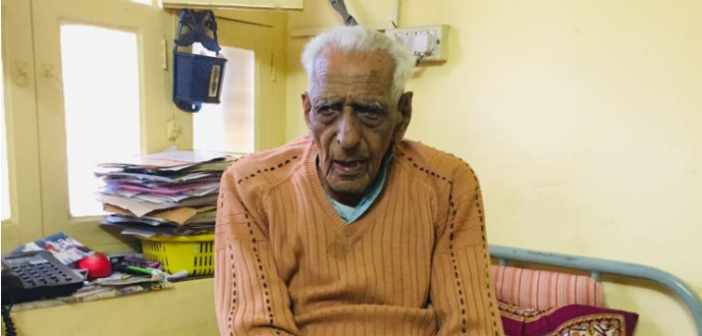 Independence Day Special: Meet HS Doreswamy, 101-Year-Old Freedom Fighter Who Has Seen India Before and After Independence
Did you know about 101-year-old freedom fighter, HS Doreswamy and his contribution to India's struggle for freedom? Silver Talkies meets him to hear his experience. Happy Independence Day to all. 
 Always spotted in a khadi kurta and white dhoti, 101-year-old freedom fighter HS Doreswamy of Bangalore is a man of grit and unparalleled courage and has been defying age for long. Despite intermittent breathing troubles and limited mobility, Doreswamy is seen motivating groups of youngsters towards social work even today. His residence in Jayanagar, South Bangalore, is always brimming with people seeking his advice and he never ever lets anyone return without meeting him. Each year during Independence Day the centenarian remains busy in recollecting his memories of India's struggle for freedom. Silver Talkies is proud to have met Doreswamy — one of the few living freedom-fighters in the country today. He shared his long journey towards freedom with Silver Talkies on the eve of India's 73rd Independence Day.
Doreswamy joined the country's battle for freedom after being inspired by the principles of Mahatma Gandhi. "When I was in Standard 5, I first read about Gandhiji's principles and became his follower. Bapu used to say that an individual has to go through voluntary poverty in order to serve the society and I try to follow the same mantra even today. I will follow so till the last day of my life," says the centenarian. Doreswamy actively took part in Quit India Movement in1942 and was jailed for 14 months when he was only 23.
Filled with humour, the 101-year-old recalls, "I have had a happy time in the jail with other inmates. I was a bachelor then." When Doreswamy was arrested on December 1942, he was working as a teacher in the Gandhinagar High School, Bangalore.
"I was arrested for supplying time bombs to my fellow-freedom-fighters in other districts of Karnataka. Those bombs were not meant to kill people but to burn government documents in front of the police stations as a sign of protest. One of my friends got arrested and beaten up mercilessly and my name got revealed. They searched my house but could not find anything. I was taken to the Halasuru Police Station which had a different name then. Later they took me to the Central Jail and kept me in detention for 14 months."
During his stay for an entire year in the prison, Doreswamy went through and witnessed a lot. "We were given rotten food in jail for which we protested, got caterers removed and a new cook appointed. Five college students from Shimoga district were hanged in the same prison where I was kept. All that happened when two police officials charged on a peaceful procession of college students, behaved arrogantly with them and got killed by the agitated mob. The hangings went on for three days as according to prison rule only two people could be hanged on a day. Our barracks were kept locked so that we could not protest against the hangings," says Doreswami.
"I had been a witness to the arrest of 12 Indian officers from the British Army who wanted to join Netaji Subhash Chandra Bose's Indian National Army (INA). On the way, they were arrested and brought to our prison at midnight. The entire prison shook with the cry of 'Vande mataram'. The next morning they were taken to Jalahalli police quarters, made to stand in a row and were shot dead. In the month of January, 1943, we wanted to celebrate Independence Day and hoist flag inside the jail. While hoisting the flag, we were beaten black and blue but did not leave the rope that unfurled our national flag, high up in the sky. We were not served food for days because of our non-cooperation but nothing could stop our desire to attain freedom," he adds.
After being released from jail, Doreswamy did not want to sit in silence. He chose the power of pen over the power of violence and started publishing Pouryavani, a newspaper that spoke about the dark sides of colonial rule and urged fellow Indians to unite under a democratic government. In 1948, he started his own publication, Sahitya Mandira when he was only 27. "I used to publish one or two books on Gandhian philosophy, sell them to college kids and eat whatever I could afford from the money I got by selling those books," he says. Sahitya Mandira is published even today.
He believes that while the freedom-fighters wanted to free India to eradicate poverty, poverty has still remained. "Freedom has come only for those who are wealthy. Those who are poor have no freedom even today. Even after 72 years of freedom, only the rich are becoming richer and the poor are becoming poorer. It is the duty of the seniors to join hands and guide the young generation to the right path so that our country can attain Independence in the true sense," explains the 101-year-old freedom-fighter who endured prison and other hardships, among others to bring us the free country we now live in.
---
Every August, Silver Talkies records memories and instances of humanity, fortitude and courage during the Independence Years — stories of life in a newly independent India; crossing over during Partition and stories of finding freedom. You can access our archive here: The Independence Years.
About Author