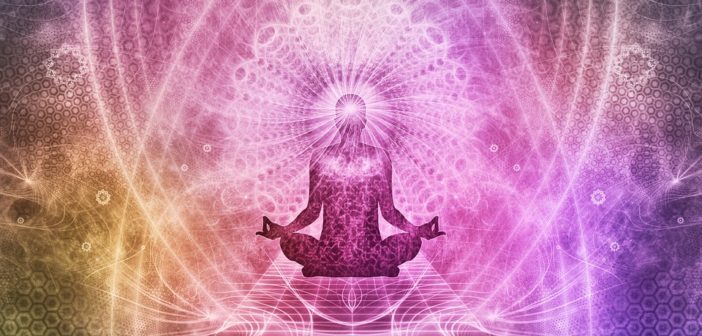 International Day of Yoga Special: Five Health Benefits of Yoga for Older Adults
Yoga is a discipline of goodness and positivity. It's also an exercise open to all ages. Here are five health benefits of Yoga for older adults. And don't forget to check two awesome Yoga events in Bangalore & Pune that day.
Yoga, a spiritual and ascetic discipline, works through breath control, simple meditation and practice of bodily postures, providing the best of health benefits and relaxation to all, irrespective of age. For seniors, Yoga has a wide range of advantages that keep their body and mind young, fit and good going, beating the leaping age numbers. To mark the International Day of Yoga on June 21, here are five health benefits that Yoga offers for older adults.
Improves sleeping habit: For most older adults, disturbance in sleeping habits is pretty common. They are either insomniac or suffer from oversleeping, both of which are not healthy. According to research, Yoga has a positive impact on the time taken by seniors to fall asleep and the duration of time slept. Studies have found that those practising Yoga are able to reduce their fall-asleep time by an average of 10 minutes and amped up their sleeping duration by one hour.
Enhances muscle strength and protects joints: For silvers, Yoga acts wonders in increasing the strength of muscles and guarding the joints, especially for those who are suffering from arthritis. Studies have revealed that Yoga increases handgrip strength for children, adults and older adults. This is not an exception for patients of rheumatoid arthritis as well. In fact, Yoga can lessen the risk of arthritis and carpal tunnel syndrome.
Keeps Diabetes in control, curbs hypertension, aids in weight loss: Yoga plays a crucial role in keeping Diabetes under check and is beneficial for patients suffering from Type 2 Diabetes. Research has shown that practising Yoga for 40 days can result in a considerable reduction in the blood sugar levels. It also plays magic in keeping hypertension levels low. Within 3 months of regular Yoga practice, a senior can experience a drop in blood pressure, cholesterol and triglycerides. While too much of weight gain and obesity can cause damage to seniors, Yoga also helps in weight loss and keeps the body fit.
Maintains a healthy mind: Age-related crankiness and mood swings are not rare for older adults. This is where Yoga comes to the rescue, lifts up the mood and lessens anxiety. According to studies, Yoga is the best form of exercise that among other benefits, has a soothing impact on the mind and helps in mood enhancement and anxiety reduction. Researchers have found that practising Yoga increases the production of gamma-aminobutyric acid (GABA), that helps in calming down the body.
Cures breathing and lung issues: Yoga actively plays a role and helps in getting rid of breathing and lung issues. A study has shown that yoga practice can make the lung capacity better, by as much as 10% in only 40 days. Just 30 minutes of yoga breathing techniques can make the condition better for those suffering from bronchial asthmatics.
HOW TO MAKE YOGA A PART OF YOUR LIFE THIS WORLD YOGA DAY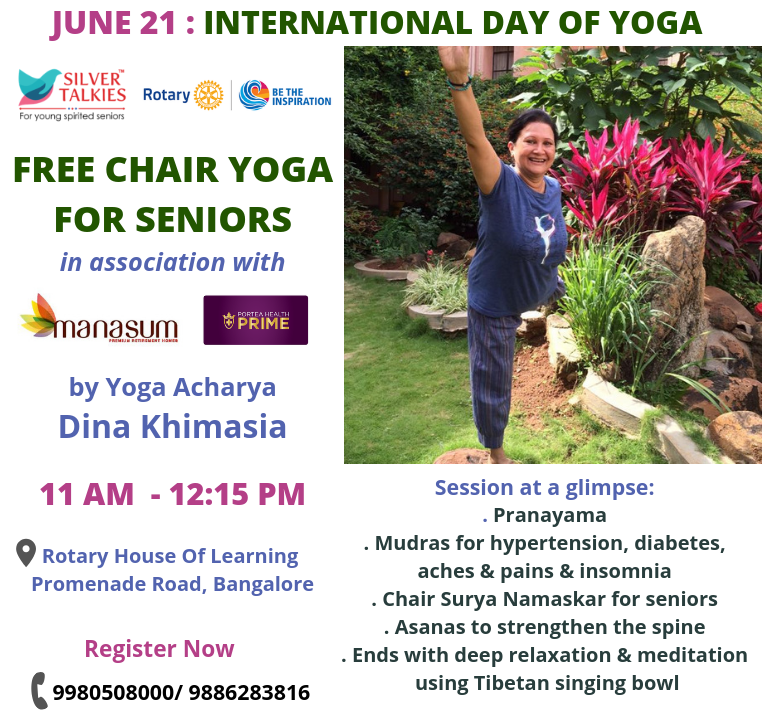 If you are in Bangalore, join us for Chair Yoga for Seniors by Silver Talkies, in association with Manasum & Portea Medical.
On the occasion of World Yoga Day, Silver Talkies has organised Chair Yoga for Seniors by Yoga Acharya Dina Khimasia, 60, an advocate of yoga for everyone, especially elders. She has written extensively on yoga, about breathing techniques, asanas and calming the mind with meditation. Read about Dina here.
The session will include Pranayama, Mudras for hypertension, diabetes, aches, pain and insomnia, Chair Surya Namaskar, Asanas that strengthen the spine and deep relaxation and meditation using Tibetan singing bowl. It is a free entry event that will take place in the Rotary Club Bangalore, Promenade Road, Opposite Coles Park from 11 am to 12:15 pm on June 21, Friday. Do bring your 55+ family or friends along.
Register now: 9980508000/ 9886283816
---
If you are in Pune, join Rejuvenate by Seniority on June 21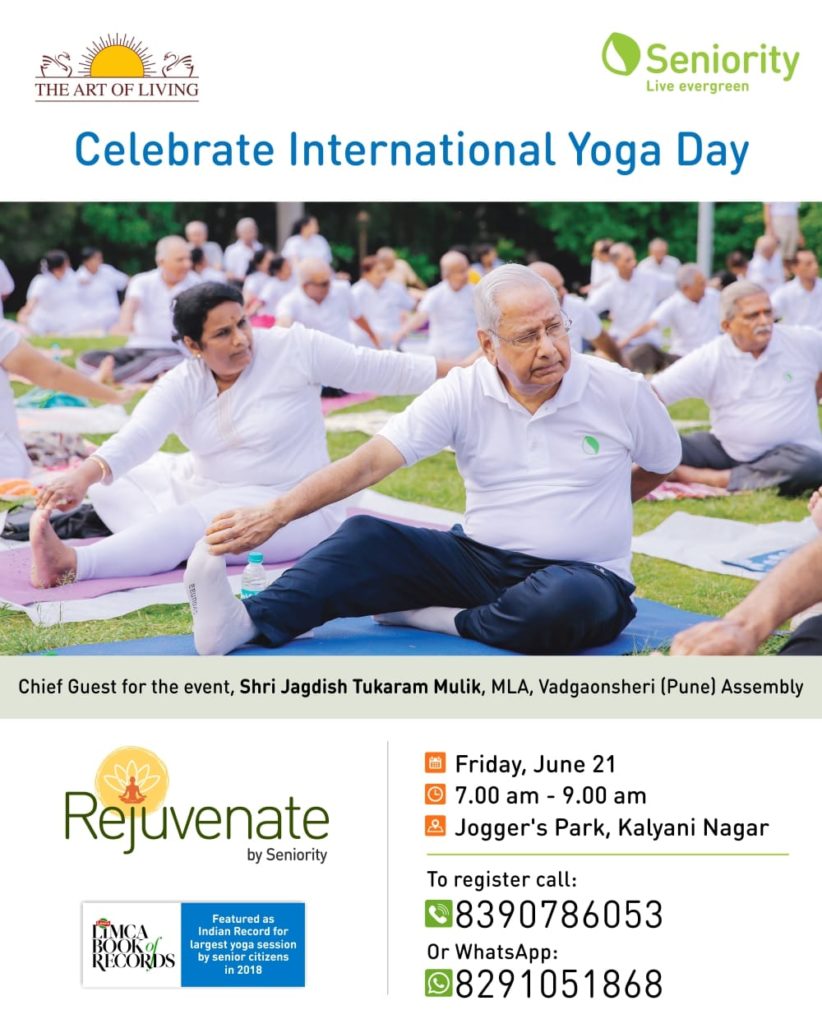 Seniority.in, the online shopping portal for seniors is organizing a mega event to celebrate Yoga with 300+ people. On offer is a Masterclass on Yoga with Art of Living experts on Yoga asanas and techniques.
The event will take place on June 21, Friday at 07:00 am to 09:00 am in Jogger's Park, Kalyani Nagar, Pune and will have Shri Jagdish Tukaram Mulik, MLA, Vadgonsheri Assembly as the chief guest.
To register, call 8390786053 or WhatsApp 8291051868
About Author