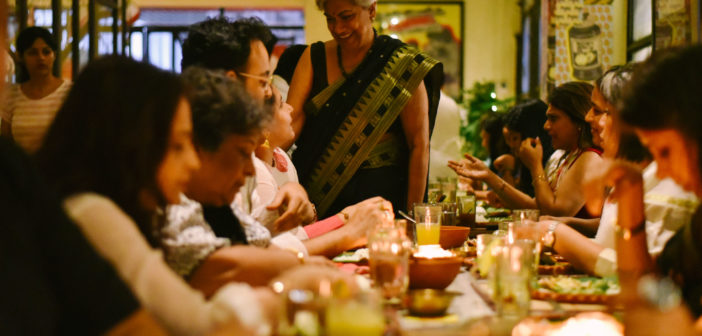 How Iti Misra Is Cooking Up A Feast In Her Fourth Innings
At 77, Iti Misra has turned her lifelong love for food into a profitable hobby-cum-career. She tells us about enjoying her fourth innings.
"I have so many passions that one lifetime is not enough!" laughs the feisty Iti Misra, food consultant and home-chef over the phone from Kolkata. At 77, Misra is on to her "fourth innings," cooking up a feast and making the most of it. Misra worked with British Airways for a long time, after which she opened an office to sell international cruises. She followed this up with an academic stint at the South Point School, Kolkata, teaching English and Public Speaking for four years before getting involved in what has been a long-time passion for her – food.
Food was always an important part of Misra's life but over the past few years, has made a comeback as a "profitable hobby," in her own words. In fact, her willingness to expand her culinary expertise across diverse areas and collaborating with younger teams is both admirable and inspirational.
Foodie Trysts
Misra is an official host with Traveling Spoon, a service that helps people experience authentic local cuisine and food in people's homes around the world. She has also recently collaborated with The Bombay Canteen, a trendy Mumbai restaurant, to create a Bengali feast pop-up. With both vegetarian and non-vegetarian dishes on offer, the pop-up is a smorgasbord of flavours you are unlikely to find outside a Bengali home.
Misra has held Bengali feast pop-ups earlier with Bengaluru Oota Company and at The Monkey Bar,  including one at a five-star hotel in Patna. "When I first entered the huge kitchen of the five-star hotel, the cooks were initially skeptical about me." She went on to gain their respect when they realised she knew her food. "Every expert respects the other. If these chefs had 25-30 years of experience, I have had 50 years of experience when it comes to cooking!"
Misra is completely enjoying her professional tryst with food.
"I love to cook and I love to feed people but it's an expensive hobby! These events are a wonderful outlet for my creativity. I don't have to worry about the commercial aspect and can indulge in my creative abilities," she says.
For the Bombay Canteen pop up, Misra and the restaurant's chef-partner Thomas Zacharias looked at authentic Bengali dishes that were not typically found in restaurant menus. "I also wanted food that was evocative and brought memories," Misra says. Given a fine-dining restaurant set-up, it also had to be food that could be prepared on a large scale, looked good enough to plate and serve and would sell. "Thomas and his team were very enthusiastic and we tested about 50 dishes, eventually narrowing it down to about 27, with some specials on the menu." Misra has also included a number of vegetarian dishes, as she wanted to correct the misconception that Bengalis eat only fish. Her collaborative effort has also seen lesser known delicacies like Horo Gauri, where the fish is cooked in a duo of different sauces on either side and Muitha Dalna, where fish dumplings are cooked in a traditional curry, apart from traditional favourites like Shukto and Daab Chingri.
Feeding & Feasting
Misra grew up around good food but never really entered the kitchen until after her marriage, when she moved to a small town in Andhra Pradesh. "My husband and I had to socialize a lot, so I started cooking as a sort of compulsion." It ended up being a passion as Misra realised she not only enjoyed cooking but also had a knack for it.
In her home-chef avatar, Misra enjoys the feeding part to the core but she also enjoys meeting people from all over the world and the stories she finds during her food research. "As a Traveling Spoon host, I've met lawyers, musicians, even a French beekeeper," she says, sharing one of her most interesting encounters – meeting a Japanese chef running an Indian restaurant in Tokyo, who visited her for a meal during a food research trip.
Her fourth innings into food has been an eye opener when it comes to Bengali cuisine.
"When I started doing this, I realised how proud I was of my heritage and started finding out about rare delicacies. I discovered the scientific thought behind each dish, why certain ingredients went together, the importance of texture…while I had never given it much thought earlier, I now discovered the reason behind the way much of our food is cooked."
She also discovered interesting stories, many of which have found their way into a book Misra is working on. "It's an anthology of stories of people I have known and the food I have learnt from them," she says, adding that nothing in the food menu she creates comes from a recipe book. Most of the dishes that find their way into Misra's feasts are sourced from her own home or those of her family and friends. "Some of the recipes are my mother's, some my aunt's; my sister married into a East Bengal family and the food in their house was cooked differently. Since I was always interested in food, I would ask how it had been cooked and I have recreated some of those."
When she isn't cooking, this septuagenarian is an avid traveller at heart. Her last trip was a holiday in Iran with friends. Misra was widowed many years ago and has been living on her own for 25 years now. She believes older people should live their life the way they wish to and not let their children dictate their lives. Her own children, like her late husband, have been extremely supportive of everything she does.
While Misra believes people shouldn't let old age bring them down, she acknowledges having been lucky on the health front. "It has been a blessing, though I watch what I eat and walk a lot."
This creative senior thinks everyone has a talent they can use. "It doesn't have to be marketable all the time," come her self-assured words. "Don't think what people will say. They wouldn't be here when you are lonely and bored. It's you who is important."
Featured image: Iti Misra at The Bombay Canteen Bengali Bhoj (Photograph courtesy: Swaraj Sriwastav/The Bombay Canteen) 
About Author