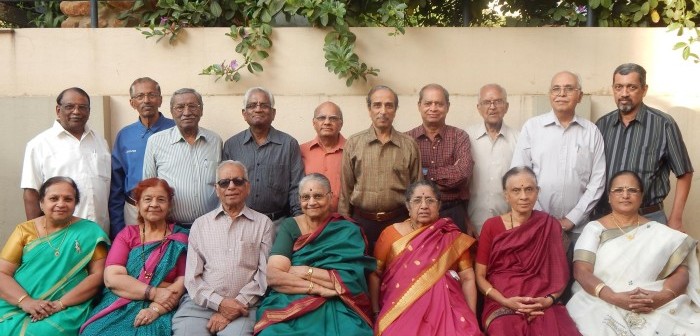 Jnanajyothi: Spreading the Light
Jnanajyothi is a Banashankari based senior citizen's forum for residents of South Bangalore. Their activities and intentions are exemplary. Do join or support them if you live around the area, says Reshmi Chakraborty.
In September 1999, a group of people over the age of 60 years, came together in a beautiful home in Banashankari to talk about creating a group for likeminded elders in the area. It was the beginning of Jnanajyothi, which was launched in November 1999. It is a forum for senior citizens of Banashankari Stage II in Bengaluru, Karnataka and open to members from peripheral areas. Usha Madhuranathan, the gracious lady who hosted the elders all those years ago, is now the secretary general of Jnanajyothi and the force behind the creation of this group. "We came to Bengaluru from a steel township in Vishakapatnam and Bhilai where everyone helps out in matters of happiness and sadness. When we moved, initially we did not have any friends here or know anybody. After my husband passed away, I felt that except relatives, I didn't have any friends. All of them were strangers. Then I realised why were all of them strangers, because I had not made an attempt to get to know them. Then I attended a course by the Landmark Forum and took this up as a project," she says. Keen on starting something for senior citizens like herself, Usha approached MR Rangaswamy who ran a local newsletter and called for a meeting of Banashankari residents over 60+ at her residence. 
"Nearly 40 people came for the first meeting and we decided to start an organisation." From an initial membership strength of 60 people, today Jnanajyothi has more than 497 members and is known for their work in the area. The one time membership fee is now Rs. 550 (a couple is considered one member) and members are given an ID card and a Soulabhya card. The latter provides them certain privileges and concessions through tie ups with medical specialists and nursing agencies among others. Members are not just from Banashankari but also from nearby areas like Padmanabhanagar, JP Nagar, etc. Members even have a telephone directory of their own, with meticulous details such as their blood group! The group also has a newsletter of their own called Vision for Senior Citizens, which details their efforts, events and introduces new members. 
Members meet once a month in a local school which has given them space. In return they felicitate talented outgoing students of the school. Interestingly, at their monthly meeting, each member gets a 5 minute slot to exhibit their talent if they wish. According to Usha's daughter Deepa Vaishnavi, a writer and soft skills trainer, there is a lot of talent hidden among the senior members of Jnanajyothi. "There is a gentleman who does Origami and one who does miniature thermocol sculpture!" she says, citing some examples and showing us their beautifully done work.
What is interesting is that the group has taken up several welfare and awareness activities in the area and consciously avoids gossip or idle talk when they meet. Some of their projects include Eye Donation or Netradana and members are given an eye donation card with details, which can be prominently displayed in their home to enable family members to make contact in case of sudden death. Another project, Jyothi Vidya Kiran, aims to provide domestic worker's children with proper education. A project to help members with preparing their will was also started in 2009. It provides members with support and guidance on how to prepare a will.
Antyeshti is a project where the where the final rites of a member can be performed with minimum efforts by the relatives through a tie up with an organization that conducts these. This facility, which commenced in 2006, continues to be available to family members. They also organise free medical camps for seniors. A new project Smarana Jyothi was launched recently to help senior citizens living in old age homes not funded by the government.
Members also ensure there is enough entertainment and laughter in their lives by various activities. There is a Ladies Group that meets every month to practice music. Jnanajyothi conducts various cultural activities on an annual basis like music & cookery competitions, debate and sports. Once a year, during international Women's Day, they felicitate women achievers, followed by men in October. In a noteworthy gesture, service providers from various government departments, who are usually unsung, are felicitated in May by the forum. An interesting initiative is Bridging the Generation gap, an event conducted around Jnanajyothi's annual day where member's grandchildren are invited to display their talents. 
For the lady who started it all because she felt the need to have friends and was proactive about it, Jnanajyothi has been a life changer. "With most members in the 65 to 70 year age group, I have made many friends," she says smiling, as her daughter corroborates. Incidentally, Usha is known for her Golu creations (doll display) during Dussera and in 2000, got other members to display their craft and golu in her home.  Jnanajyothi members come from diverse fields and the group celebrated its 15th anniversary recently with several activities and competitions like cooking competition, music performances, essay writing and sports. This lively group of seniors is in no mood to slow down and is spreading its jyothi (light) into several lives. We wish them all the success. To enquire, join or support contact them on the address below.
Secretary General – Jnanajyothi
# 1672, 16th Main, 31st Cross,
Banashankari 2nd Stage, Bangalore – 560 070.
Karnataka, India.
E-mail: usha.madhuranathan@gmail.com
Telephone:080 2671 0508
You can also join their Facebook page https://www.facebook.com/pages/Jnanajyothi-Senior-Citizens-Forum/316408525098391
About Author